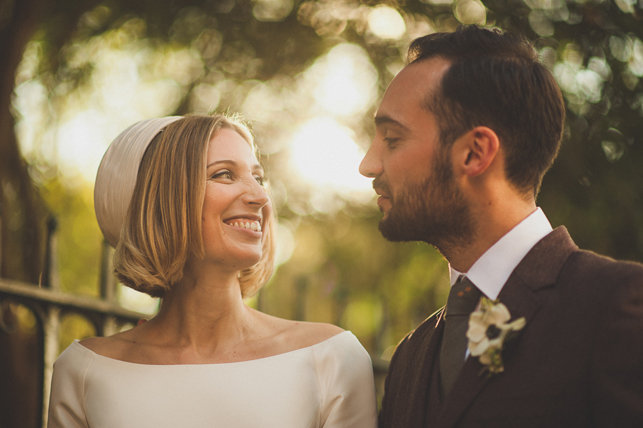 When I reference First Lady Chic, obsess madly over details like dipped hems and wrap a belts round someone's  head many brides might be quite alarmed. Then there are brides like Laura. Laura not only got all the references, obsessed over the same details, pinned the same images but dutifully went off and found the pill-box hat that I was crafting out of a belt.
Having a wedding dress shops with many brides means I should be quite Mummy-ish and not have favourites. I am afraid you may detect a spot of favouritism because dressing Laura was fantasy shopping.  There is a  profound joy in dressing a willowy, beautiful, fashion obsessive who is prepared to take a cool, brave look and wear it fearlessly. The vicarious pleasure in styling one of my favourite dresses just how I myself would wear it ( were I 20 years younger and three stone lighter) is immeasurable.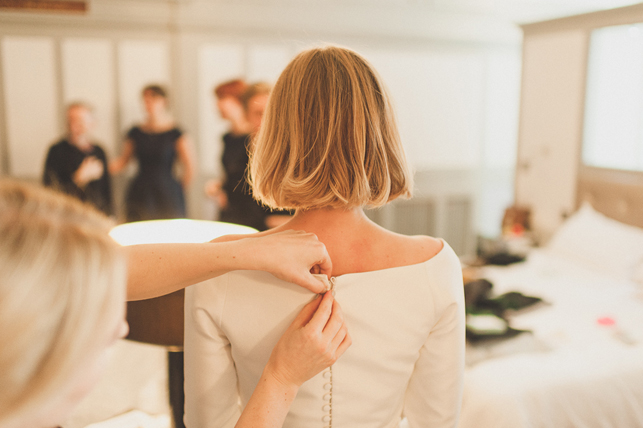 The dress is Jesus Peiro, Style 4038. It's sharp lined, crisp razmir mikado minimalism is a signature look for the label. There is a strong Mod/60s influence to the design but Merche, the amazing lead designer behind the label, never gets too close to faux vintage.
We did discuss at various points whether the dramatic detachable train was too much for Stoke Newington Town Hall and the decision to boldly go was definitely the right one. The pared back simplicity of the dress is framed beautifully by it.