Recent events have sparked me to write this post. The first of a few Sisters…
Firstly a CV sent to me by a business undergraduate
As a business management and marketing student in my final year one of my modules require me to get work experience in my chosen field. As I am embarking on a career in the wedding industry I am looking to align myself with an exciting, progressive and reputable company such as your own that will appreciate my abilities. My ultimate dream would be to get experience in the Vera Wang for browns bridal boutique.
Firstly let's look at this. The wedding industry does not exist. There is retail that includes bridal wear. There is the fledgling wedding planning business & planners that do no more than go on courses run by other planners. There are venues – part of the catering & events industry. There are florists – whose most profitable work is, oddly,  funerals. Yes, there are loose alliances and cross marketing opportunities but bridal retail is retail. Please tell me you would like a career in retail and I will consider your CV.
I would suggest, as a business student, that one looked at Companies House Report & Account records for retail businesses. I would suggest one reads The Portas Review on High Streets (link here). I would suggest one reviewed the contraction of multiple site bridal retailers such as Caroline Castigliano, Berketex. I would recommend one looked at the disbanding of franchise businesses like Pronuptia. I suspect researching the expansion plans of David's Bridal into the UK would make for interesting reading. I would look carefully at which UK wholesale bridal labels have supplied TK Maxx. One might even care to read my article in Bridal Buyer on the state of the UK bridal industry here.
I would like to add, and I have searched You Tube for the clip, when Miss Bush won the Wrapit Award for Best Retailer and beat Vera Wang.  The Wedding Channel reporter could only ask me, with undisguised incredulity,  how I managed to beat Vera Wang. Nothing, nada, rien, zilch, niente, nashi not one question asking about my business in it's own right.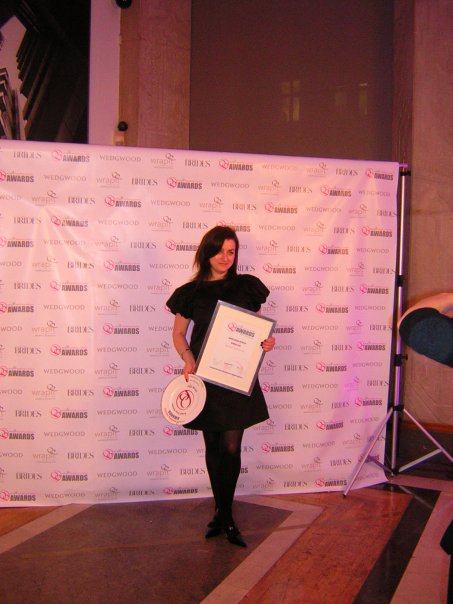 Therefore adding my business as second fiddle to Vera Wang at Browns (who, I suspect, would prefer the courtesy of upper case for their business name ) is going to get you less than nowhere.
If you want to know about my business a cursory glance across the internet will tell you much about me personally and the business as a whole. Perhaps some Miss Bush research might have been useful. Perhaps it might have been wiser for this unsuccessful candidate to get the Wang shape stars out of her eyes and get her feet on the ground.
Emma Meek is Managing Director of Miss Bush Bridalwear & occasional outspoken ranter.