Dropping through my virtual letter box today came the Bridal Buyer newsletter which promised to 'look back' at Harrogate and reveal the 'award winners' from The Bridal Buyer Awards.
I was invited by the Editor at large Susi Rogol, to be a judge for the Awards, an offer which I accepted with some trepidation.  I diligently researched all the companies in the Supplier Categories I was given with  thoroughness.  My conscience won over my interest, some shortlisted entrants & remarkably some finalists showed an unbelievable  lack of flair, adeptness or even ability in their chosen discipline let alone enough to be considered 'award-winning'. I ploughed through my dispiriting task, voting where deserved, abstaining often & critiquing like a teacher with a brand new red pen.
I was then invited to go to the Awards, the last time I attended in 2009 Miss Bush was pipped to the best Best Retailer Award  by the now closed, but very lovely,  Mamfii Bridal. This was like the Olympics not the Commonwealth Games when there was one award, not one per home nation.
There was a drinks reception, a pre-dinner speaker, a comedian, whose name I forget, who was funny and used to a conference audience. Topical and relevant jokes were followed by Awards where the winners were duly noted and I believe that Ian Stuart had a word, which I always loved, championing student designers and ignoring the 'no speeches' directive. I was on a table with the Maggie Sottero team including the American big hitters.
Drink was consumed, there was dancing post awards, there may have been some drunkenness, evidence below…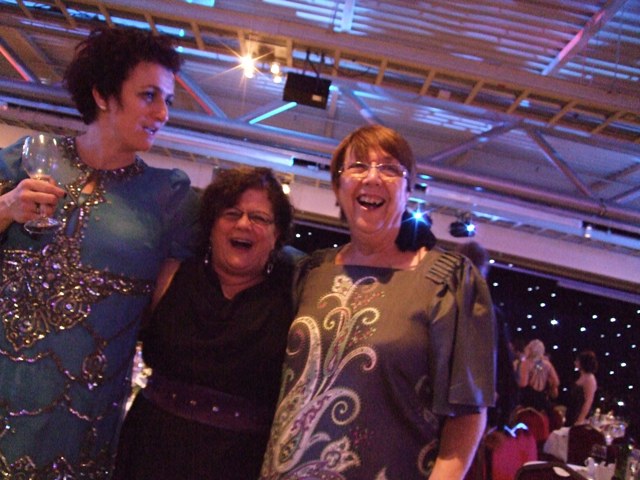 The Awards used to be in March as an incentive to pull reluctant buyers & shop owners to the less popular trade show time, now as Harrogate loses it's shine still further, it sits in what should be the main event of  Ocean Media's bridal trade calendar.
As I walked away from the awards,  just as some disco line dancing was breaking out, I apologised profusely to The Lovely Marshy. The evening was an absolute farce. There was no sense of it being 'hosted', the decor was barely smart let alone inspirational. the food was edible. and, yes, we did get one of those chicken breasts with the microscopic skinny bone sticking out that is beloved of conference caterers. Whilst we ate a 'crooner' wandered between tables murdering swing classics at the decibel level of an Airbus A380. Whist I wriggled nervously in my seat praying that he dare not approach my table,  I struggled to hear my table companions let alone converse. Eschewing the white wine, the acidic nature meaning it should have had a bottle of Gaviscon not water next to it, I ordered Prosecco hoping that a warm glow of Italian bubbles would allow me to tolerate the evening whilst not exactly joining in. Sometimes there is just not enough Prosecco.
Before the end of food service I witnessed a spectacle that sent chills down my spine. I have no idea of how to describe the 'entertainment' but a man conducted the audience in a mass karaoke & spoon & flag waving exercise adding horror to that which was just intolerable. The scene looked at best like a staged Republican rally , at worst a break out of nationalism that would have suited the 1930s. All of this whipped into a Phoenix Nights debacle that caused the actual awards to run an hour late.
I don't expect Awards events to be fun in the sense of a night out with friends. I do expect when I, and dozens of others, have spent days considering entrants for it not to be a post script to a Northern club impresario's 'turn.'
If this really is the kind of mise en scene, entertainment and food that the wedding industry gets off on it is no surprise that vast tracts of exhibition halls are filled with garish polyester dresses, generic tat and cynical side labels used to exploit wide eyed new boutique owners.  Where is the class? Where is the design? Where is the aspiration, the inspiration?
My appreciation of the entertainment may be a matter of personal taste, but the lack of appreciation shown to the entrants is a matter of fact. The most disappointing aspect of the evening was not all of the above. Downright inventive, original, successful, groundbreaking shops from Rachel Scott Couture in Scotland, The White Closet in Didsbury, Ellie Sanderson in Oxforshire & Buckinghamshire and  Allison Jayne in Wales were recognized for their brilliance. The evening was running so late due to the football terrace chanting that the awards were started so fast and rushed through so quickly that one award winner was not even in the room. If the organisers use an event like this to fete buyers, to encourage exhibitors the very least they could do is feature them as the 'main' act.
The quality of the short listed retailers was above  entire categories on the supplier list. Retailers, whose  innovation, engagement with their brides, social media marketing, PR and overall presentation are just better. It is  these retailers that are creating the inspirational environments, both real and virtual,    that keeps a pulse in bridal wear in the UK. The Awards organisers need  to up their game before, to quote the famous ending of Vanity Fair, retailers realize the prize is not worth the winning.
Emma
Emma Meek, MD of Miss Bush Bridalwear
Miss Bush Bridalwear is Surrey's leading designer bridal shop