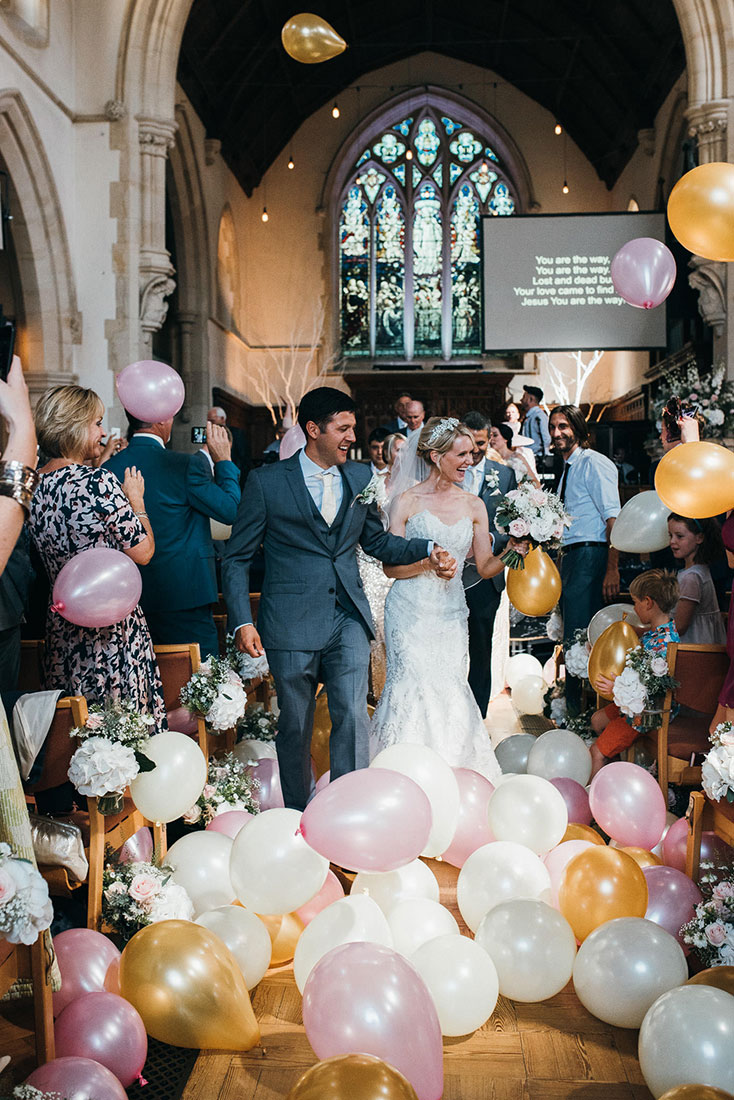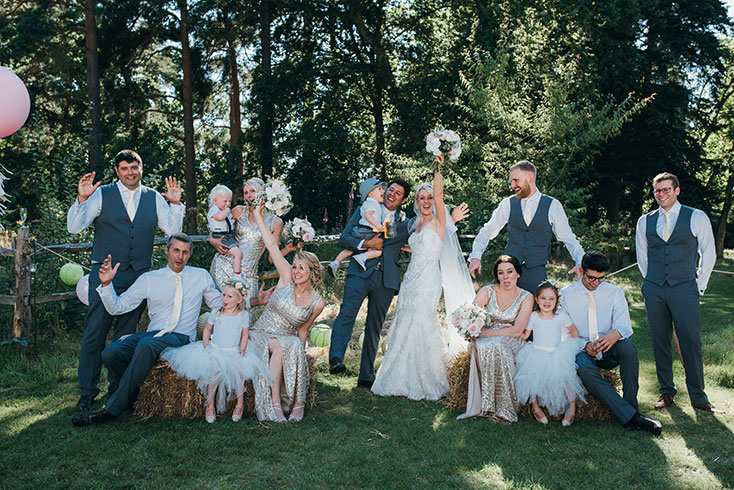 Our wedding today is totally gorgeous, featuring our beautiful bride Ali wearing a sparkly gown by Sottero and Midgley. Ali & Dom were married at their local church St. Saviours in Guildford, followed by a natural and pretty outdoor marquee reception in at RHS Wisley Gardens.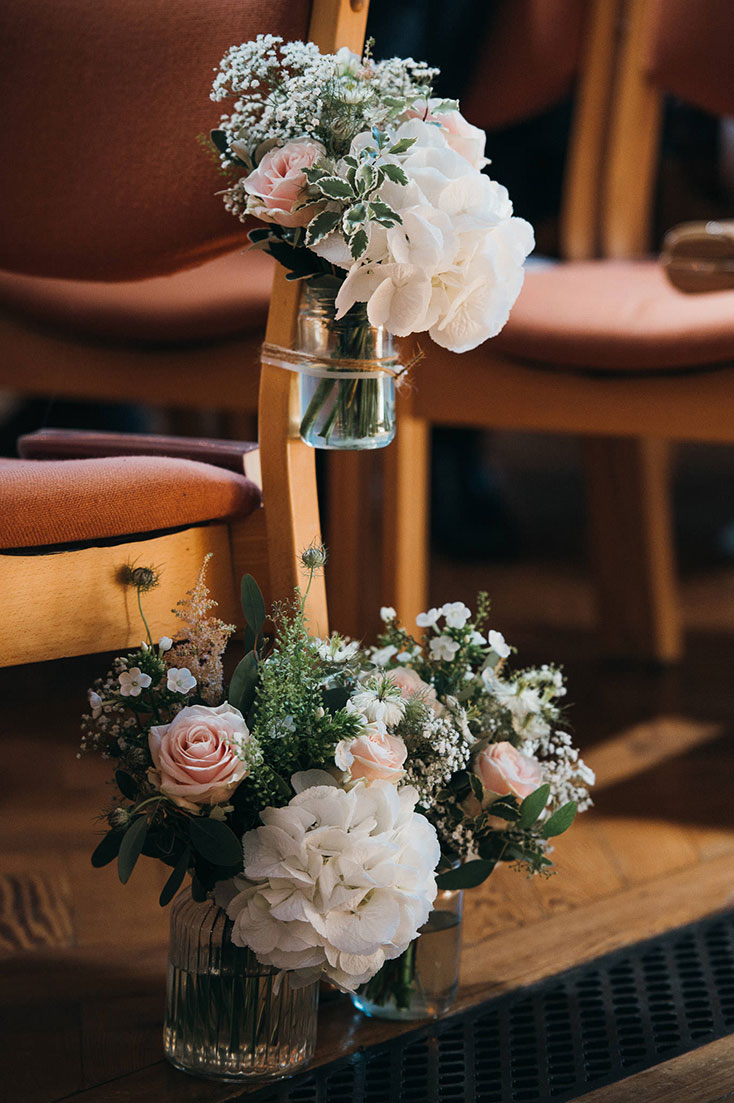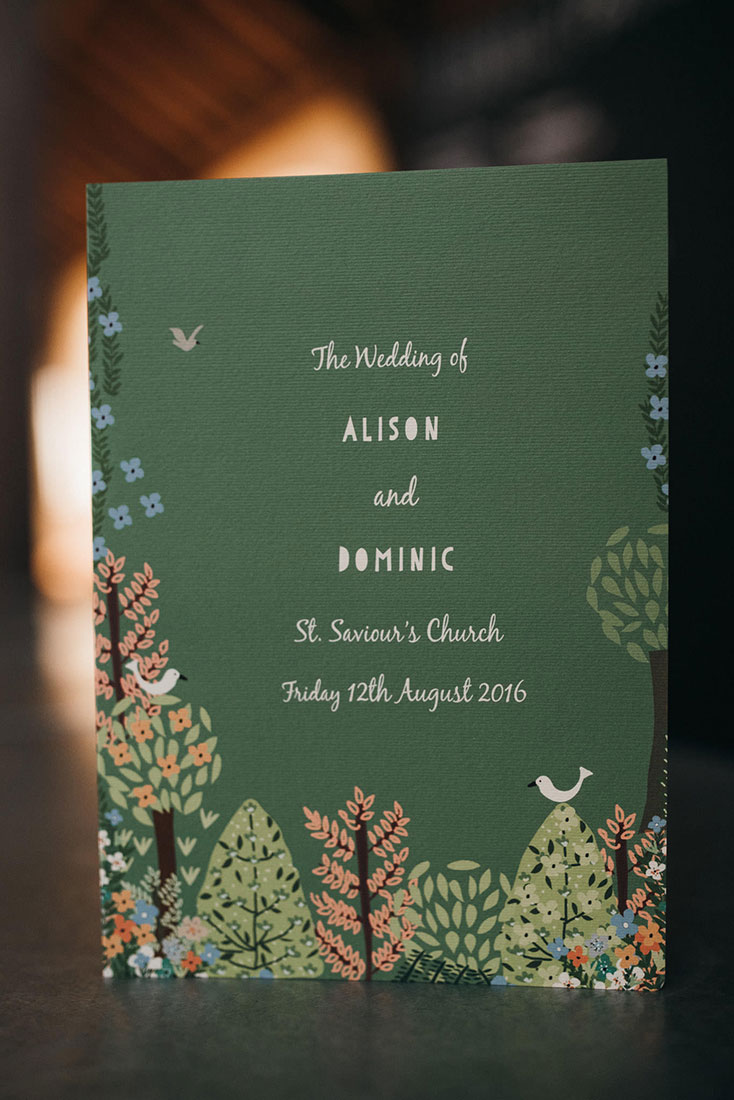 THE DRESS
Ali's dress was named Zinnia, by Sottero and Midgley. With intricate lace appliques over delicate tulle, this entire fitted wedding dress is covered from top to bottom with sparkling crystal and pearl accents. The gown is finished with a dramatic flared skirt, for a striking, elegant silhouette.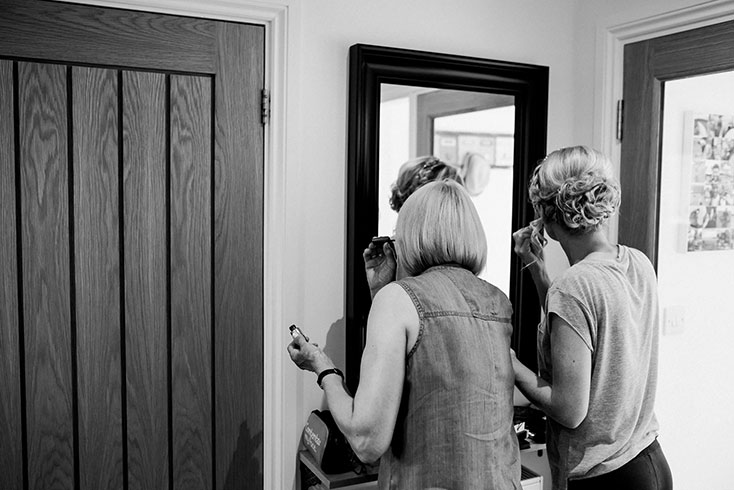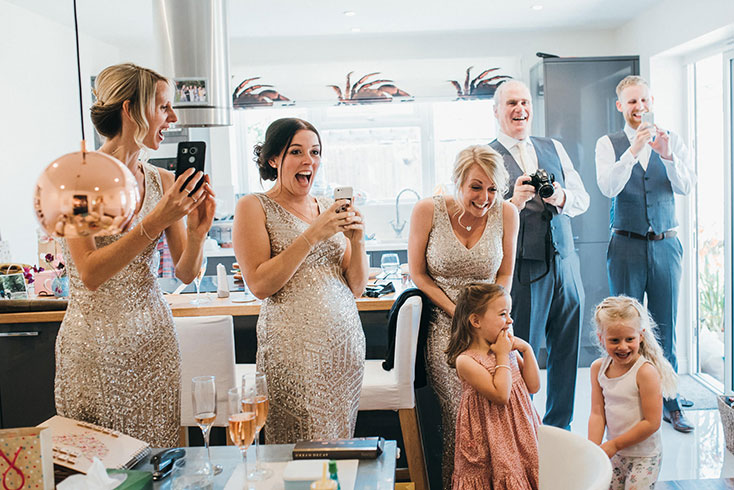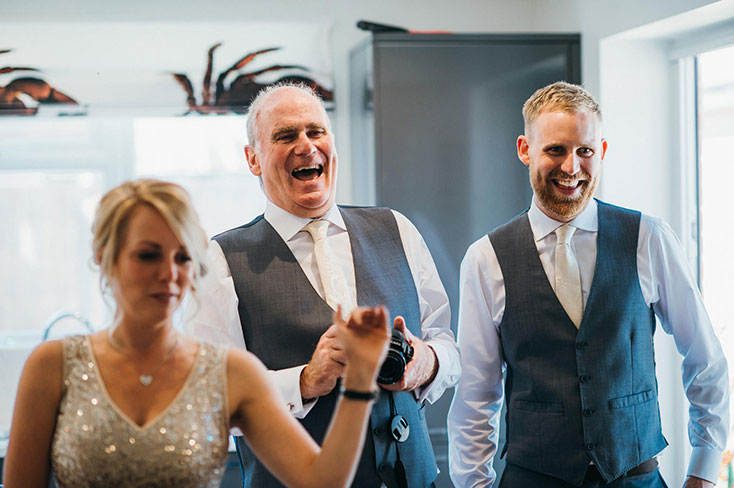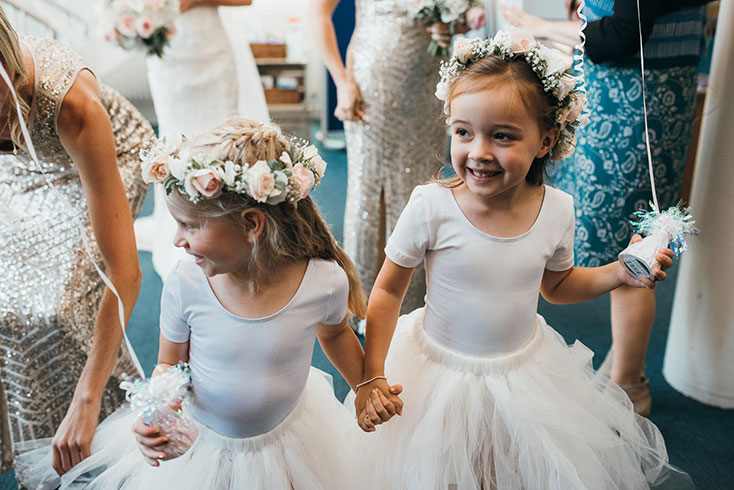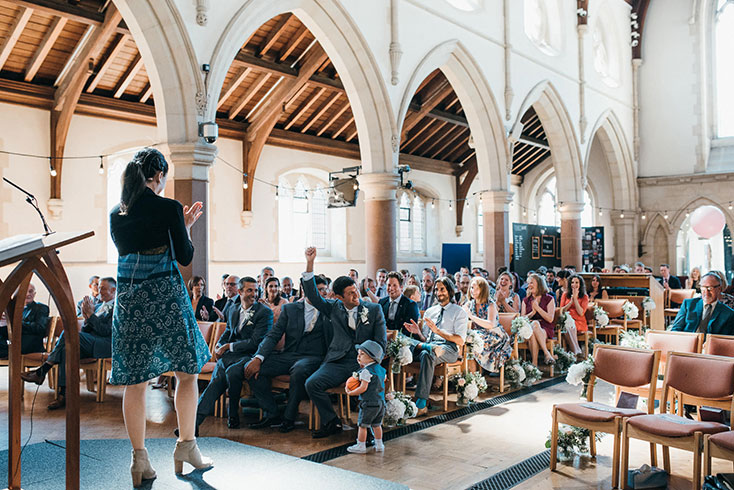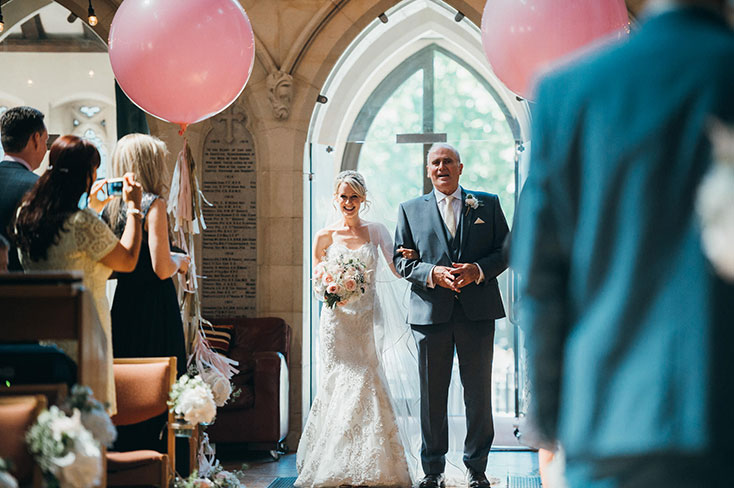 Ali says;
"I went into the Chapel with a completely open mind, really hoping to let a more experienced eye than mine choose a selection of dresses that would suit me, so that I didn't miss out on finding a stunner. I didn't. Corinne guided me expertly through a wide range of beautiful dresses, and we narrowed it down to two: Suzanne Neville's simply stunning 'Songbird' – perfect folds and a wide skirt – and Sottero & Midgley's 'Zinnia' – dazzling crystal and pearl encrusted fit and flare. It was very difficult to decide, but in the end, my magpie's eye was drawn to the sparkle of Zinnia!"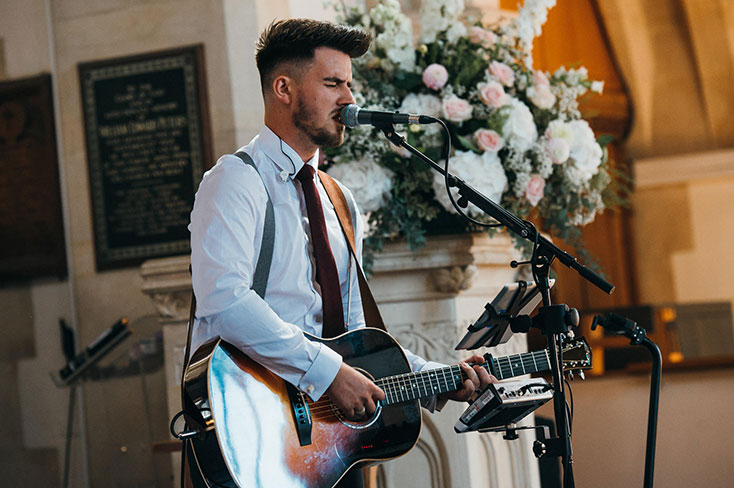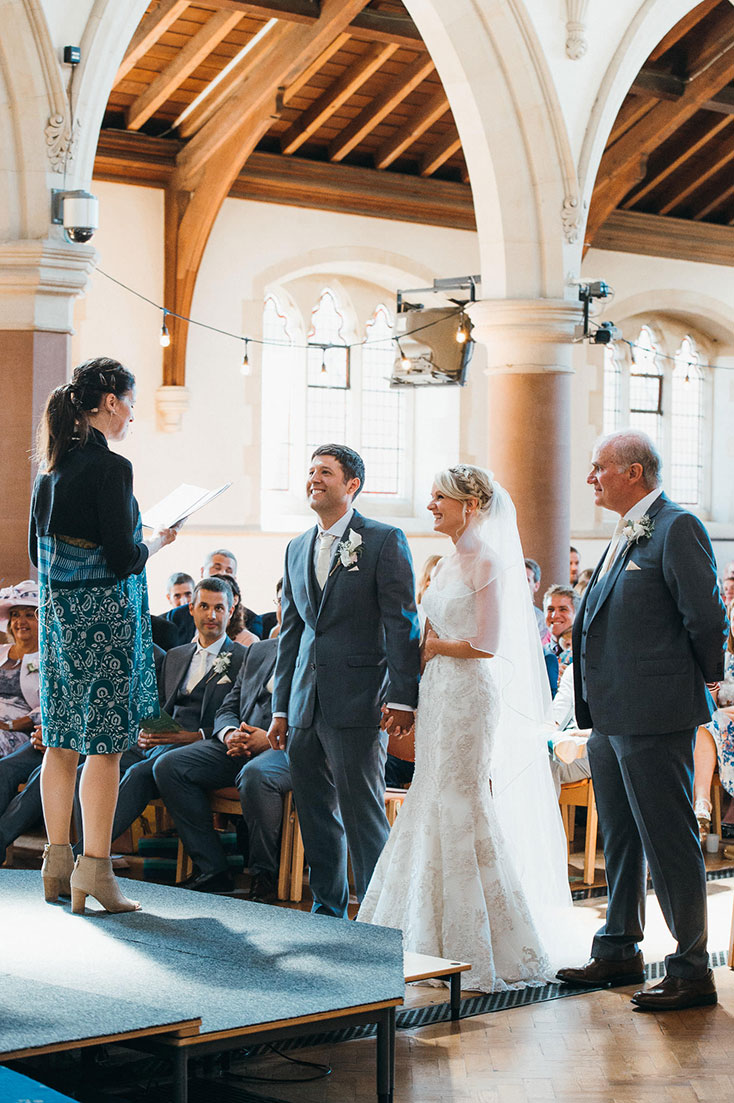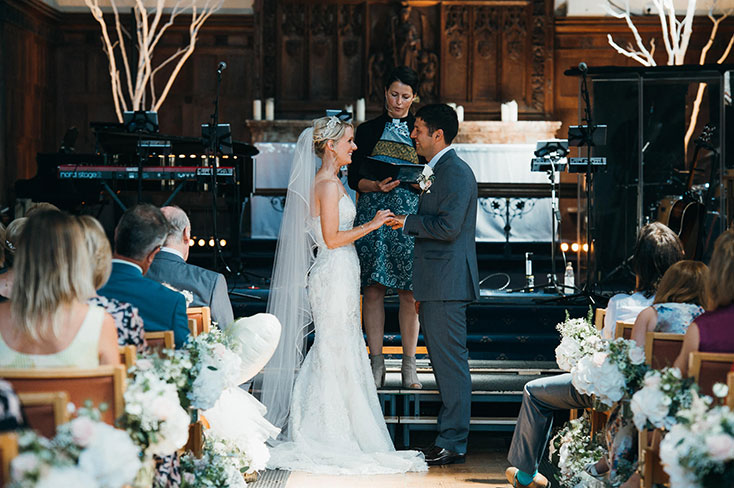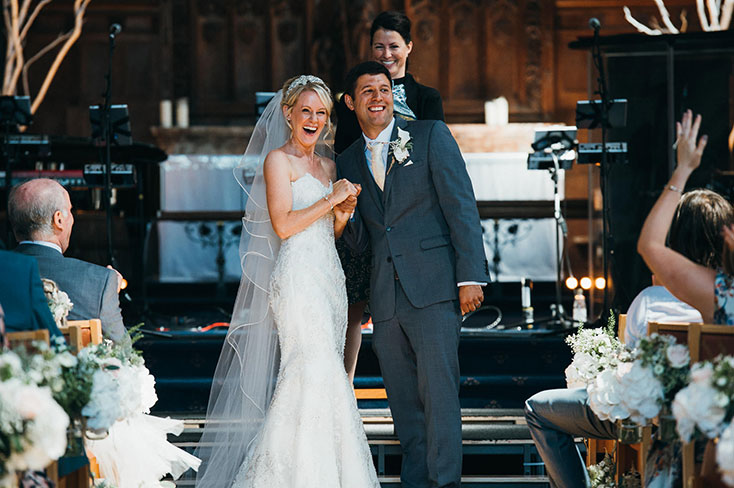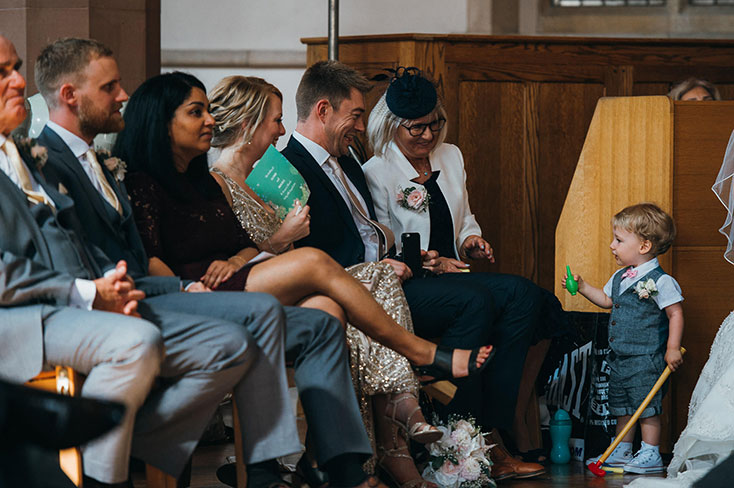 "My wonderful mum came with me to all my Miss Bush visits and she helped with process of narrowing down to 'Songbird' and 'Zinnia'. I showed my mother-in-law and my bridesmaids (and Miles with his toys!) the two dresses. They loved both, and there may have been tears in a few eyes! But I think all said the sparkle was more 'me' – I felt like a princess!"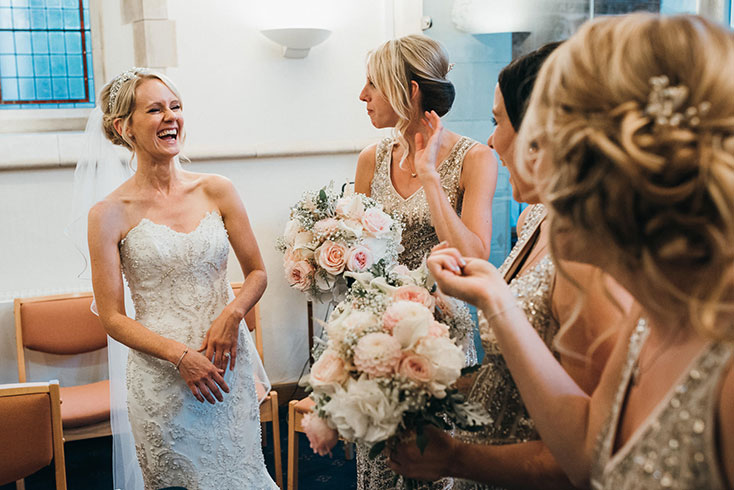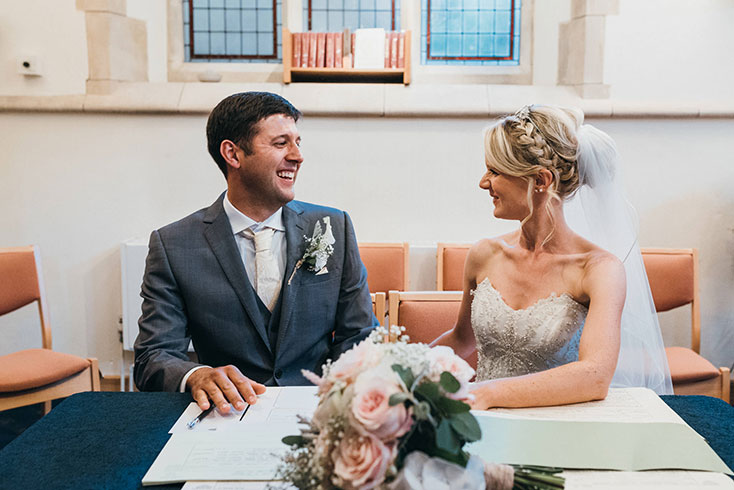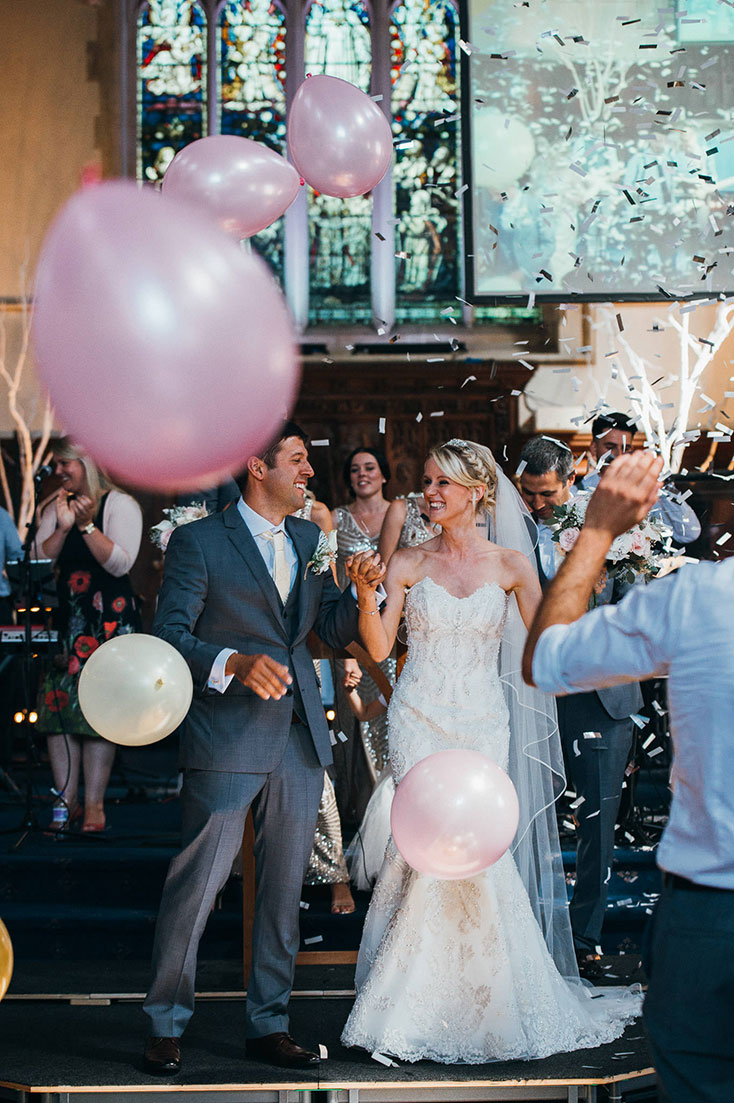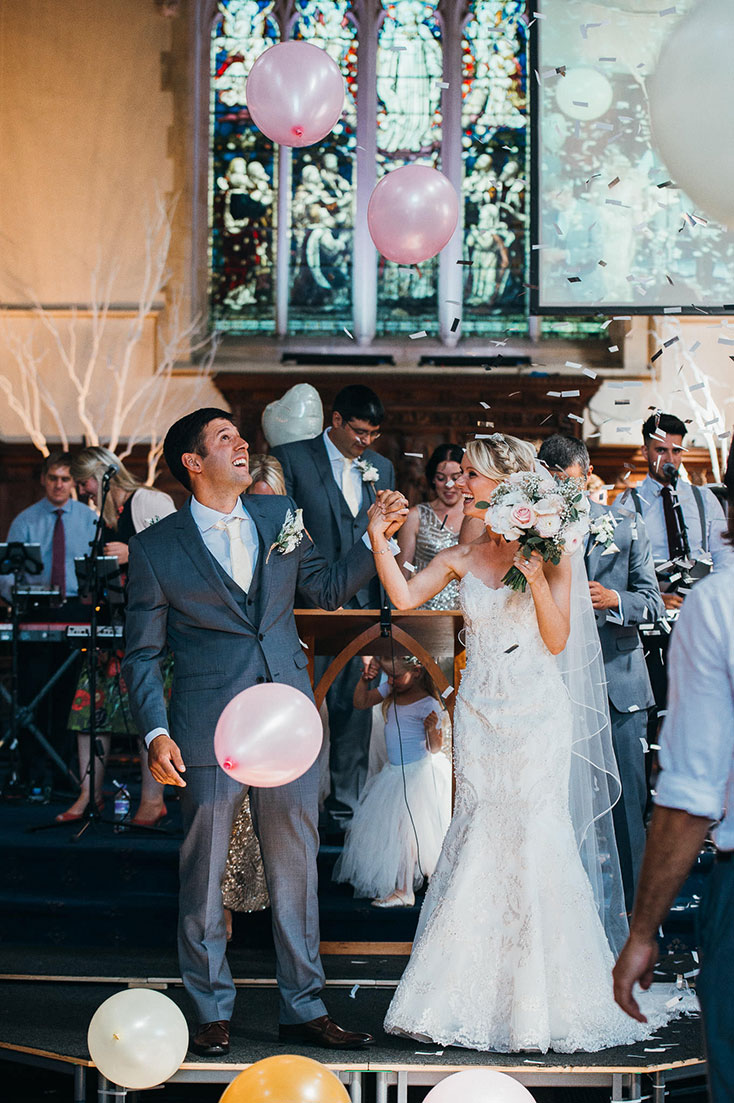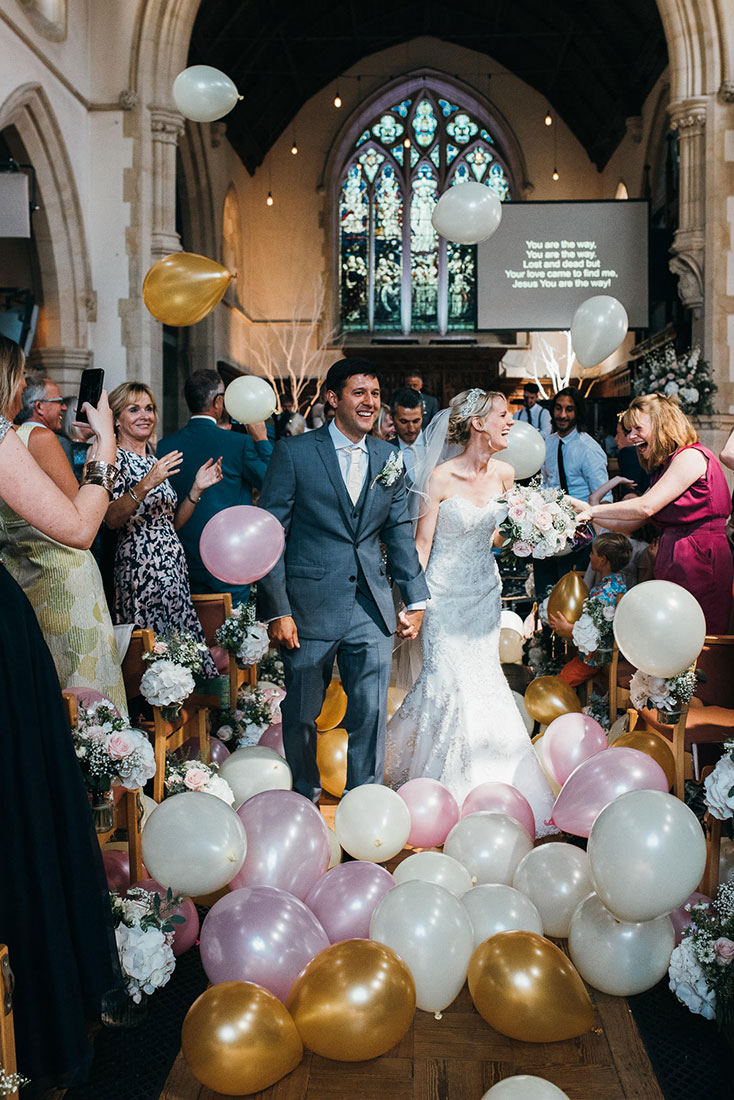 "The whole experience of dress shopping experience was incredible; from having a hot drink in the cafe next door while excitedly waiting for my appointment, to visiting the beautiful chapel, to chatting with Corinne, to being able to strut about in an array of exquisite dresses! I felt like I was part of a special club, and maybe still am, being a Miss Bush bride."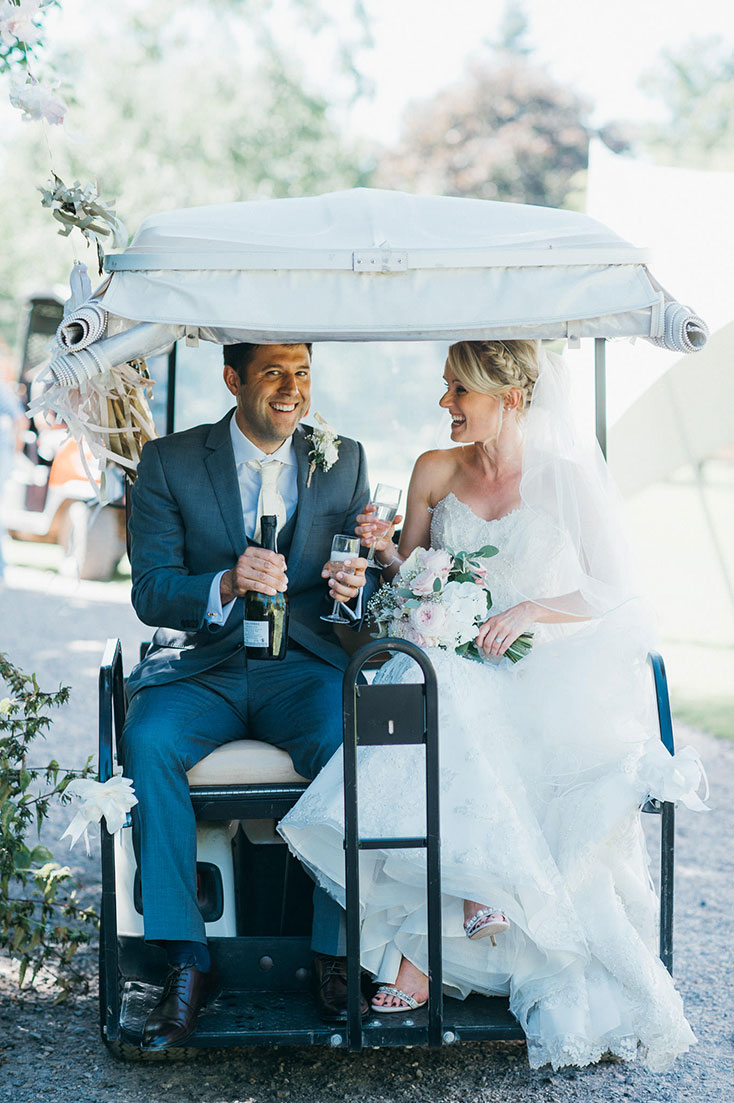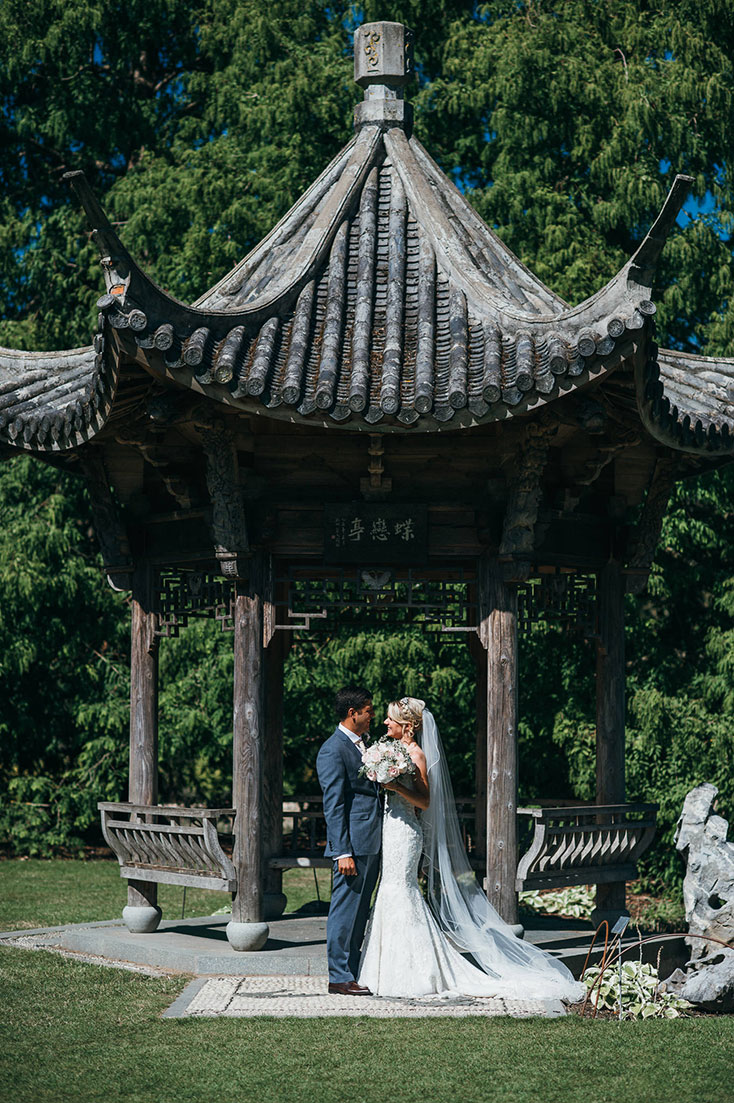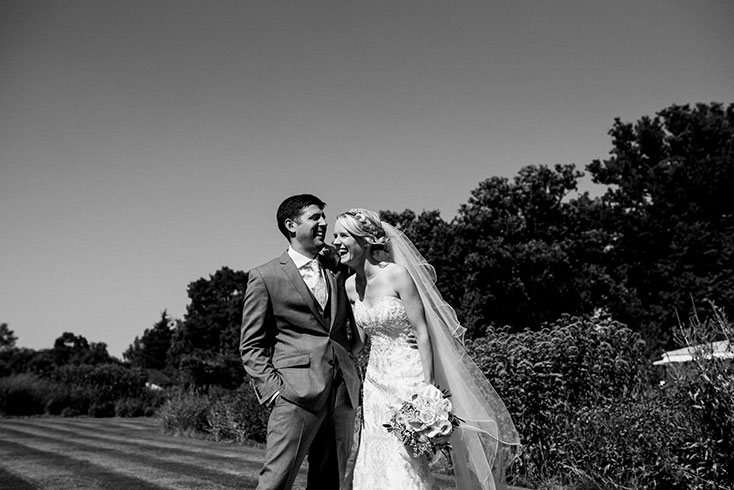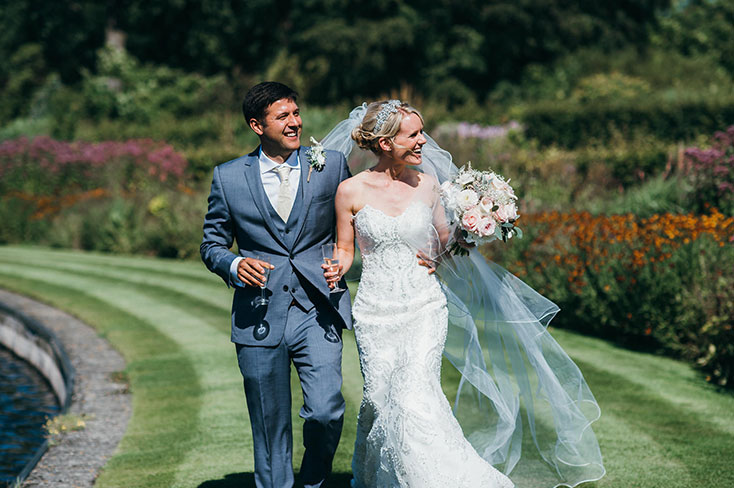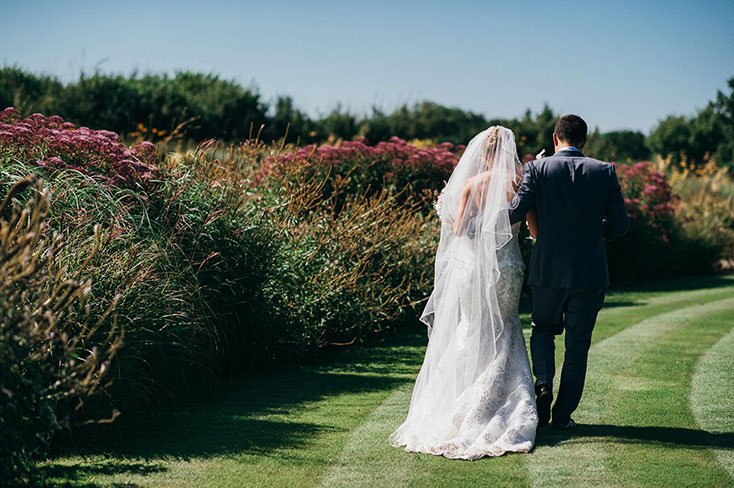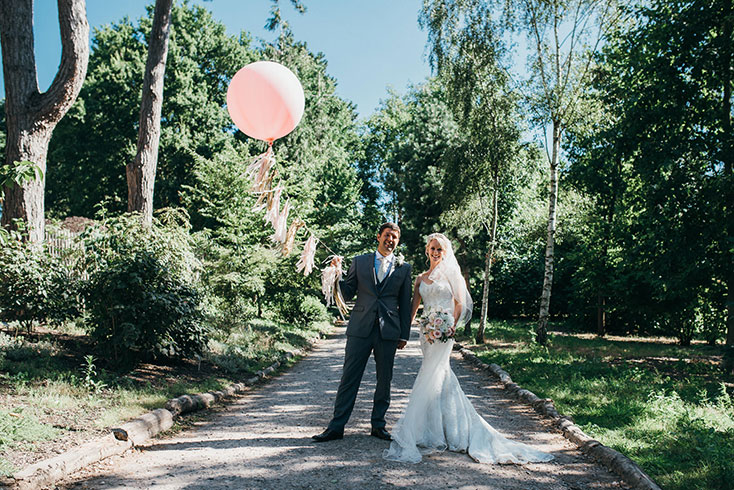 "Whilst we were in the Chapel, Corinne suggested the amazing Jenny Packham Gazelle IV crystal headband. My eyes lit up, but I did think it would be too much sparkle. Corinne, again proving she is a fantastic bride stylist, was right; it was the perfect, complementing accessory to my dress. And when we chose a cord edged, floor length veil to complete the look, I nearly died of excitement! I honestly think everyone should own a veil, to wear on any day of the week; a veil has amazing, mood-lifting, transform-you-into-a-princess powers. I decided against a necklace and chose one pearl and one sparkle stud in each ear, and a simple bracelet that some of my best girls had given me on my 30th."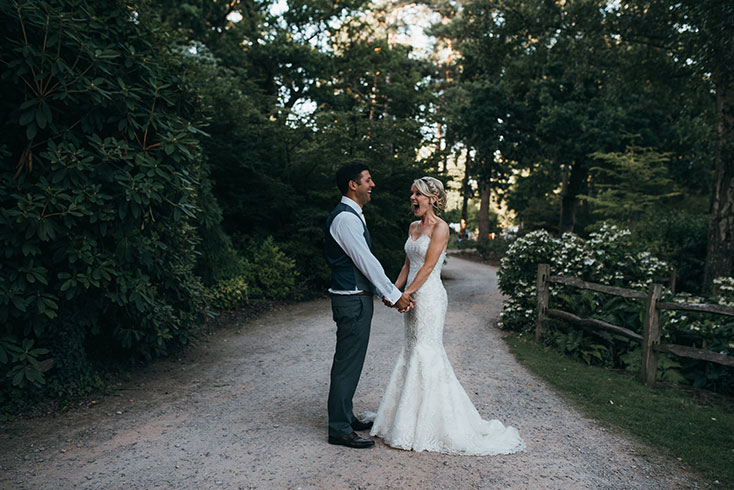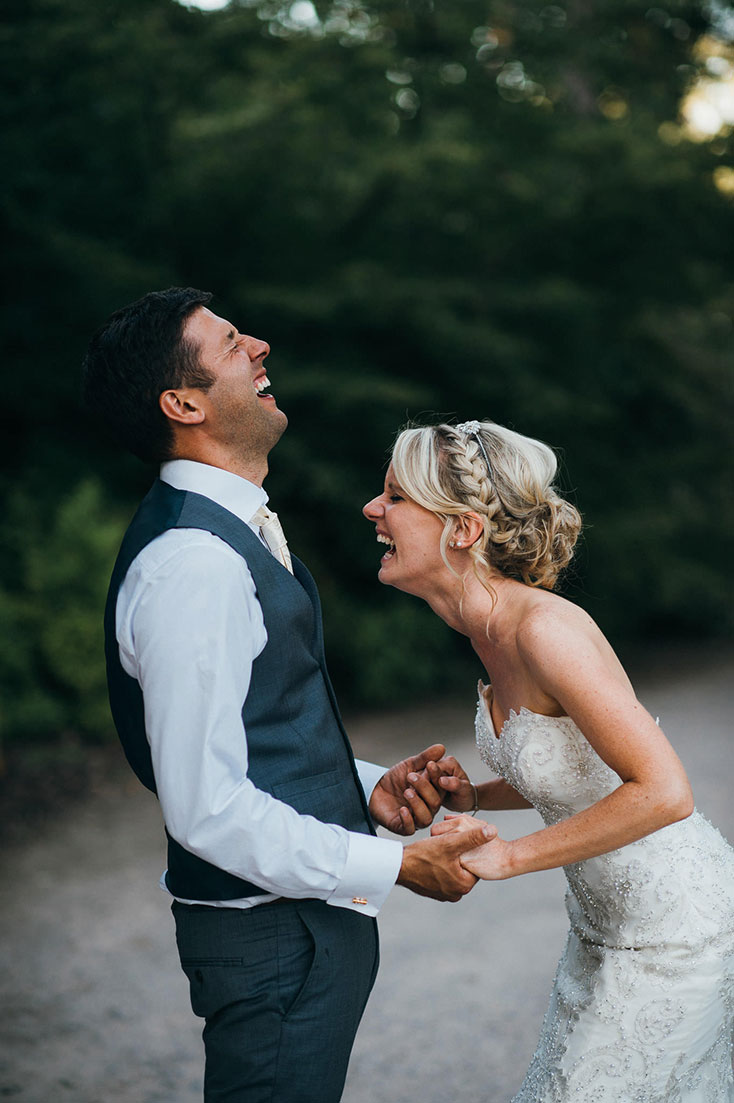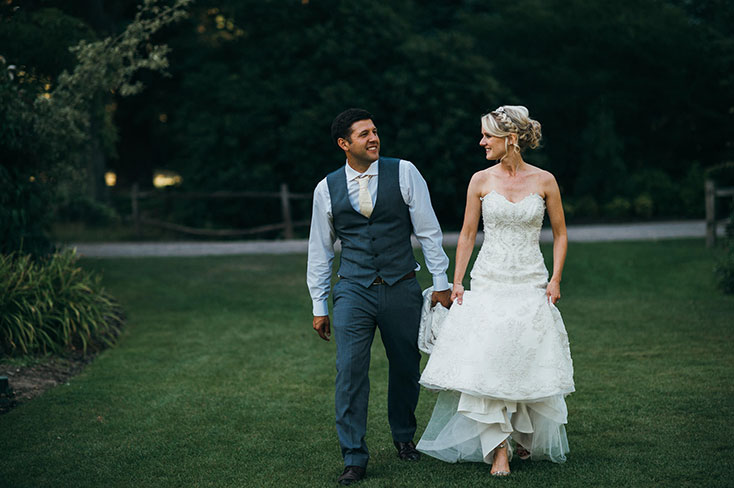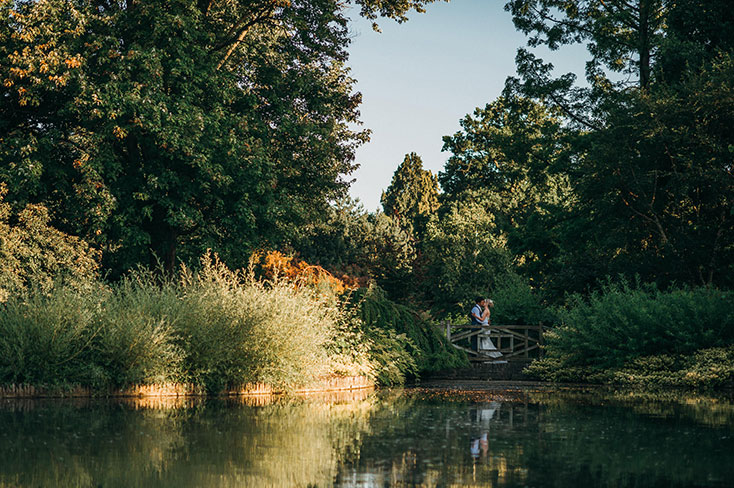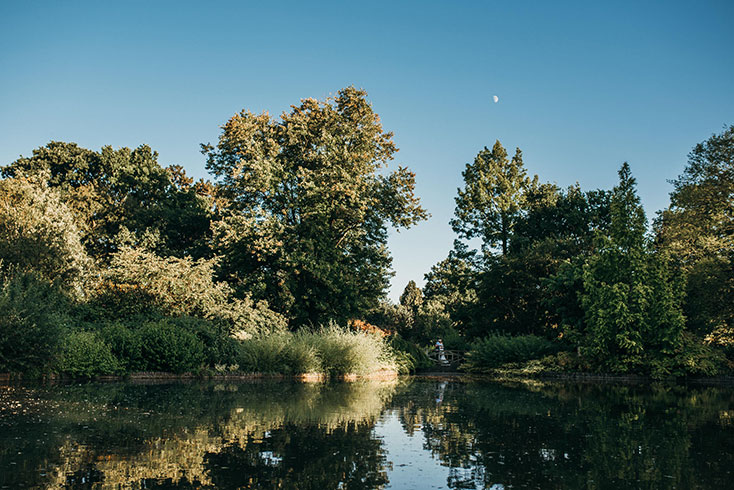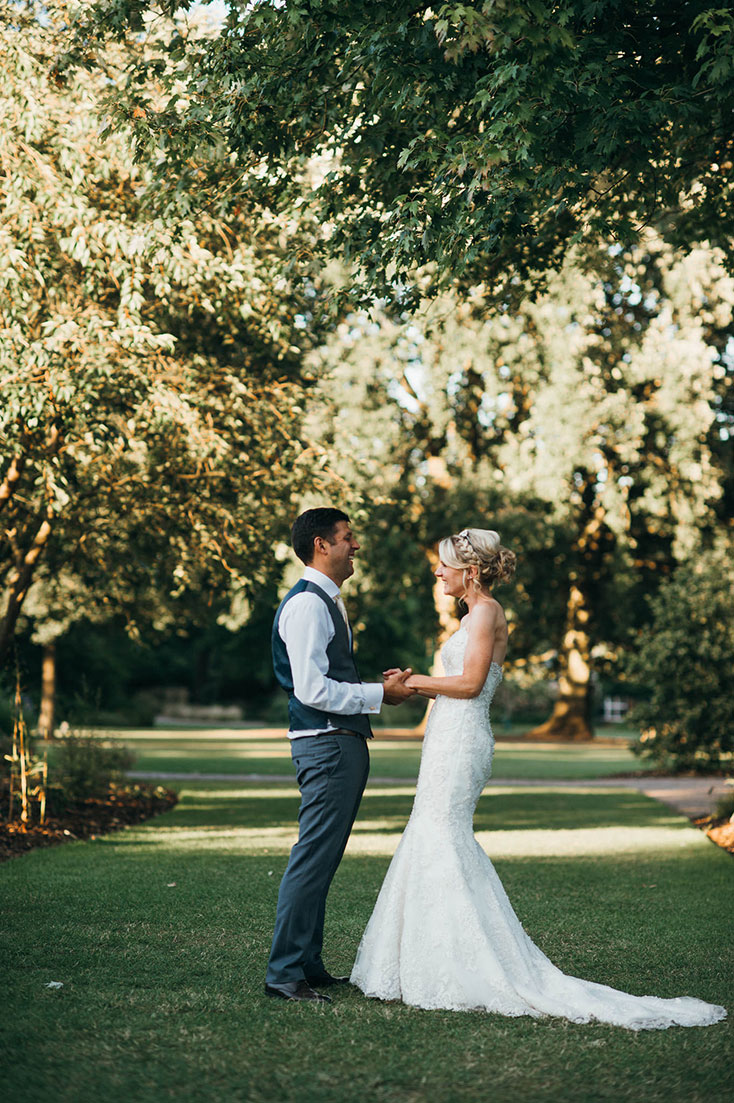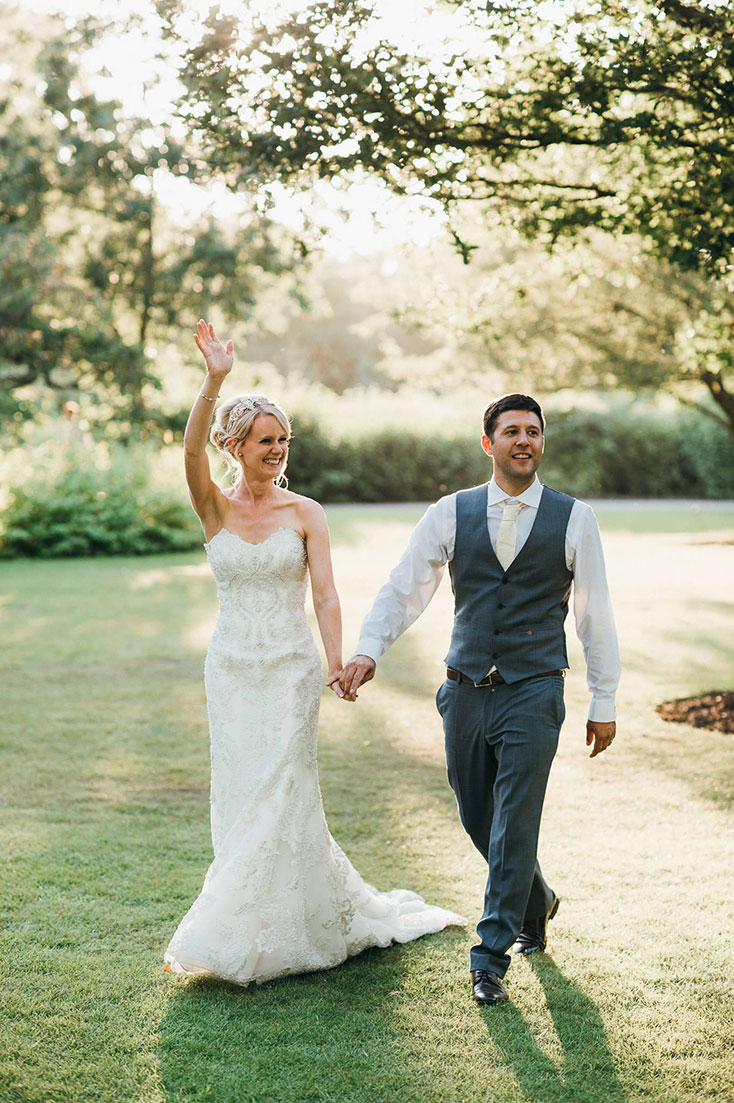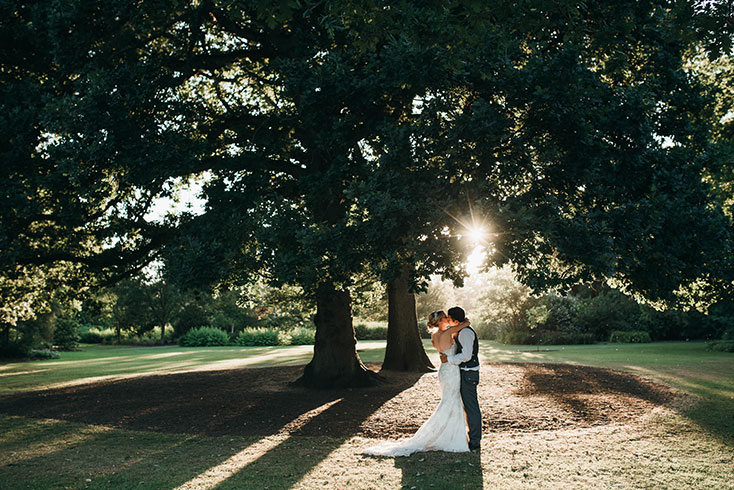 ABOUT THE DAY
We asked Ali to tell us all about their day, which was a celebration of all of the things she and Dom love;
"I love sparkles, balloons and flowers, and I'm lucky enough to love a man who lets me get on with design and pretty things! I knew I preferred a gentle, relaxed look of colours that complemented each other, rather than a one colour theme, and I wanted our day to be based around flowers and the outdoors. I also had to get some gold and sparkle in too!"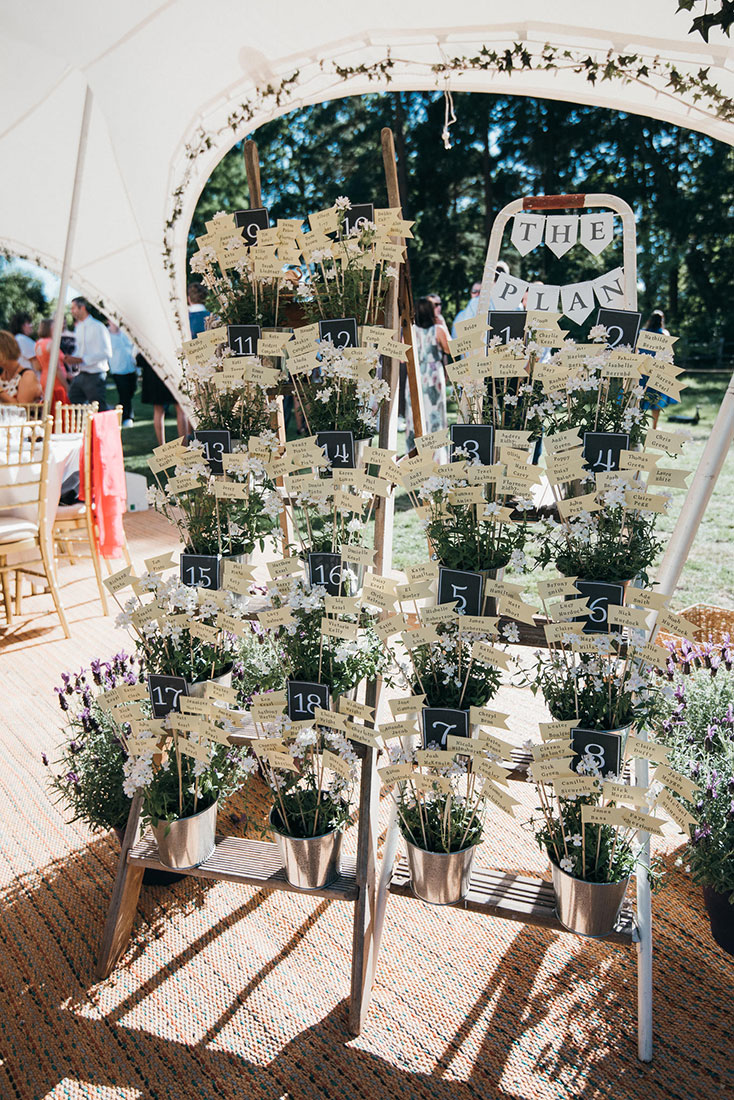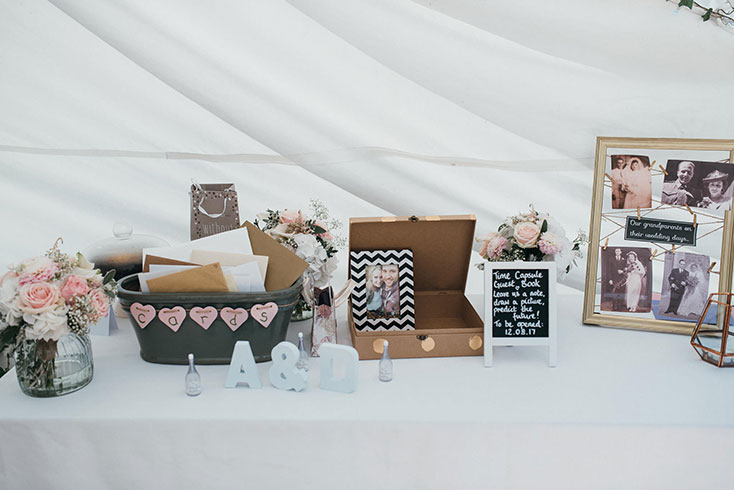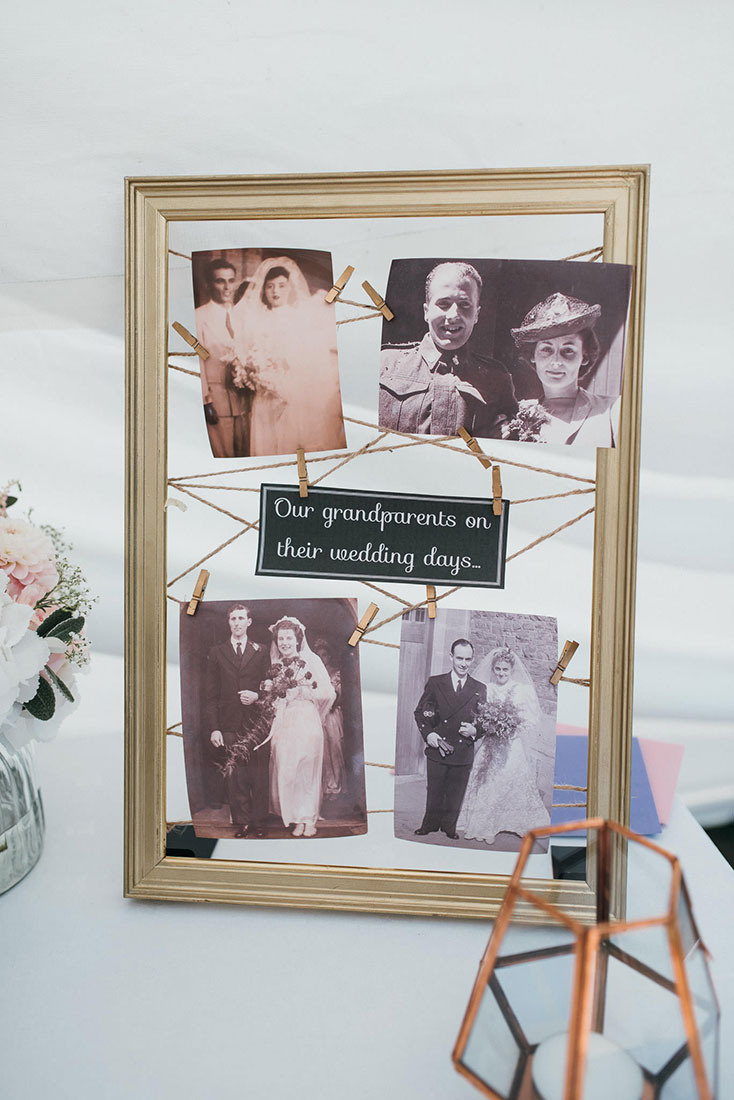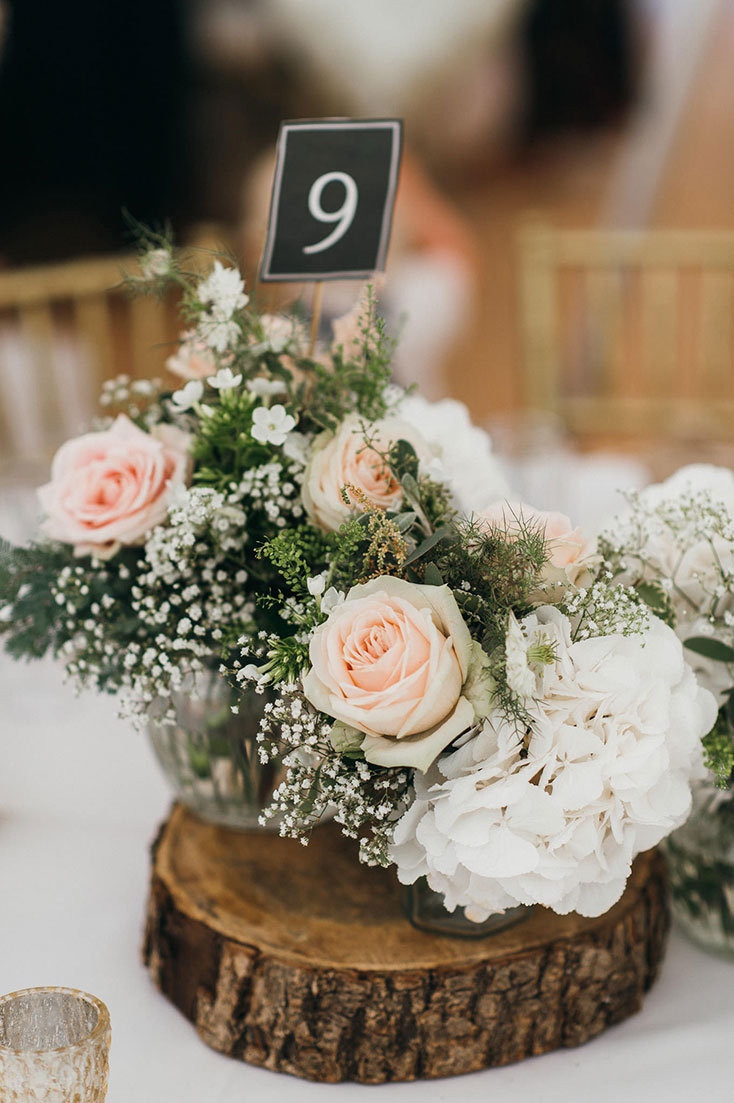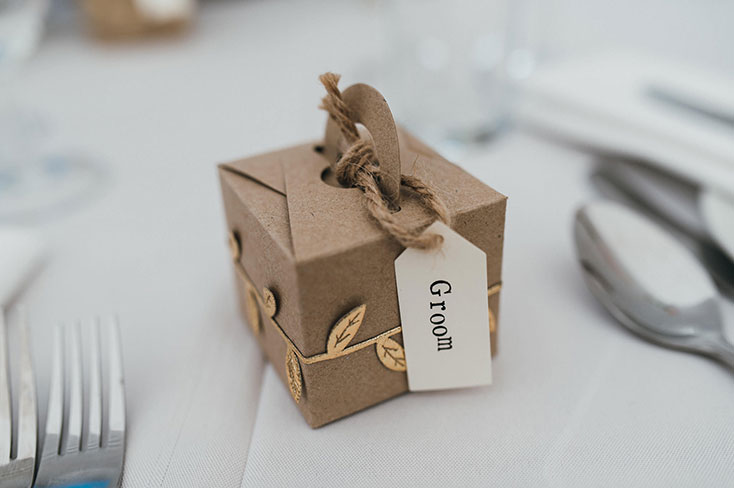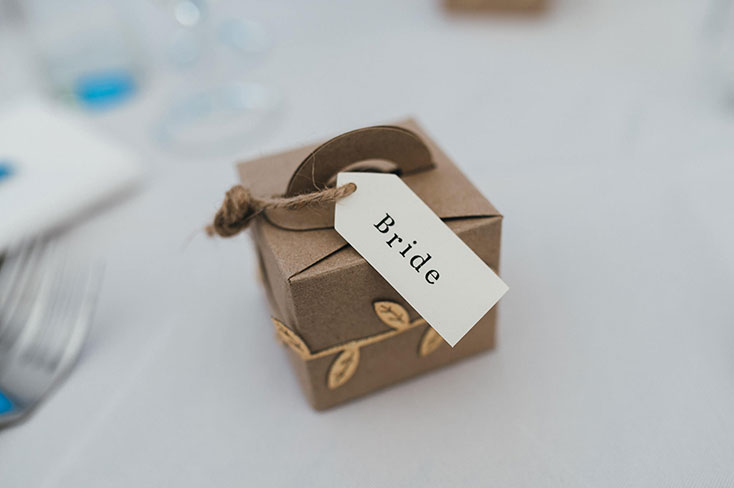 "Every time I replay the day in my head, there are millions of moments I want to say are my favourite. These moments include: the wonderful service, with our brilliant curate, super talented band, confetti cannon and balloon shower, having all our family and friends who we love so much around us in the sunshine at Wisley Gardens, the excellent speeches, my favourite pudding, the moment when Carrie (The Topiary Tree) delivered our bouquets and flower crowns in the morning, seeing the church adorned with her stunning creations, our first dance with 'the crab', drinking quickly and dancing at the end of the night with my bridesmaids as we were child-free and wanted the night to go on and on… It was all incredible!!"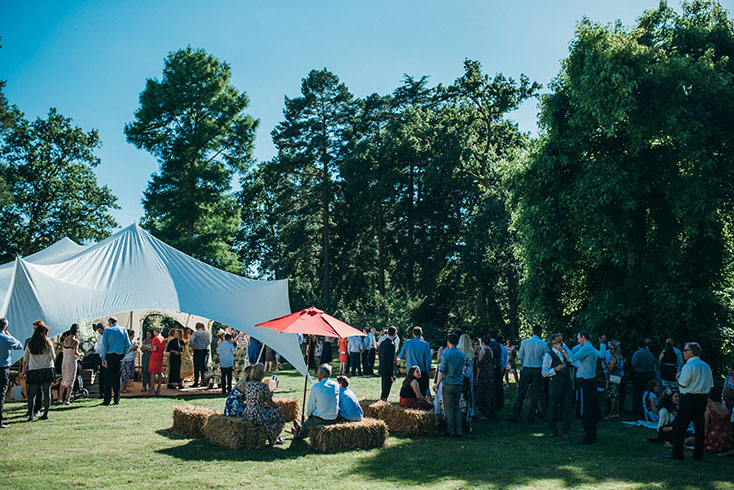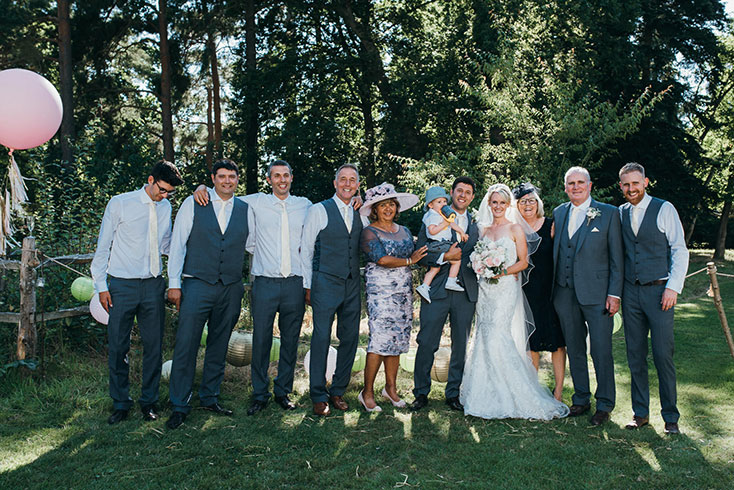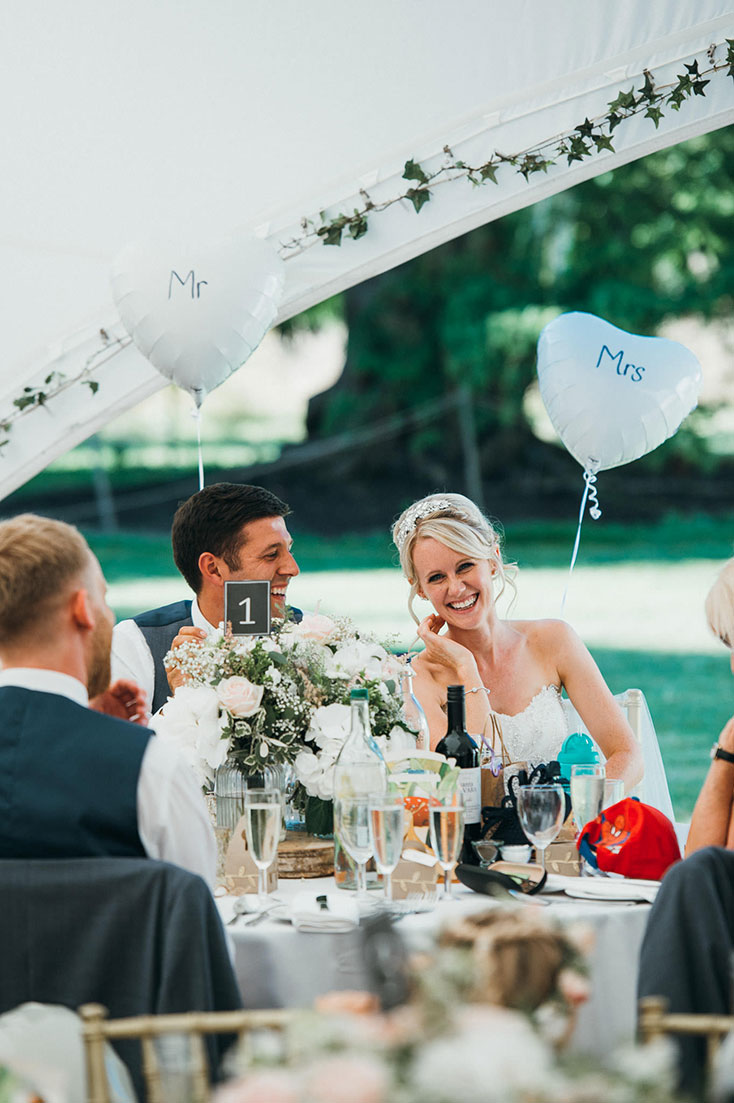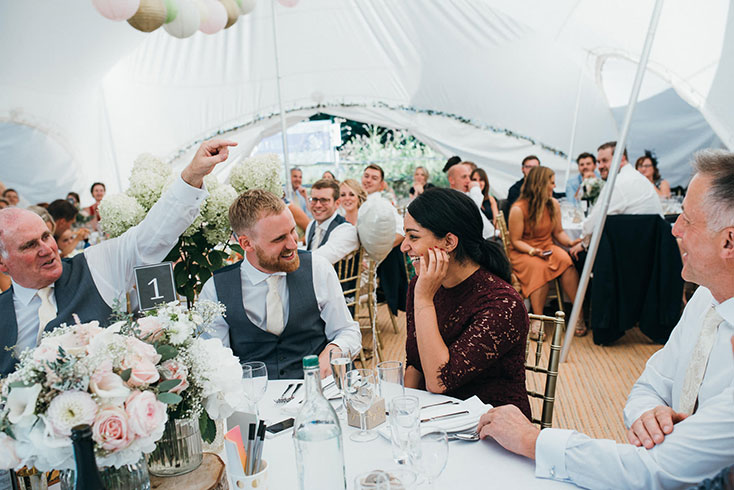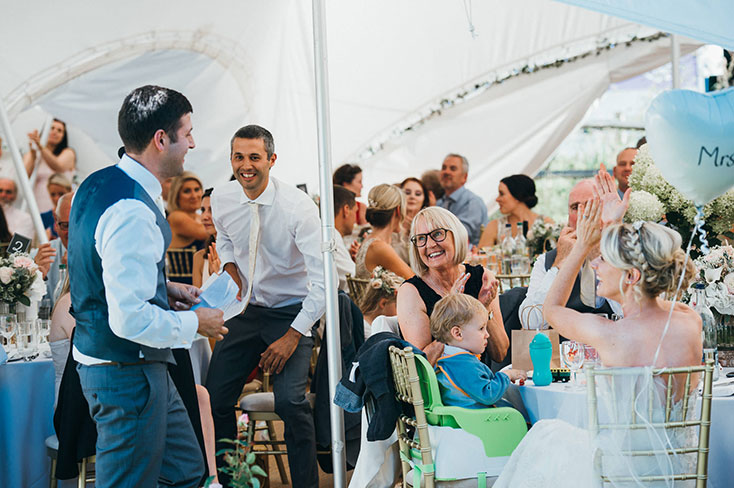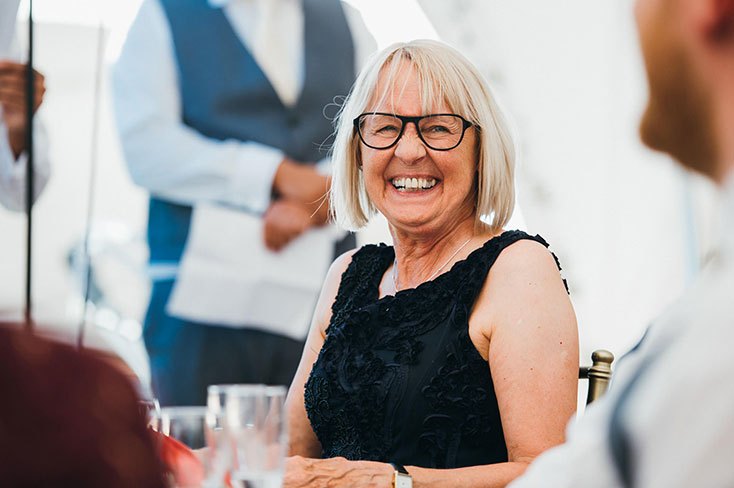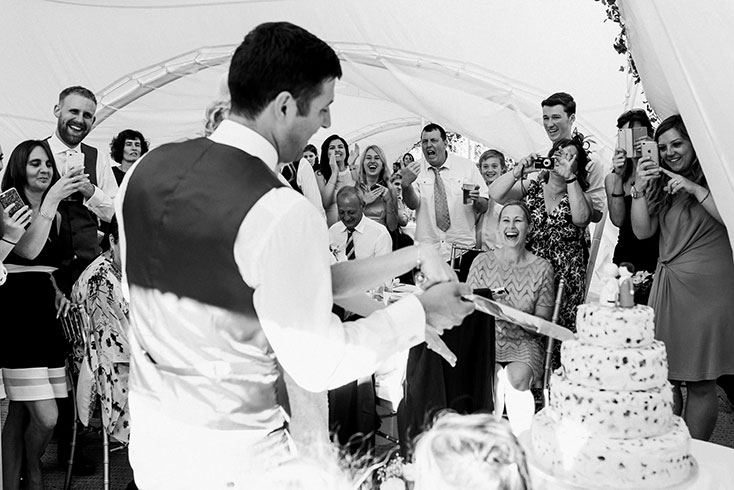 FINAL WORDS
Some words of wisdom for new brides to be about finding their dream dress, and wedding planning in general;
"Try on all the dresses! You never know which one you're suddenly going to fall in love with.
Delegate jobs during the setting up and on the actual wedding day, so that you can relax like a guest and not think or worry about the next bit, or the next detail, because it will all be fantastic. All the people there love you both and will be lapping it up!!"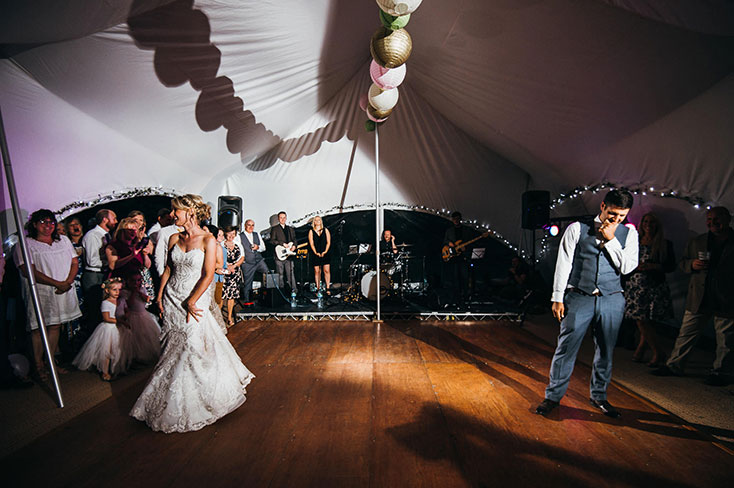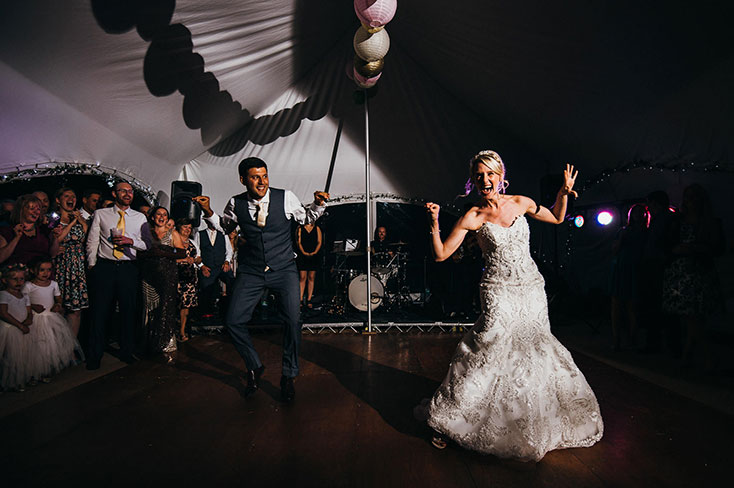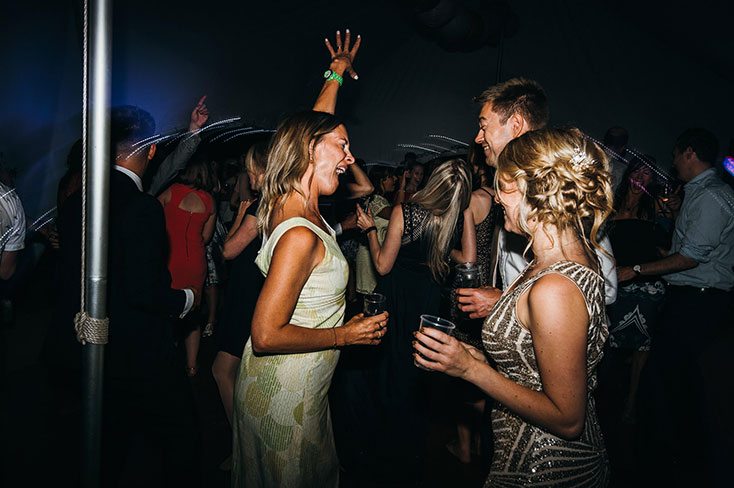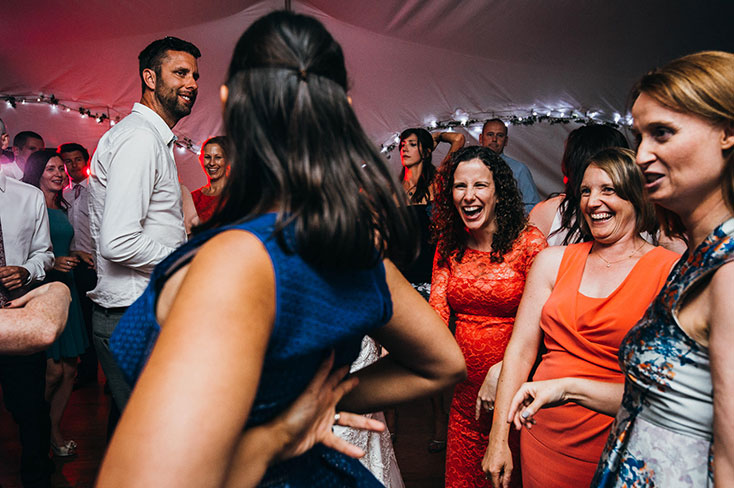 SUPPLIERS
Photographer: Simon Biffen
The Dress: Sottero and Midgley at Miss Bush
Flowers: Carrie Macey, The Topiary Tree
Food: Julia d'Albiac, Food Glorious Food (Lots of our guests commented on the quality of Julia's food and the abundance of canapes.)
Bar: John, The Great Mobile Bar Company
Hair: Suzanne Dusek
Flower girls' tutus: Flowers and Confetti
Wedding stationery: Geri Sammut-Alessi, Geri Loves Emi (Geri was so flexible and helpful.)
Crocus bulbs for my favours: Bulbs.co.uk (These people were lovely, sourcing bulbs for me at what was completely the wrong time of year!)
Band: The Blue Jets – my friends Ben and Nick Smith
Thank you so much to Ali and Dom for sharing their wonderful day with us – we loved the combination of natural textures and colours with a touch of glamour and sparkle – Zinnia looked right at home! Oh and Ali, you will *always* be a member of the Miss Bush brides club!
Leah x