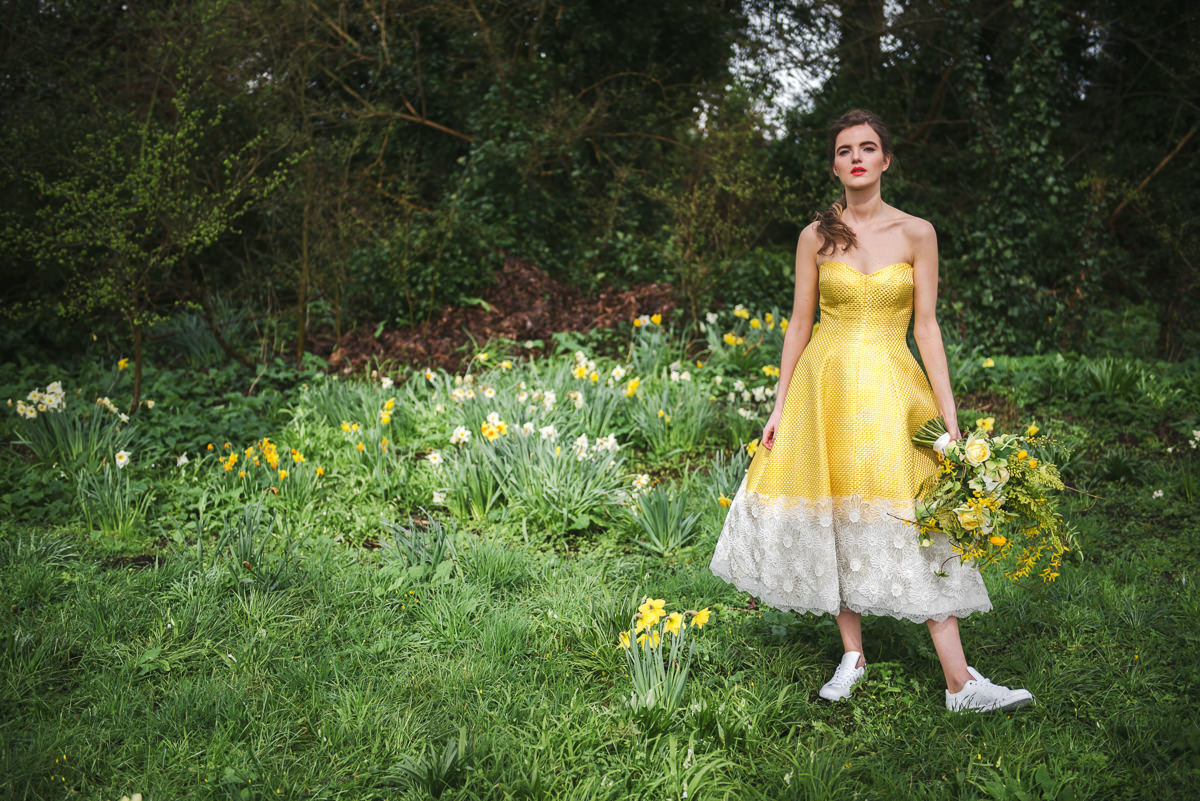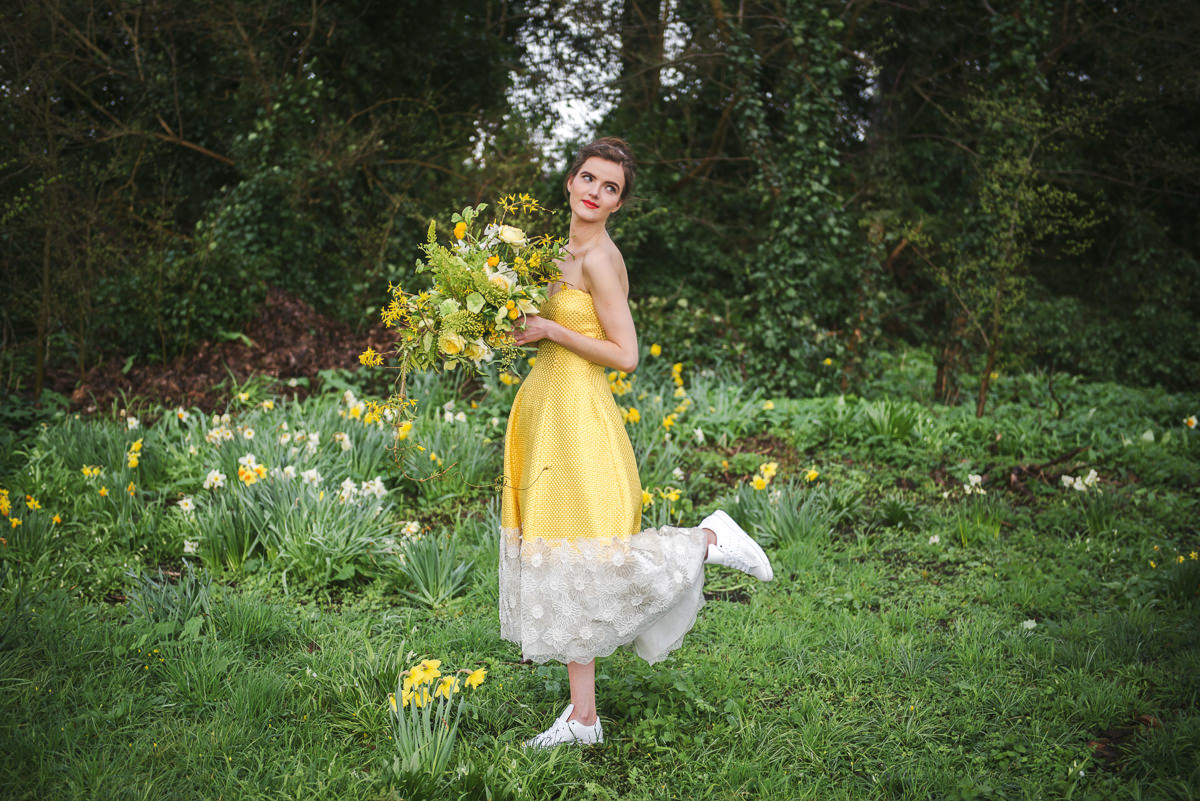 Last week the Miss Bush home team came together to create a series of looks for Spring 2017, and we're so excited to share the results with you today! With bright and cheerful yellow throughout, crisp fresh white and lots of luscious greenery, the looks created are perfect for Spring, celebrating the joy and promise of the new season.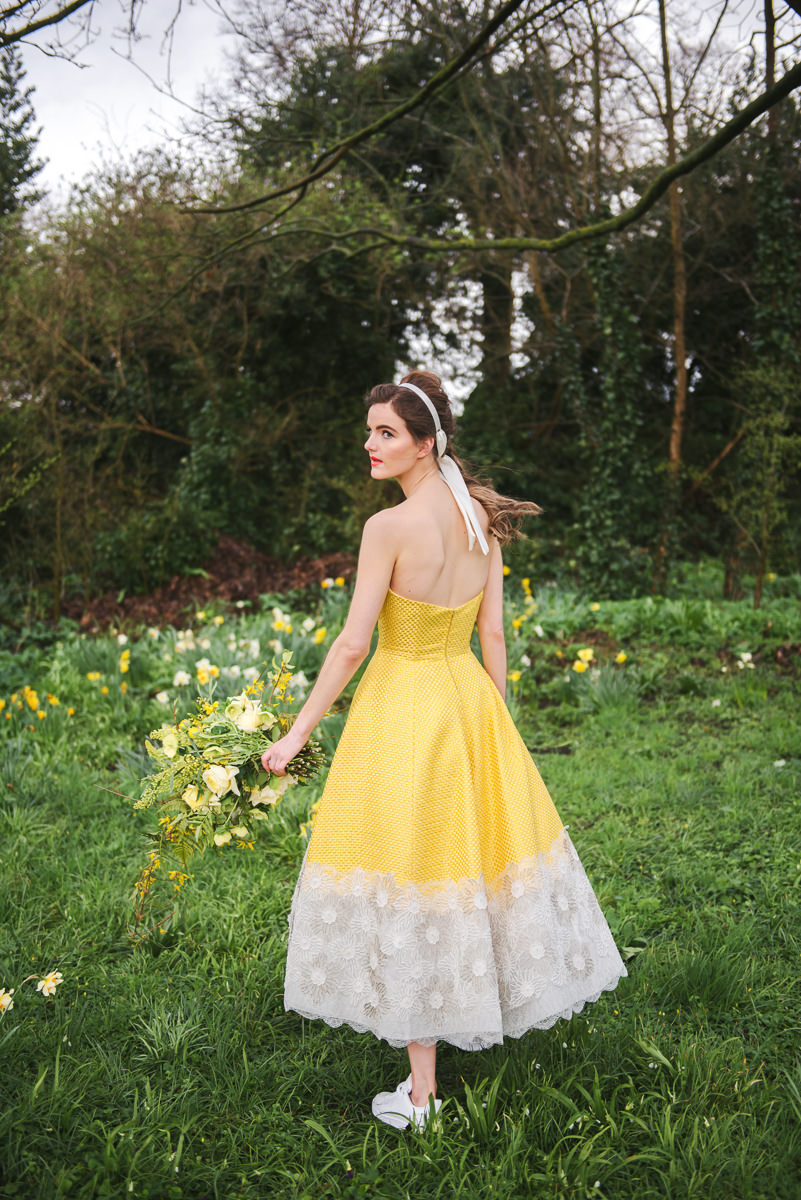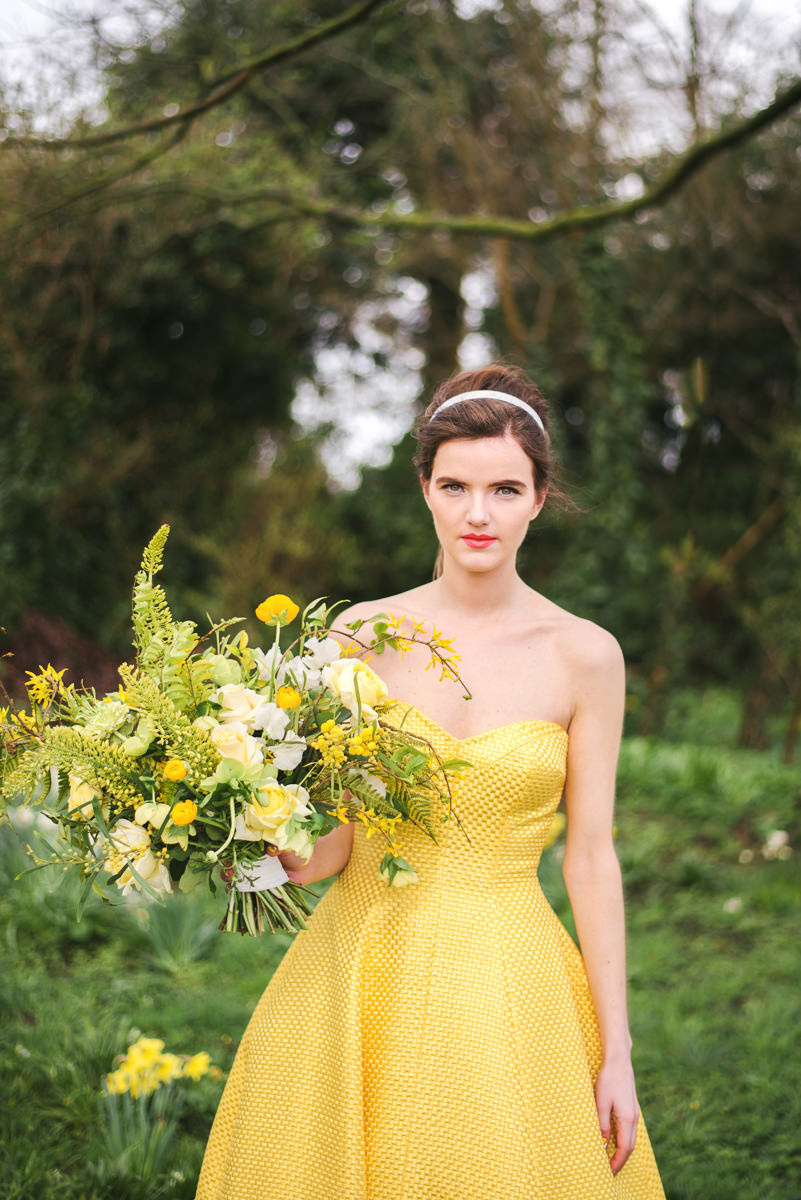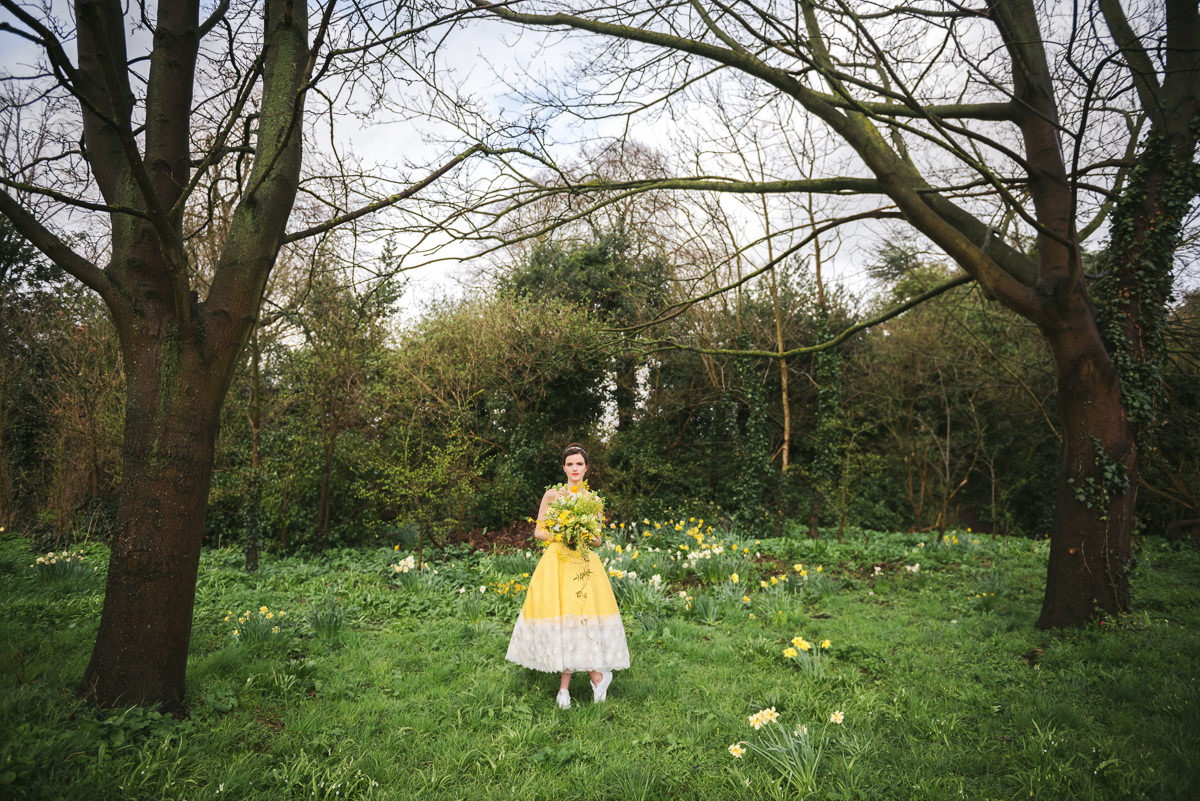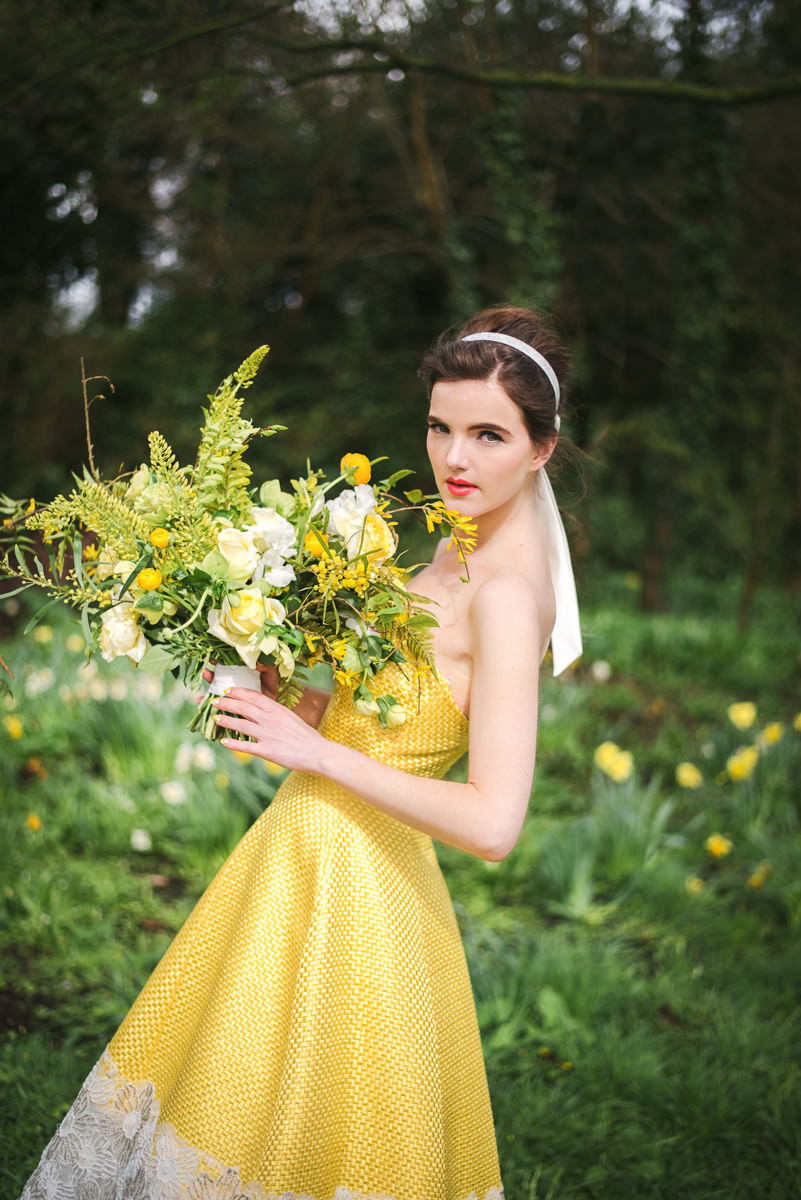 This first look features an exclusive gown from Yolan Cris, from the 2016/2017 Couture Collection. Made from beautiful woven yellow fabric and finished with an intricately beaded floral lace hem, this dress has a 1950's feel, with the full midi length skirt making it perfect for a lighthearted frolic in the fields.
We accessorised this dress with a pair of white sneakers to add to the casual, fun and free feel that we wanted to create, with the addition of a wild, abundant bouquet created by Bloomingayles providing the perfect finishing touch.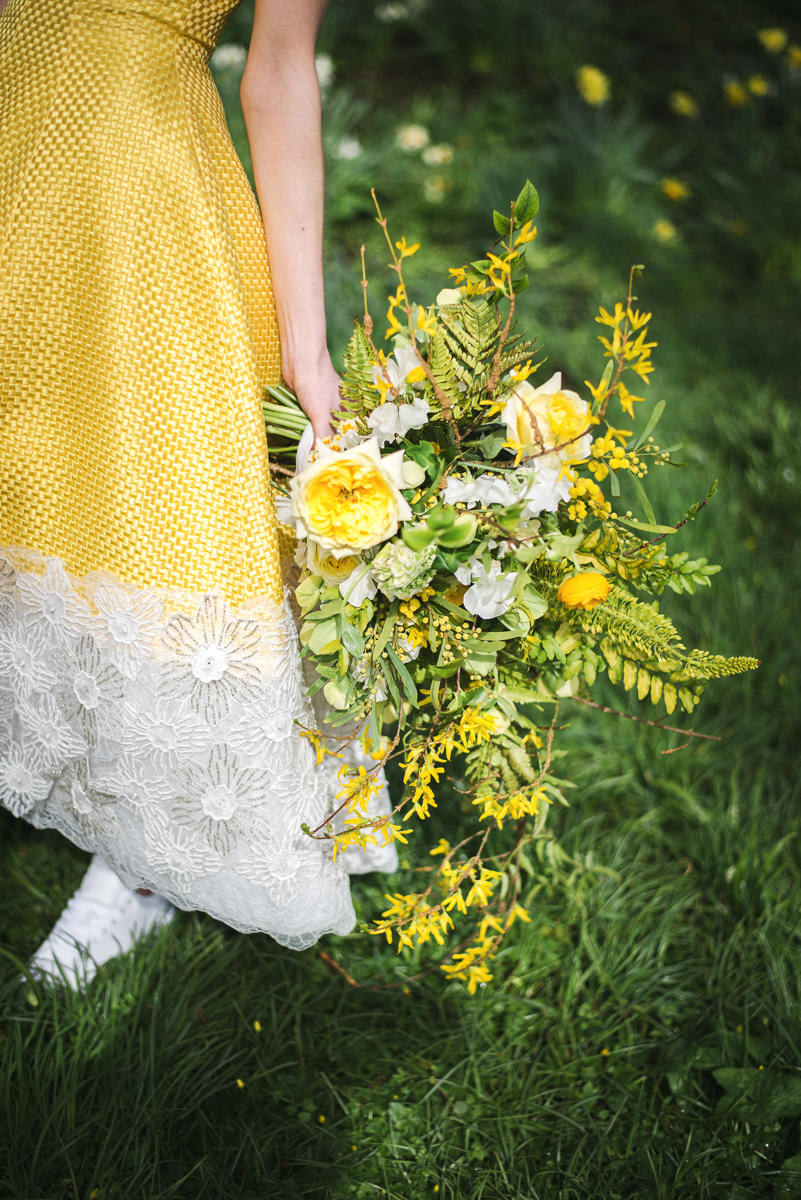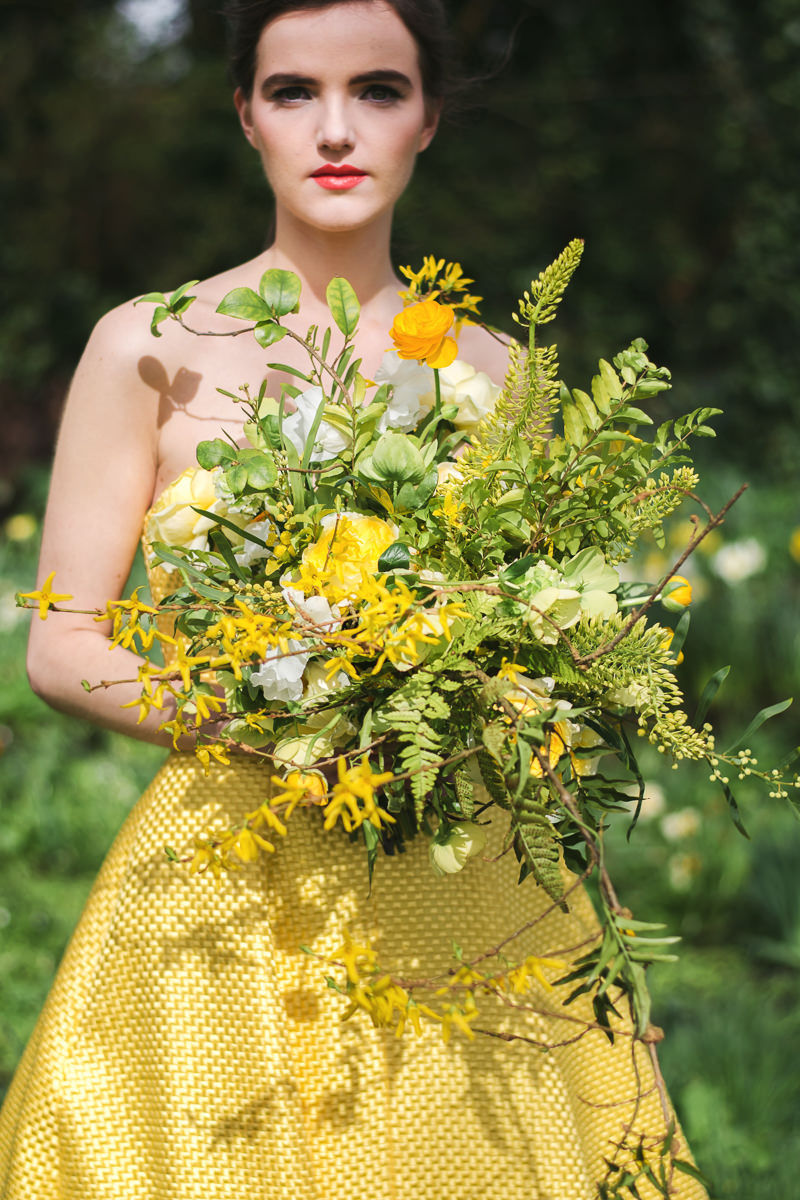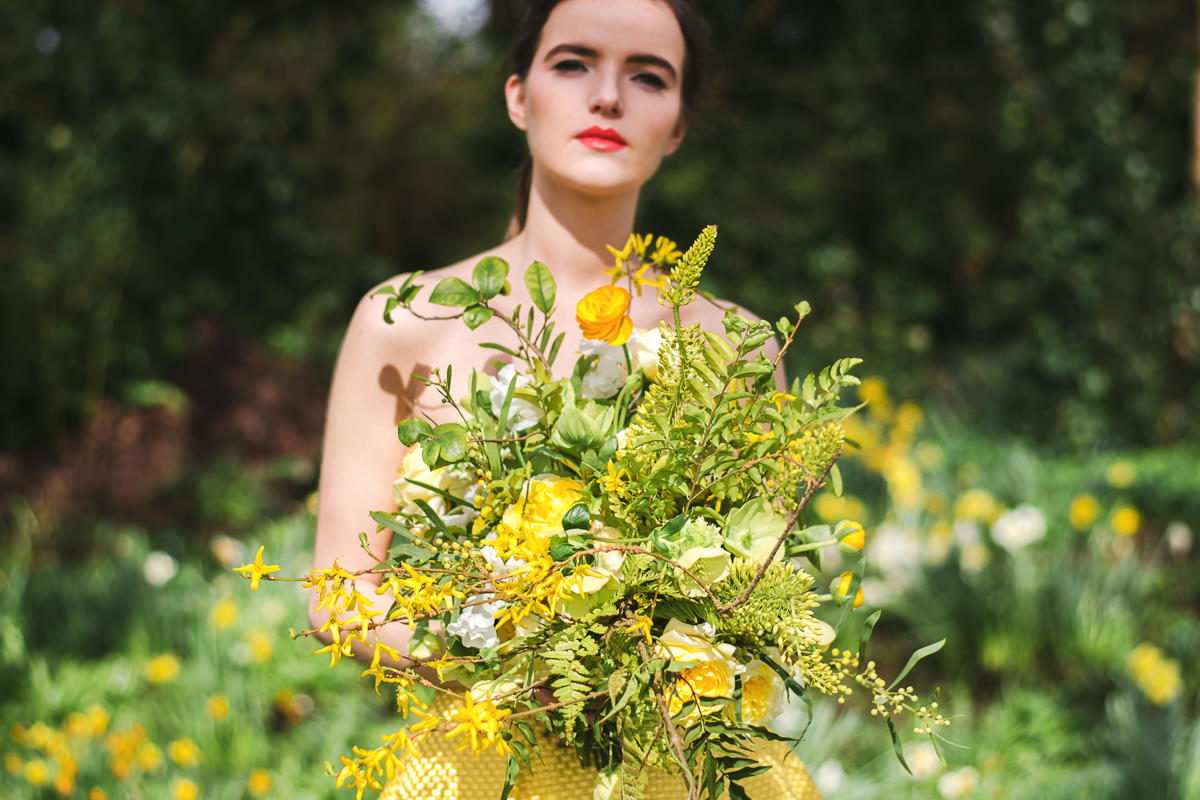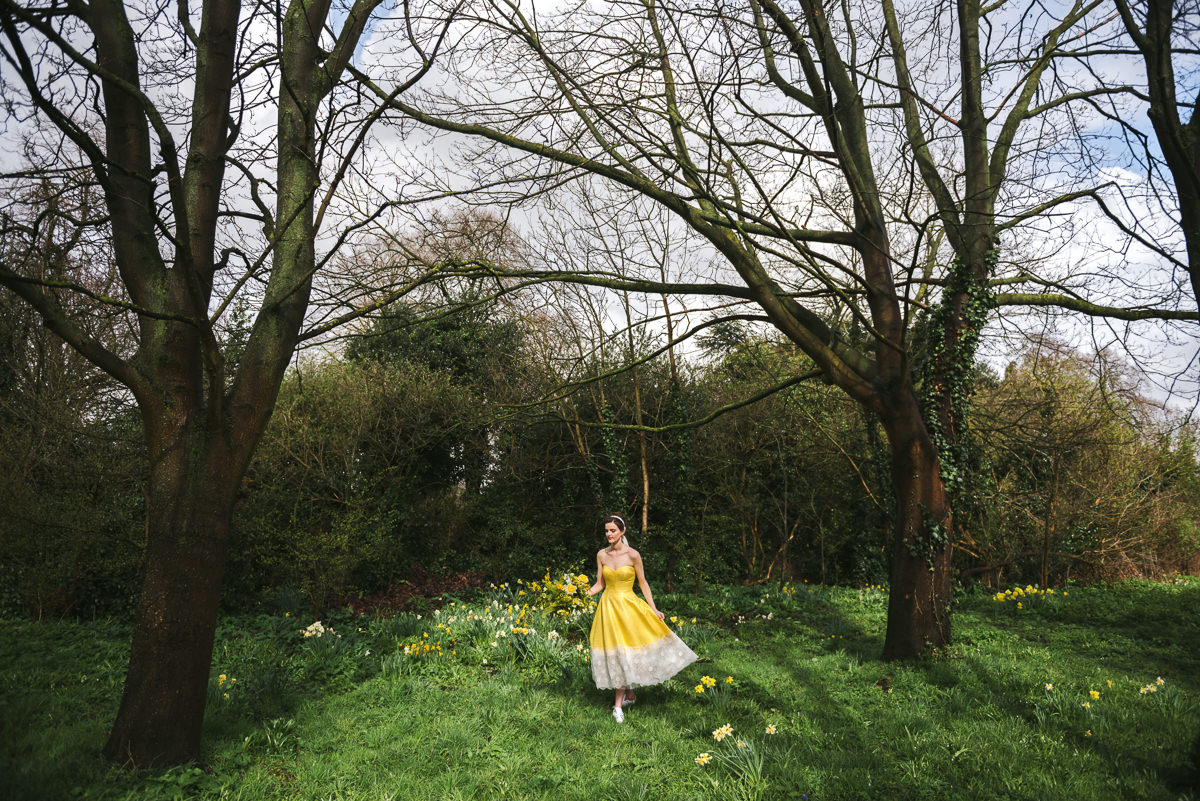 Hairstylist Sharon created the perfect low ponytail for this look, with plenty of texture and volume, which was finished with a pretty silver headband tied with ribbon. The make up was natural and pretty, finished with a bold coral lip.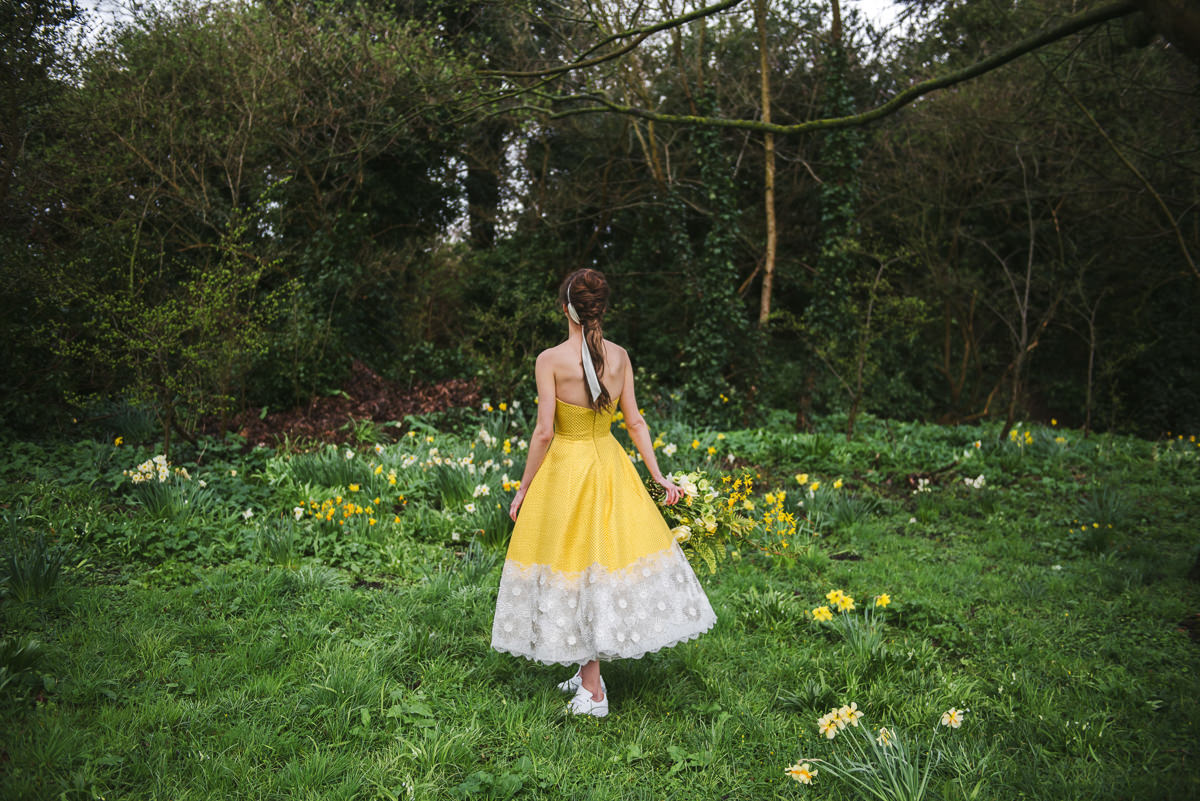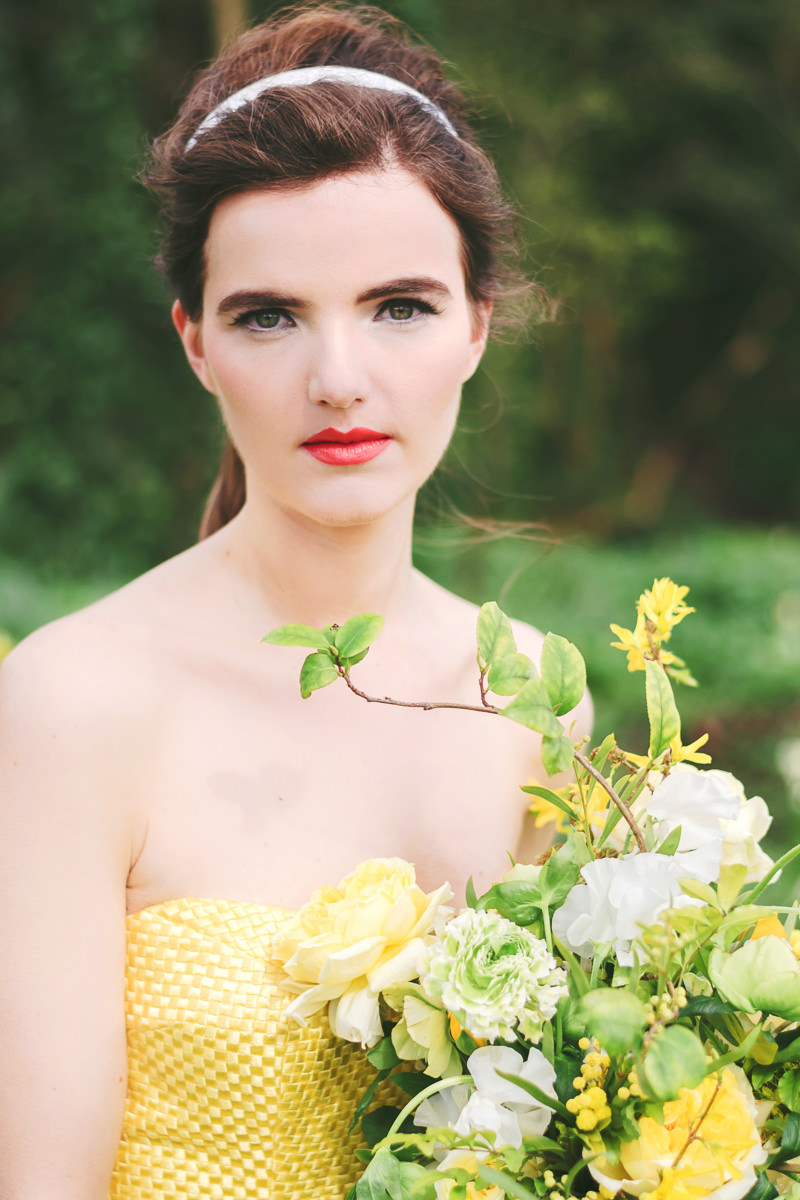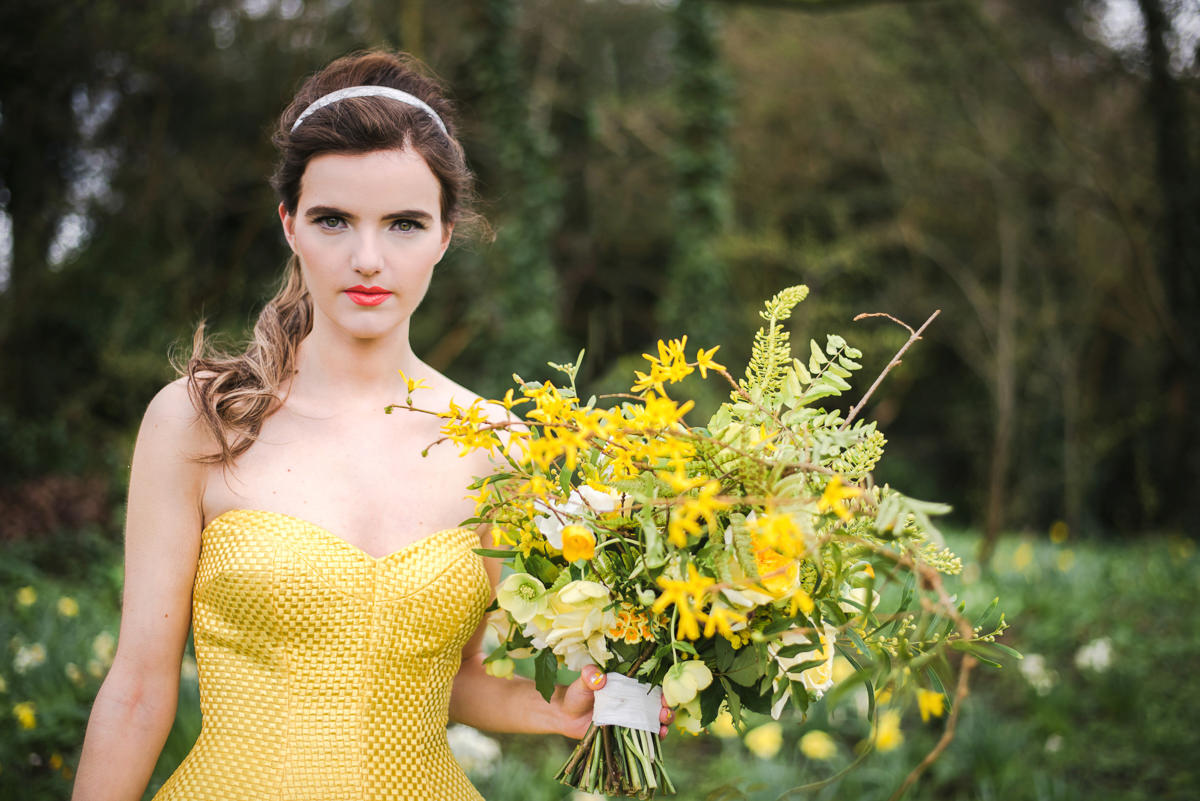 Next, we headed indoors to shoot an incredible gown that was created especially for Miss Bush for this shoot!
With a bright yellow column base, the top features a high neck with embroidered organza overlay covered in delicate leaves and flowers.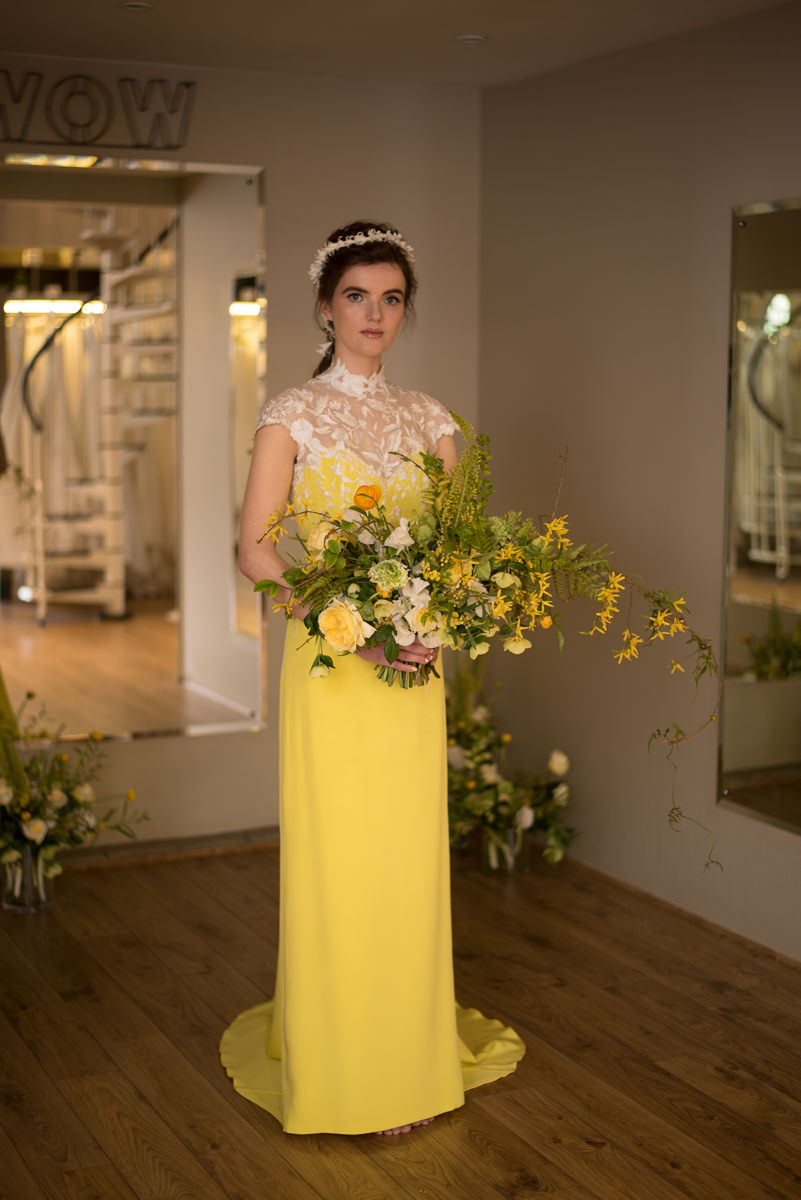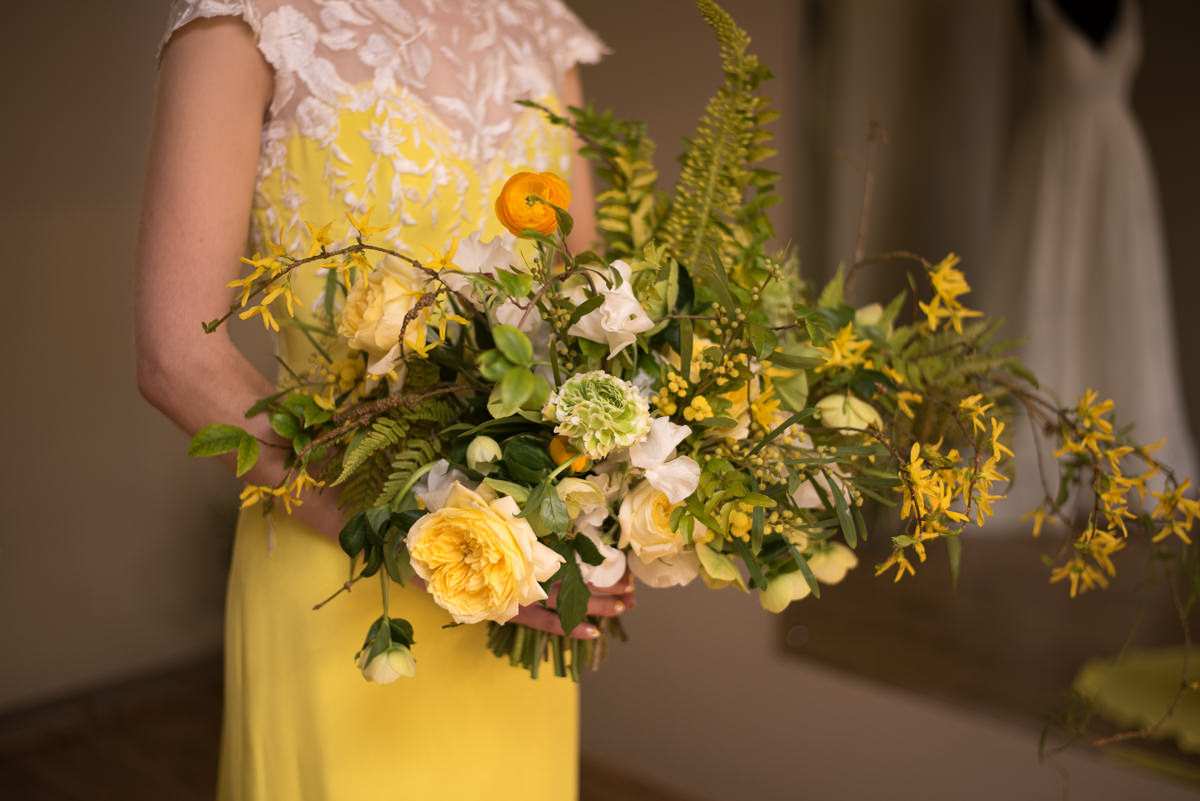 Sharon created a low ponytail for this look, entwined with a hyacinth hair vine created by Bloomingayles. The make up was barely there, with a subtle nude lip and a soft flowing complexion.
This look has a very elegant and regal quality; Chloe made the perfect Spring Goddess.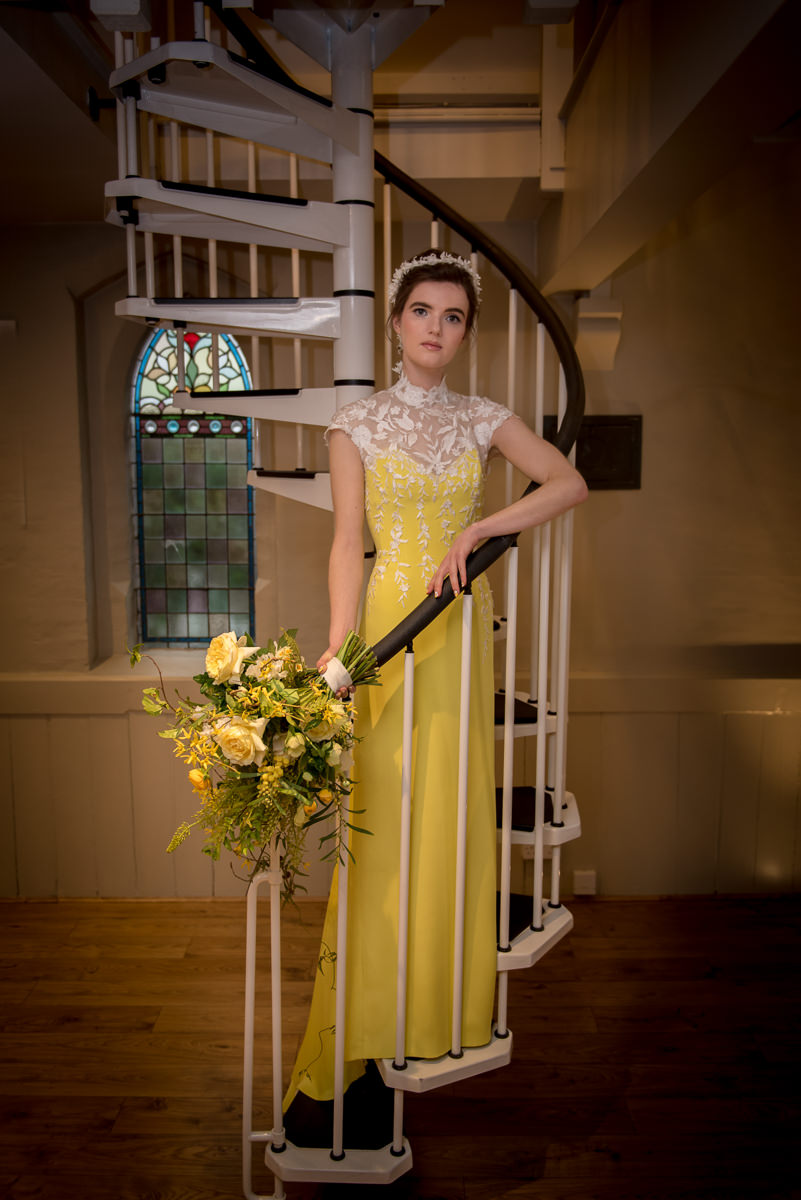 The interior of the chapel was decorated with vibrant yellow styling throughout, with an incredible cake created for us by Andi Freeman Cakes.
Andi recreated the Miss Bush yellow square that makes up our logo, which became the base for an explosion of spring flowers. The results are truly amazing – a total showstopper of a cake!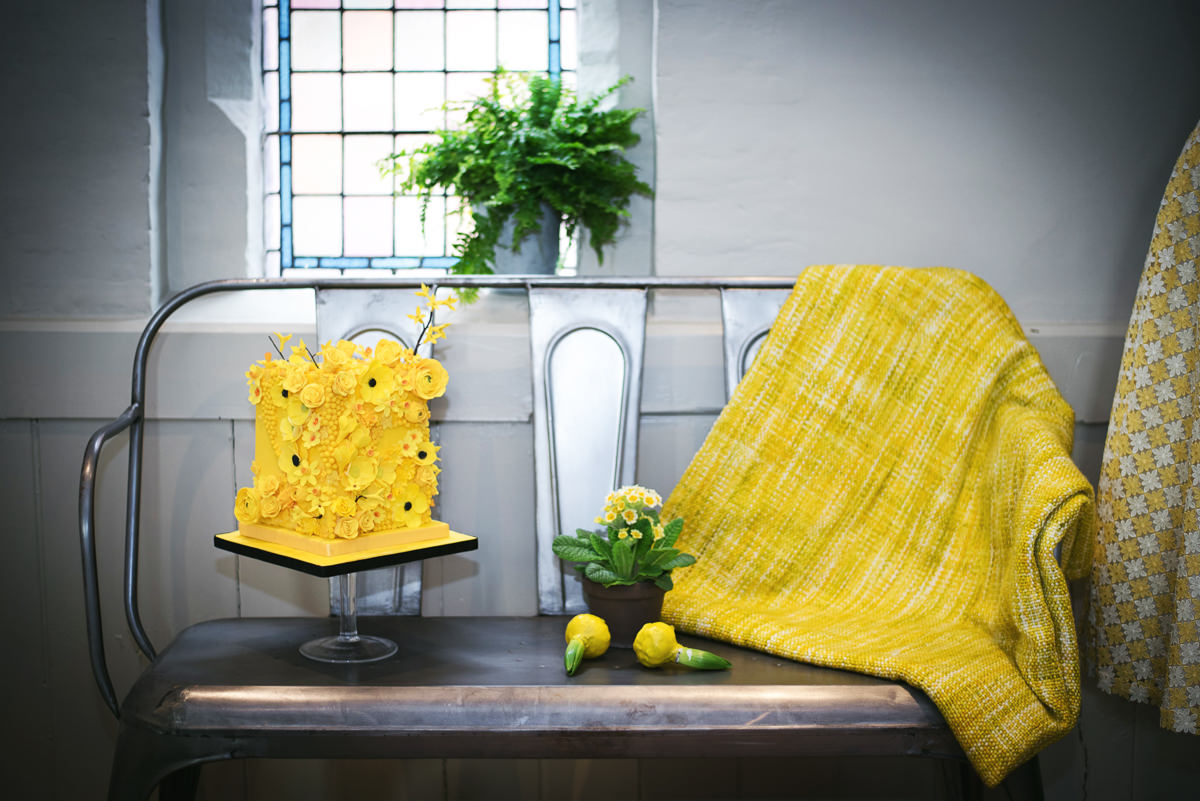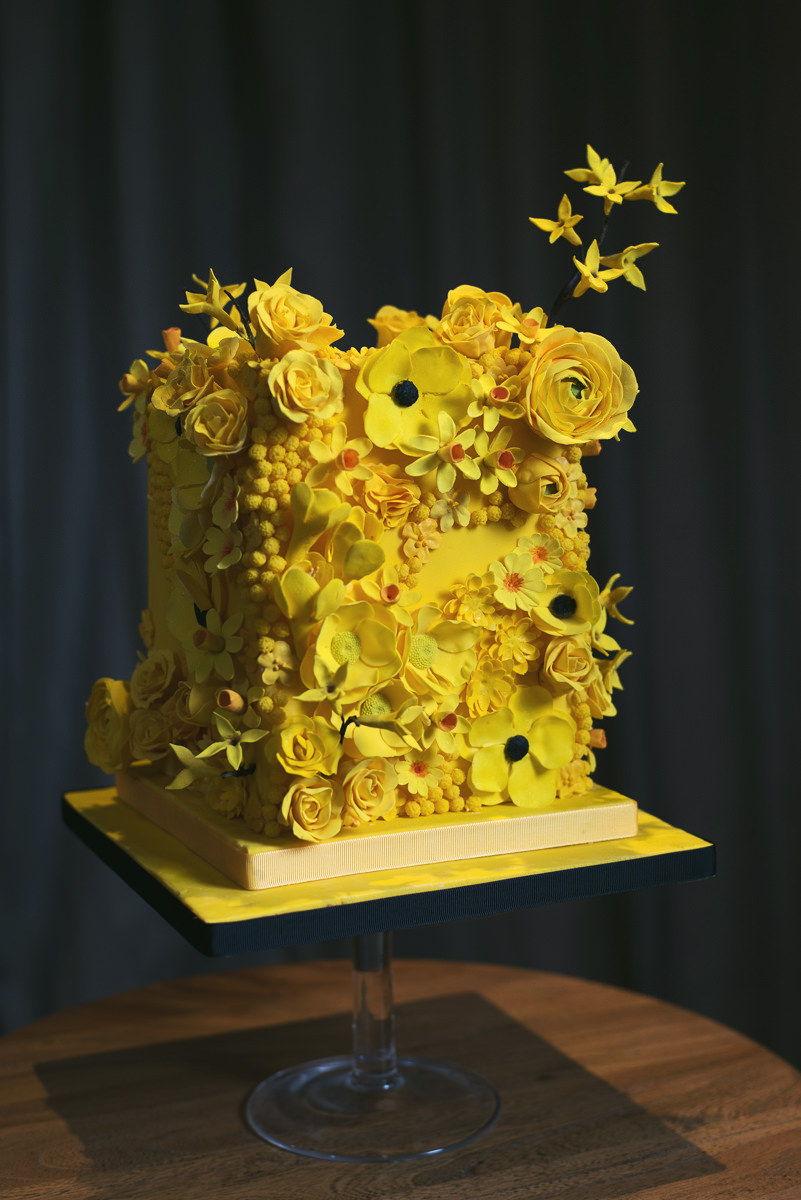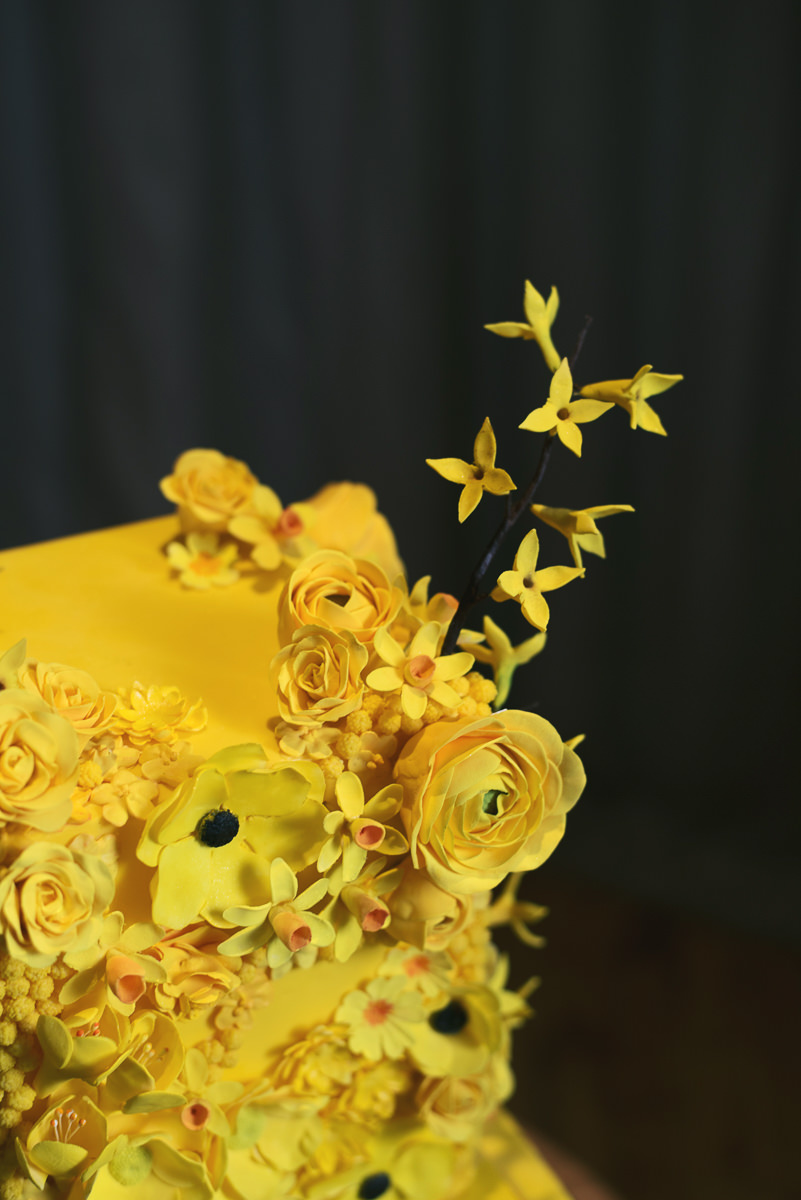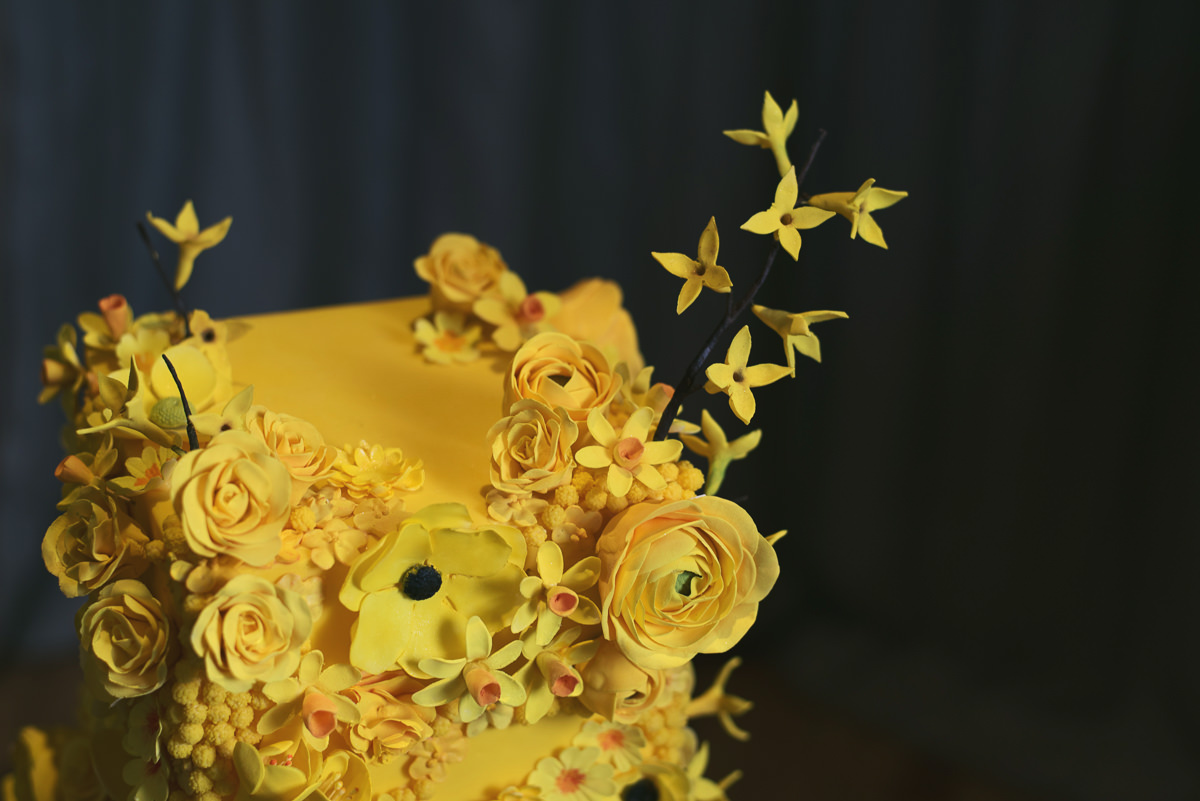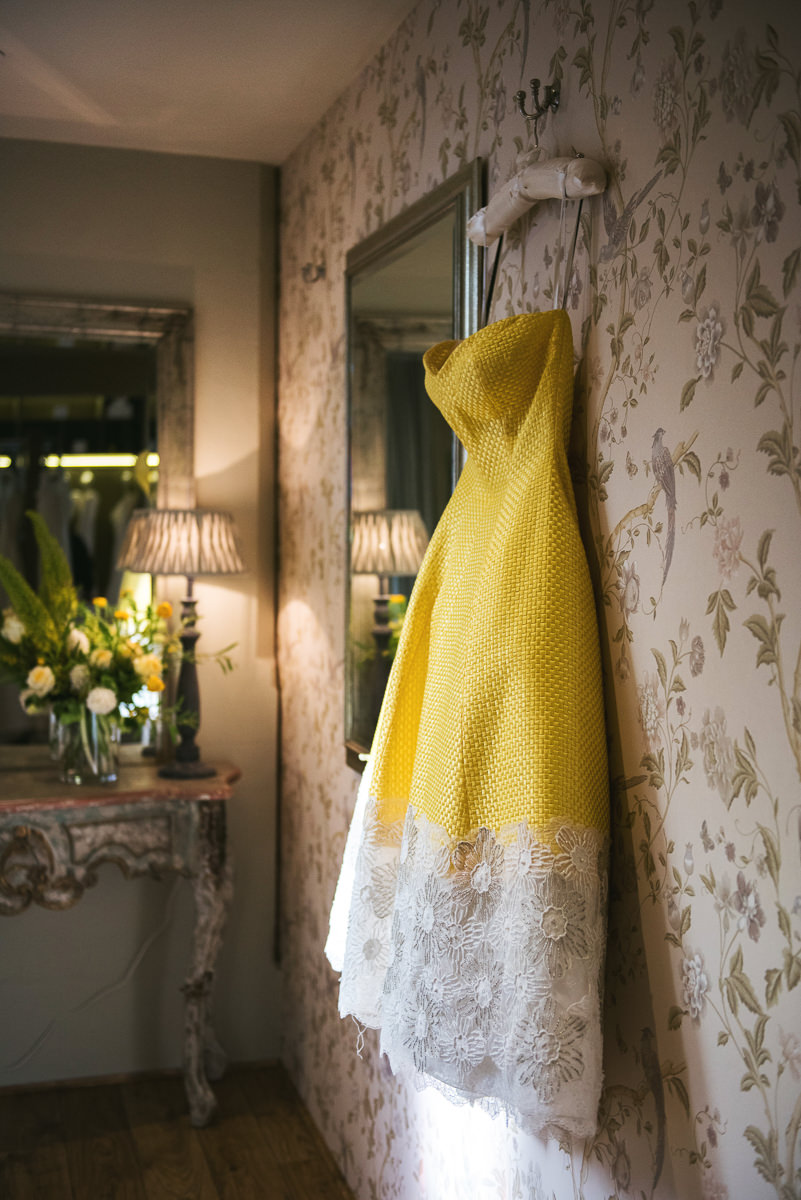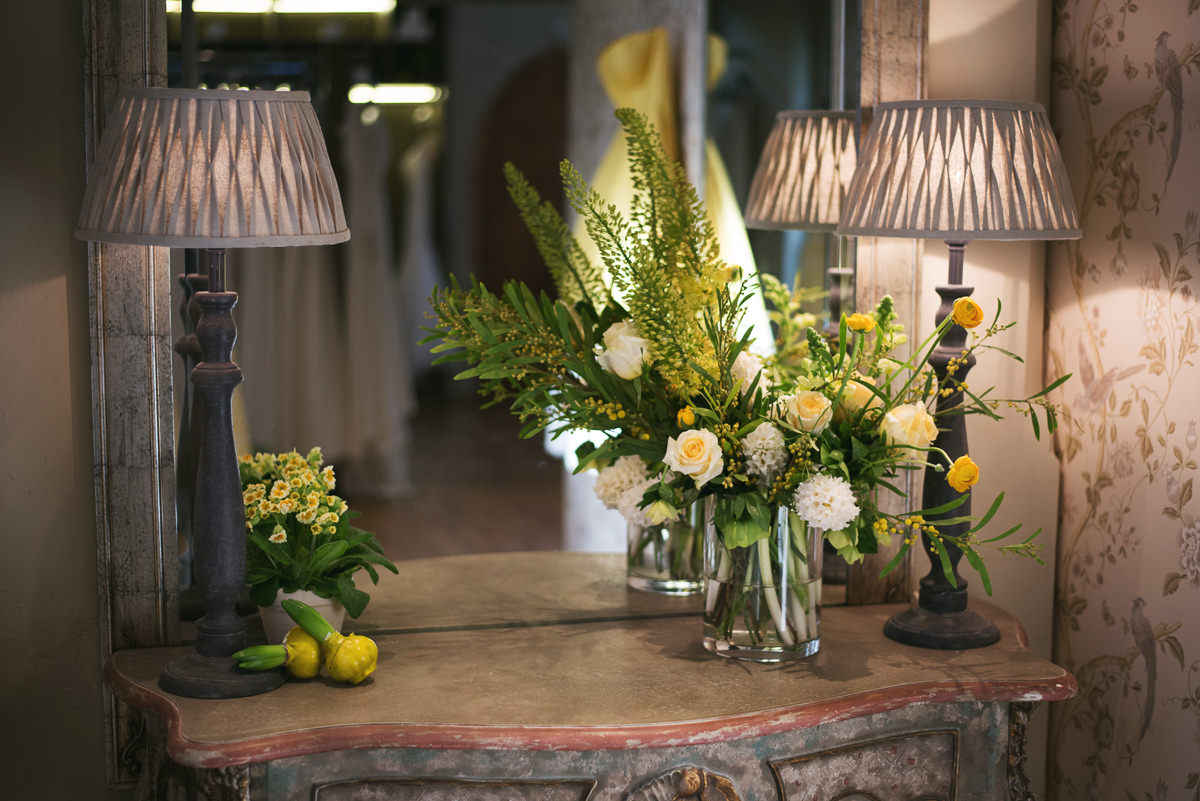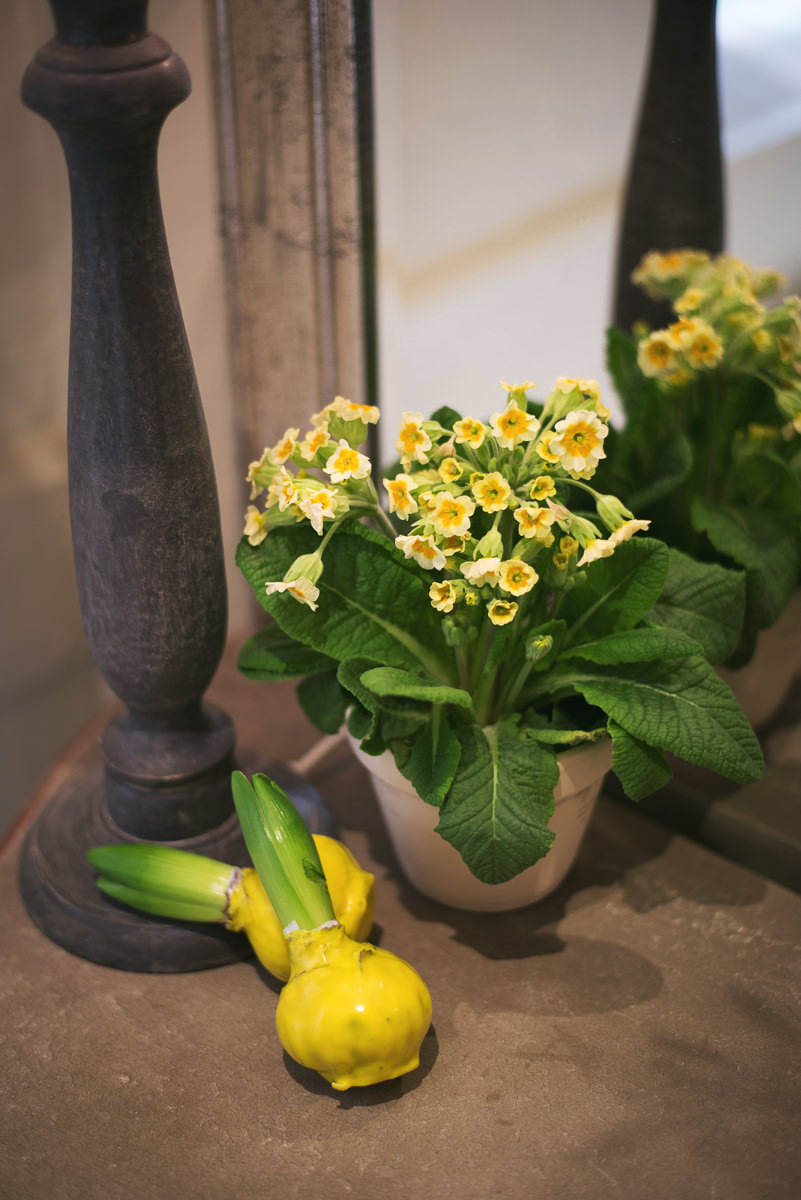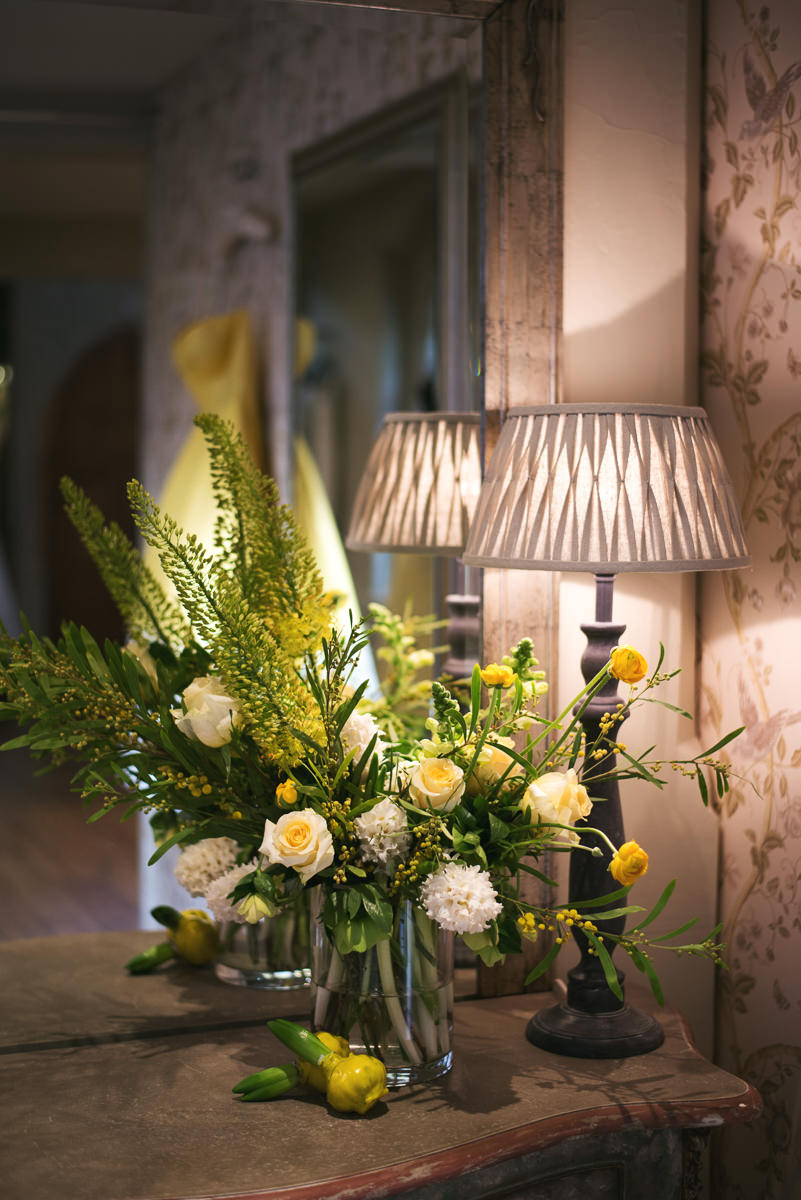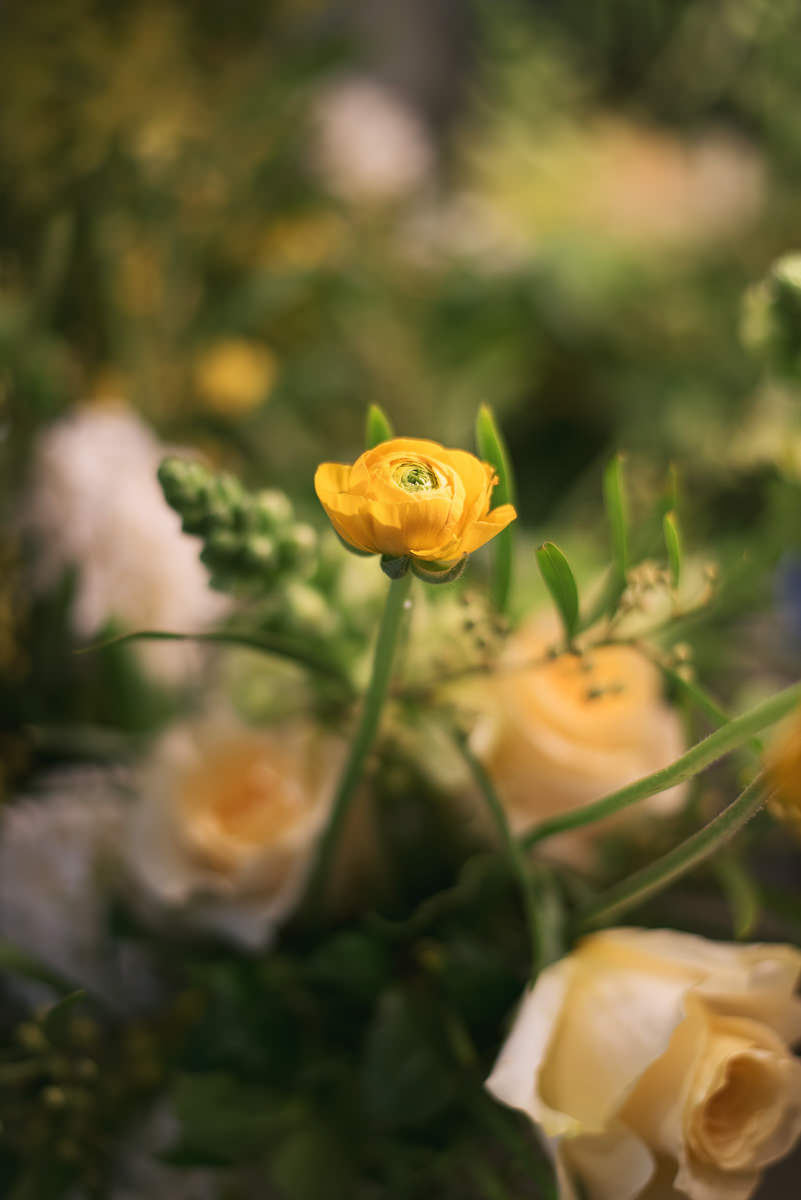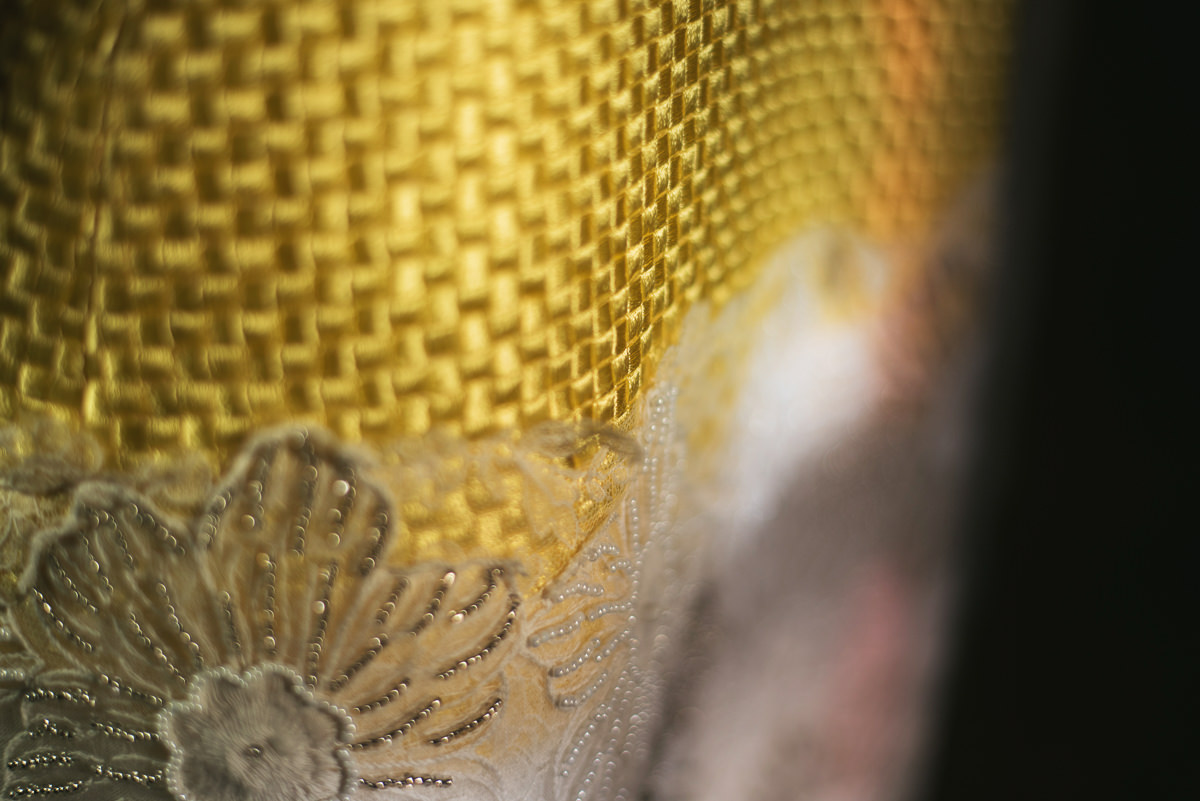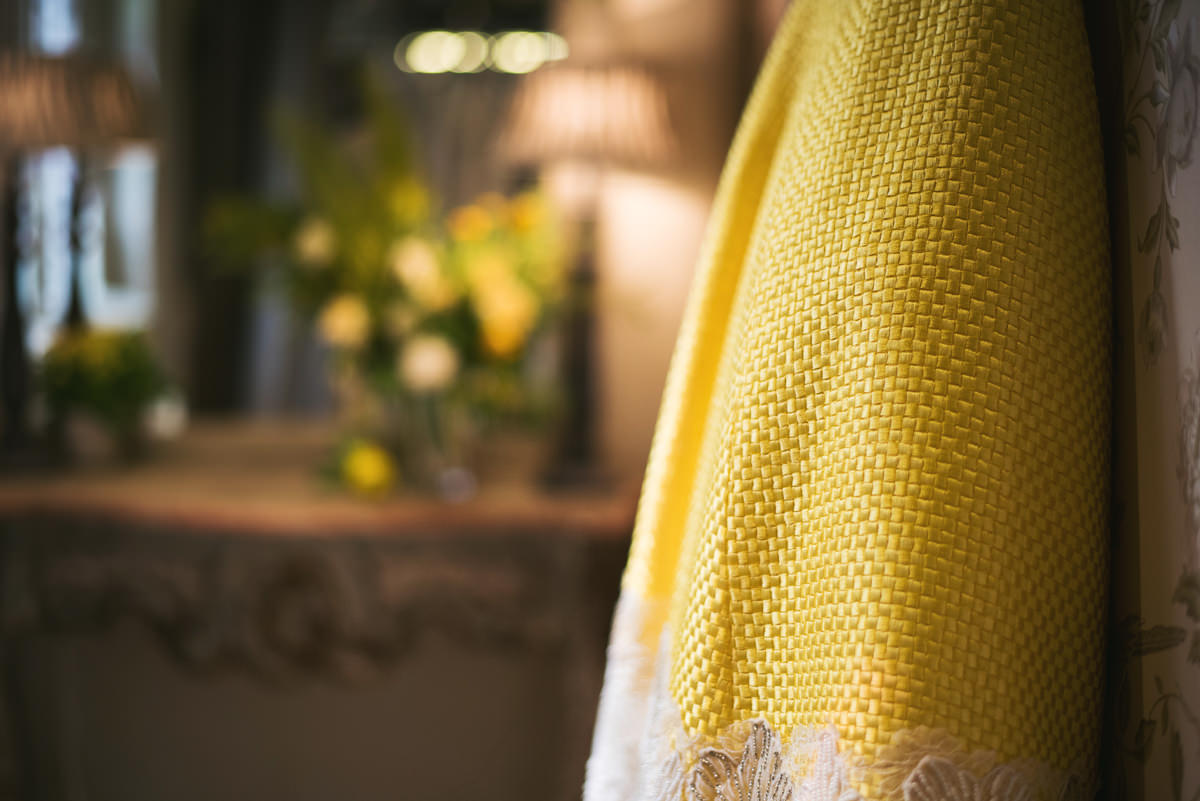 As always, Gayle transformed the exterior of the chapel into an incredible, welcoming entrance, adorning the eaves in a beautiful installation of happy yellow flowering foliage.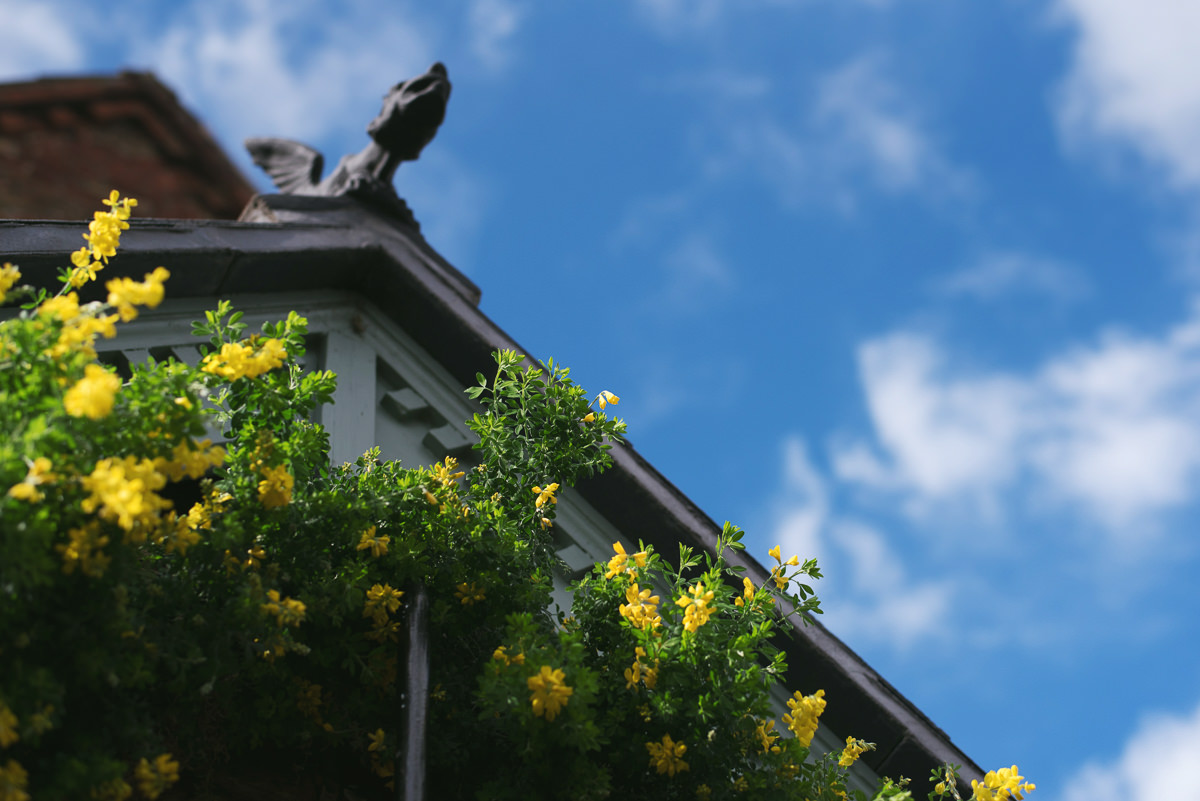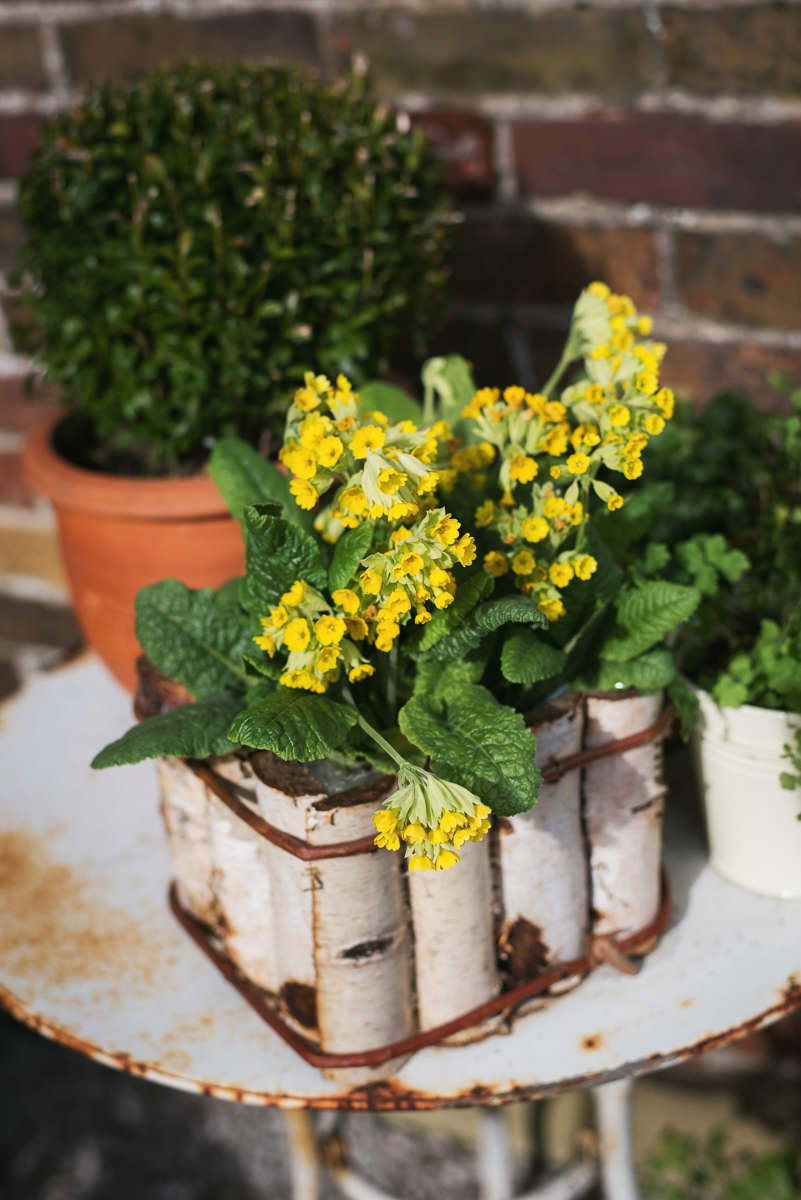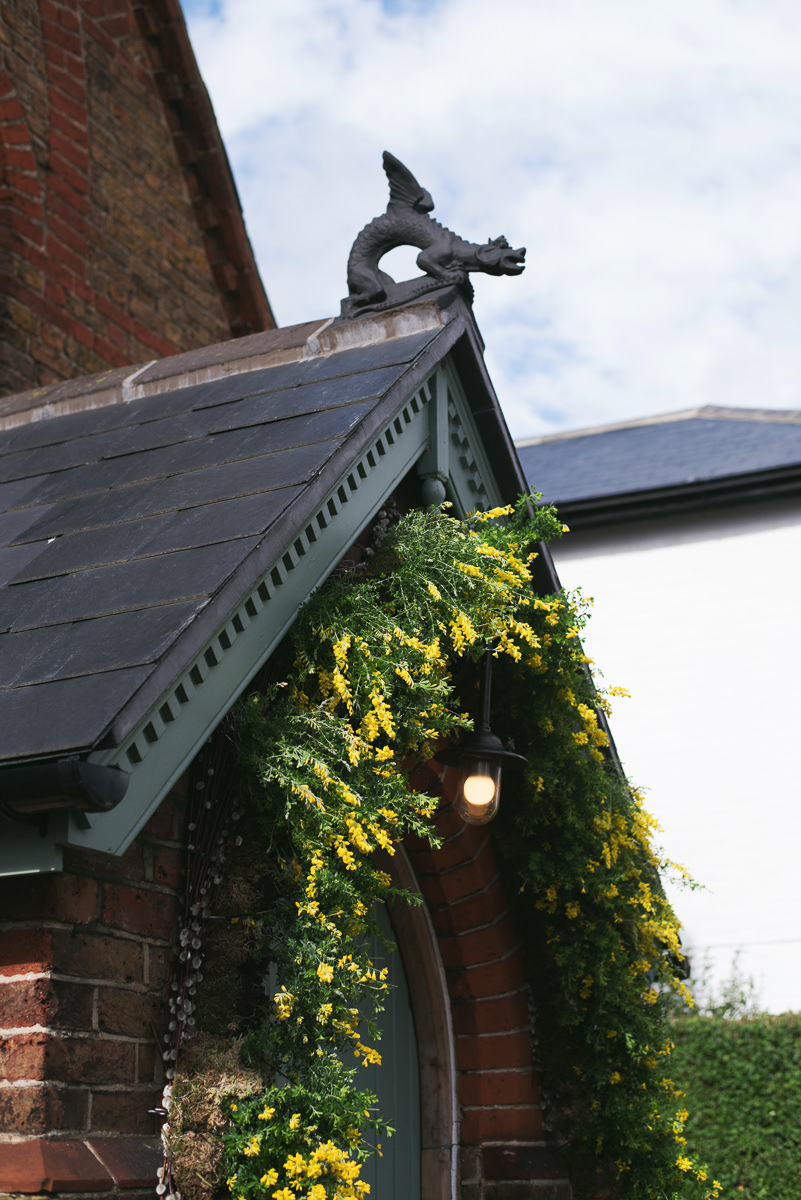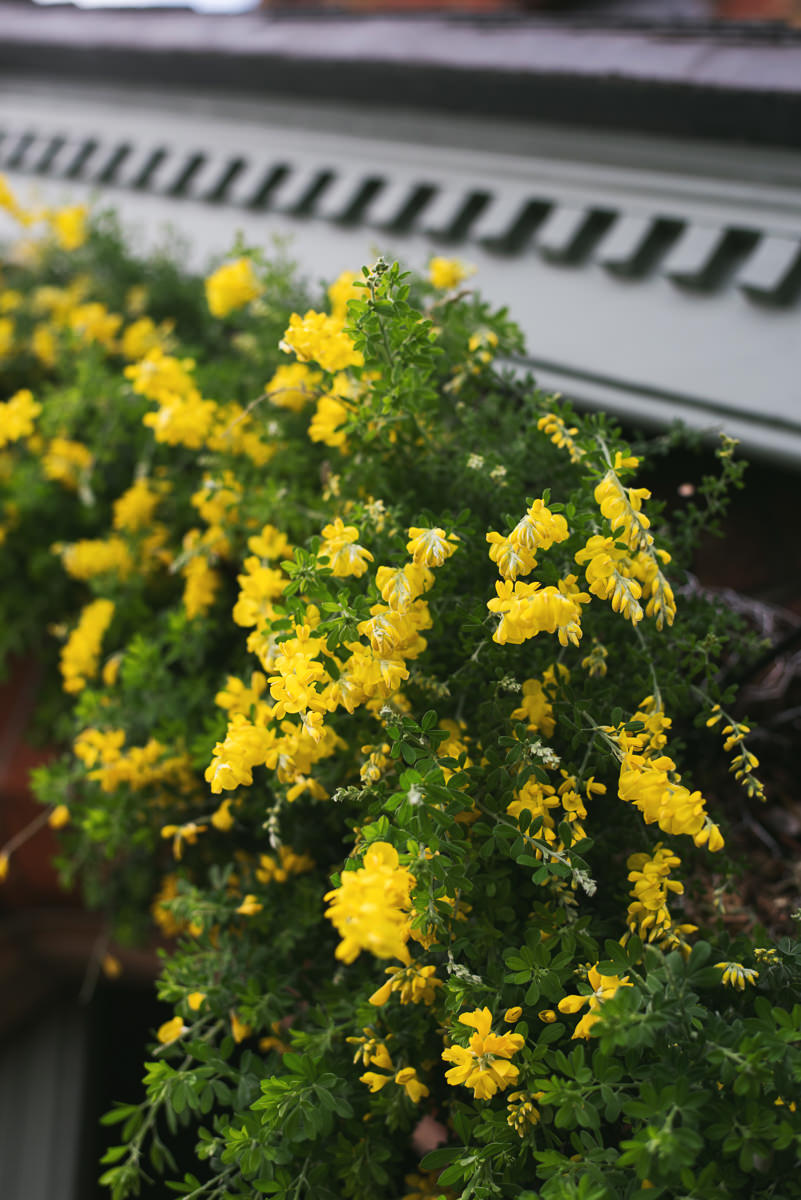 Our next look features yet another exclusive dress. We're so lucky to have access to such amazing gowns from our designers! The gown is 8014 from Jesus Peiro, and is currently available at Miss Bush.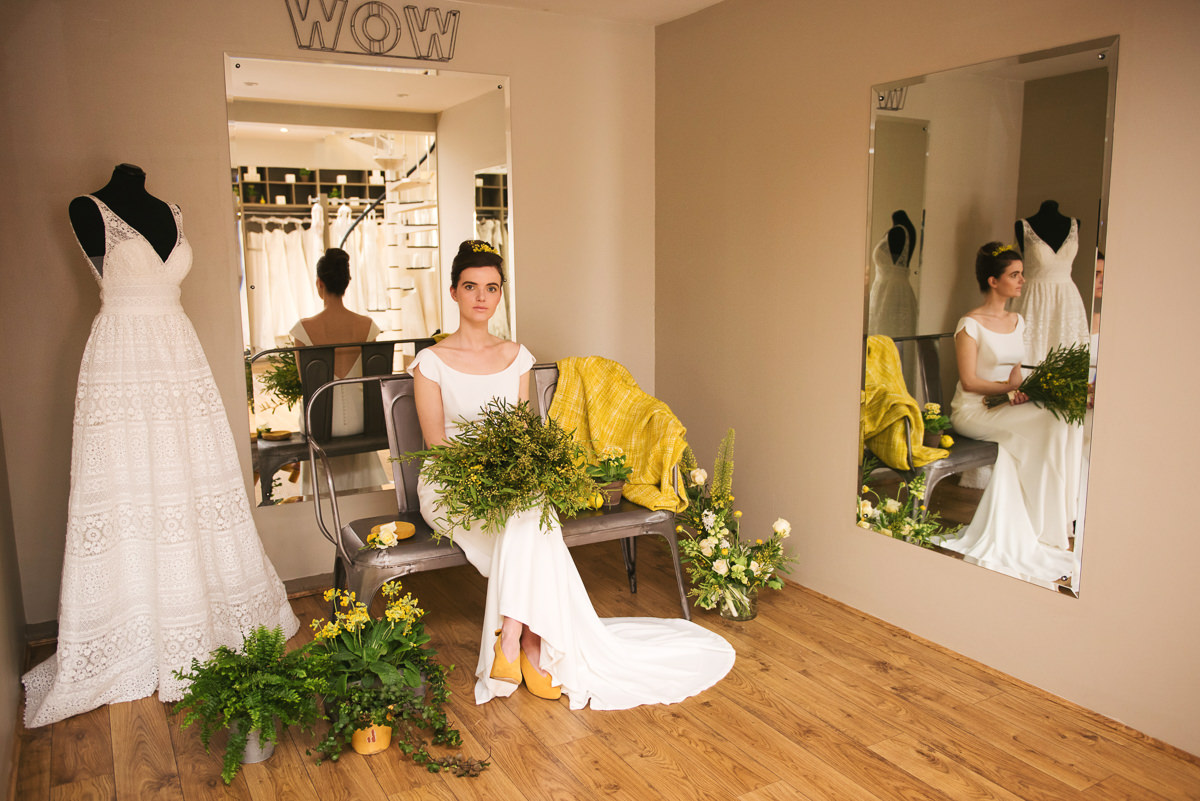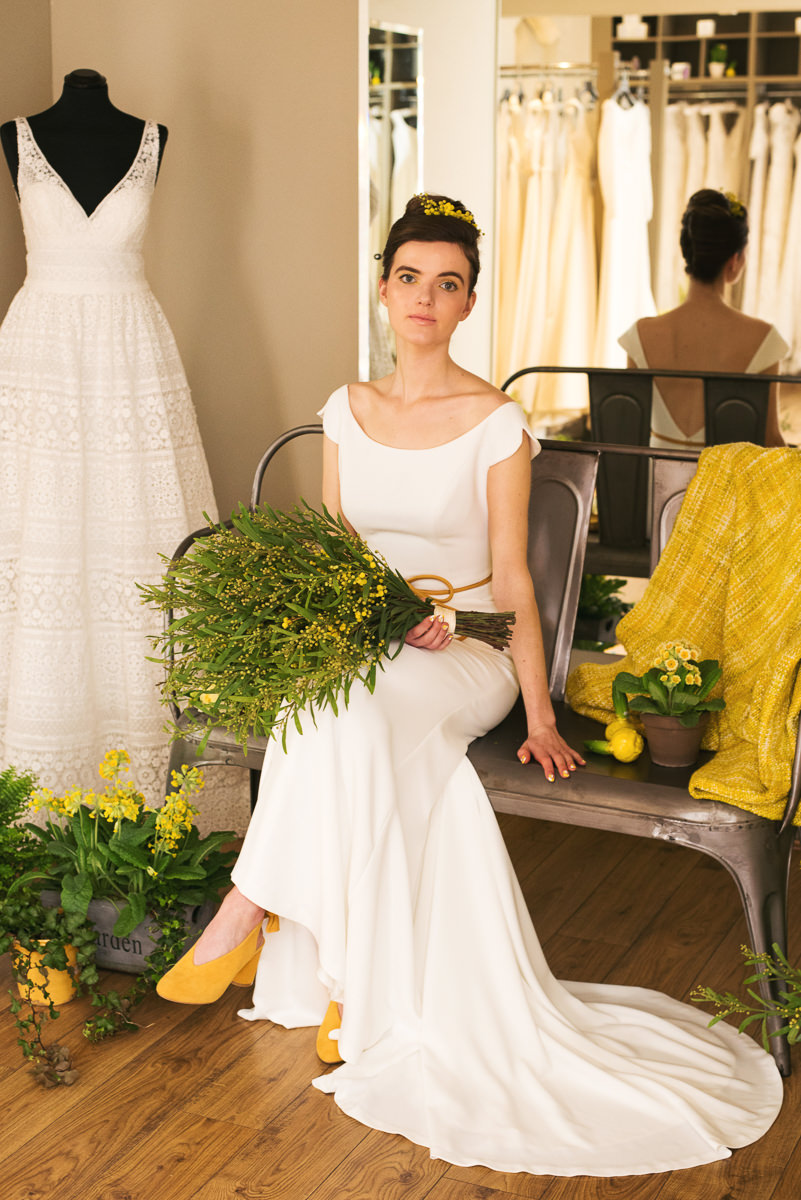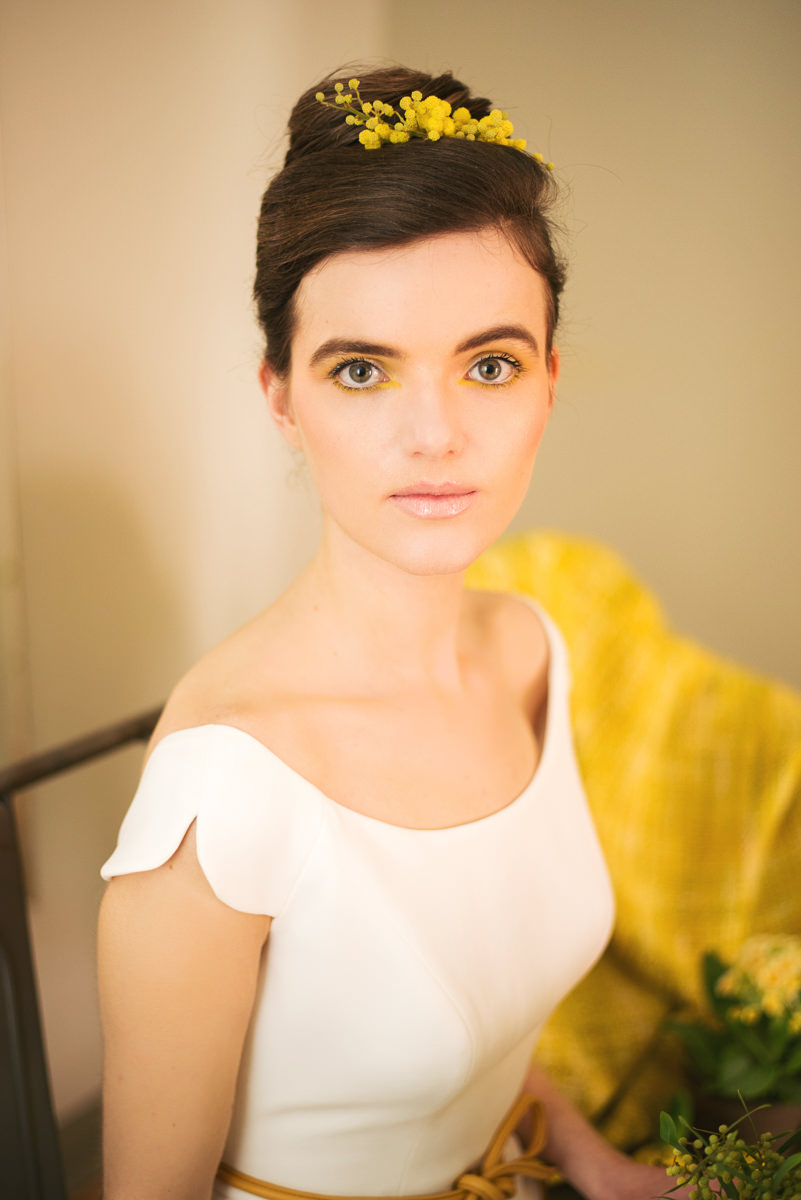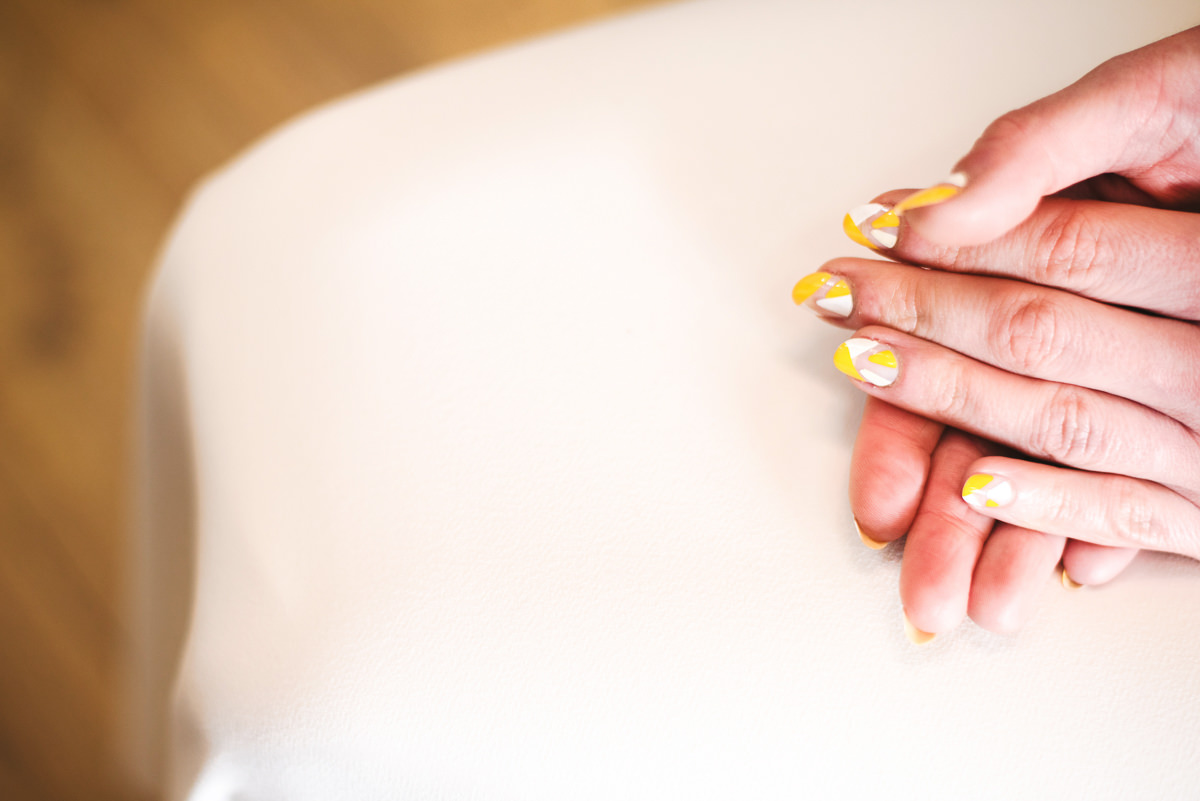 This look has a more contemporary feel, with the sleek white column dress creating a base for contrasting flashes of vibrant yellow. Sharon created a sleek, elegant updo adorned with a spray of Acacia Mimosa, whilst make up artist created a very bold yellow eye make up look.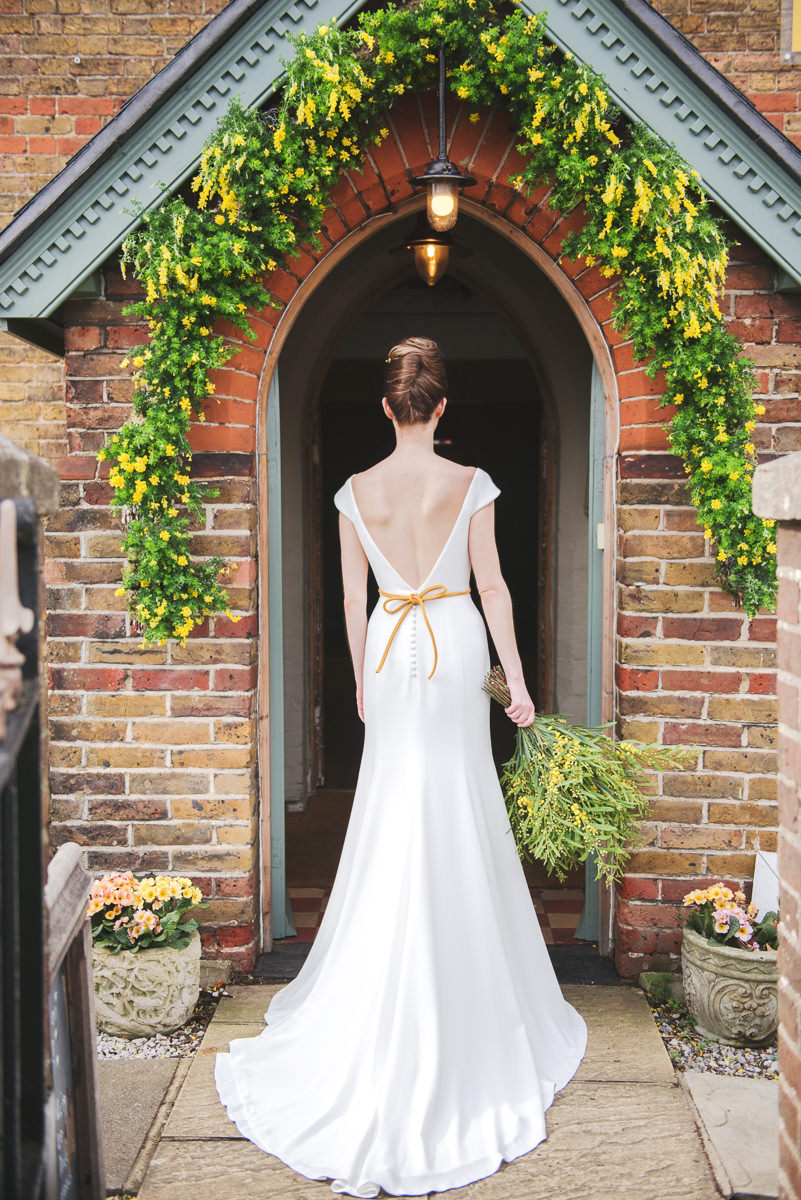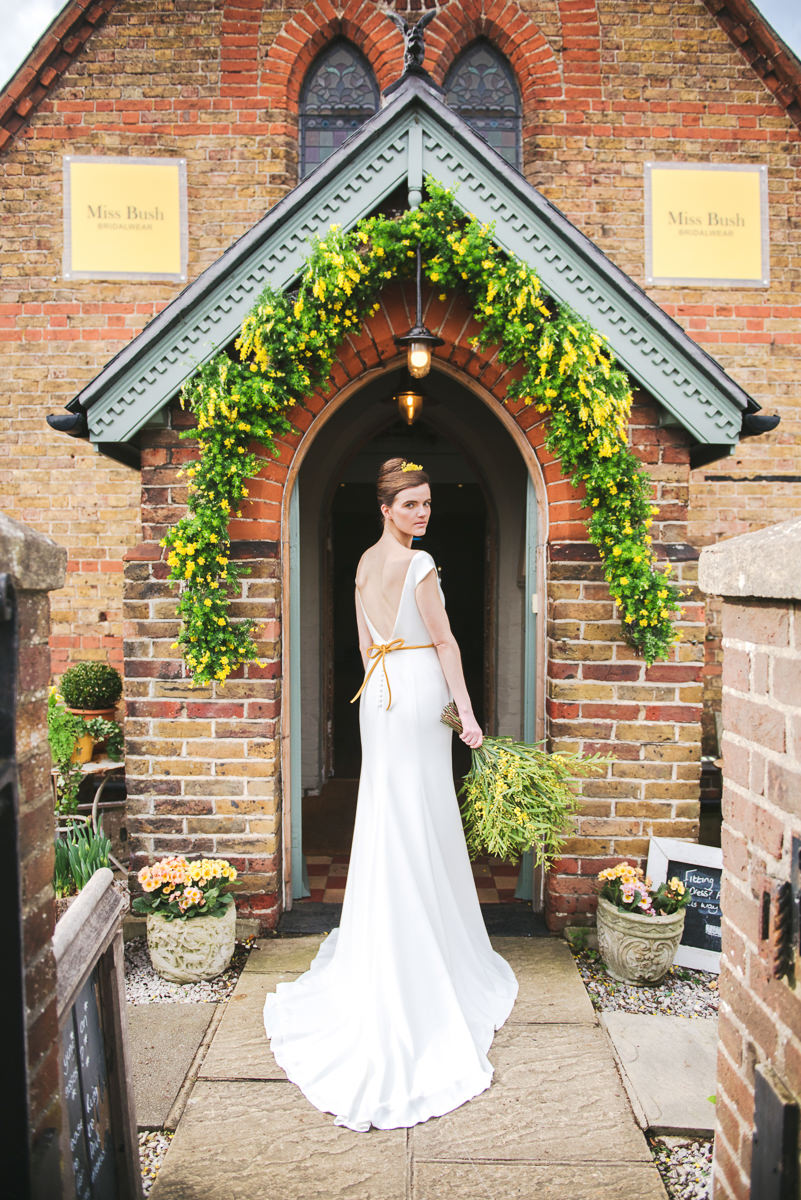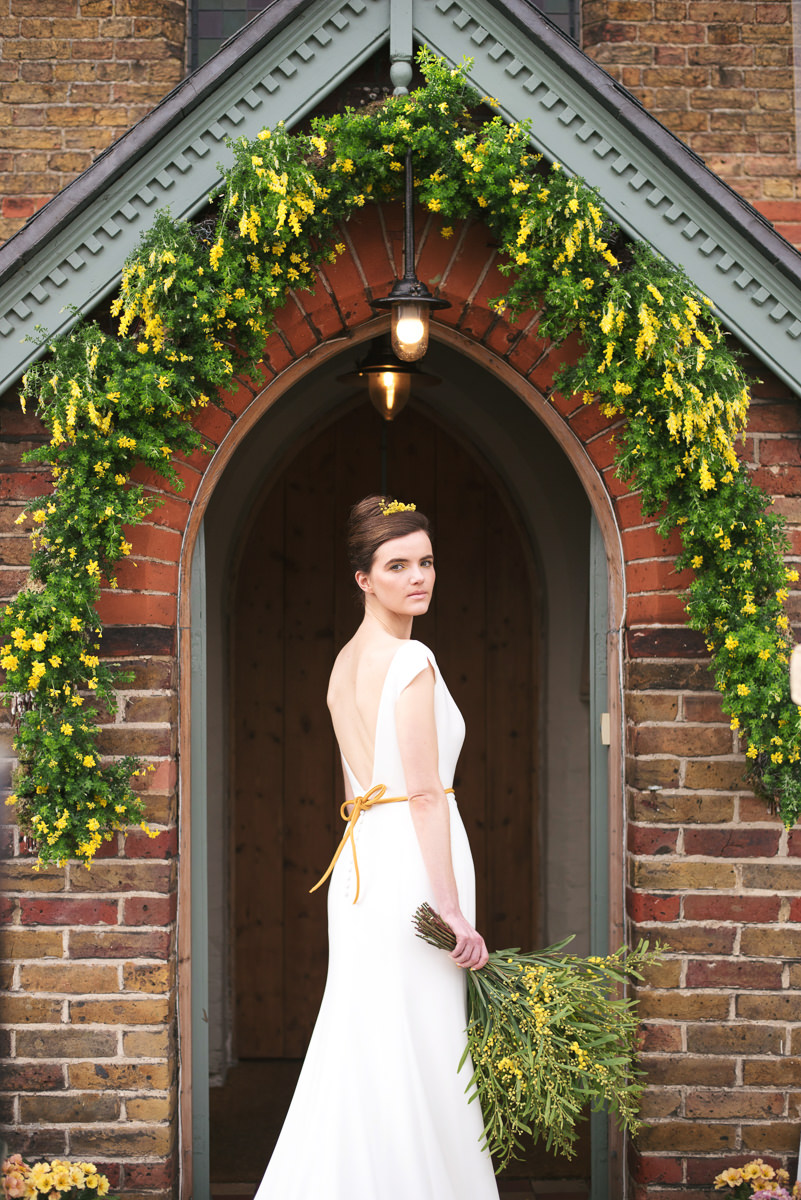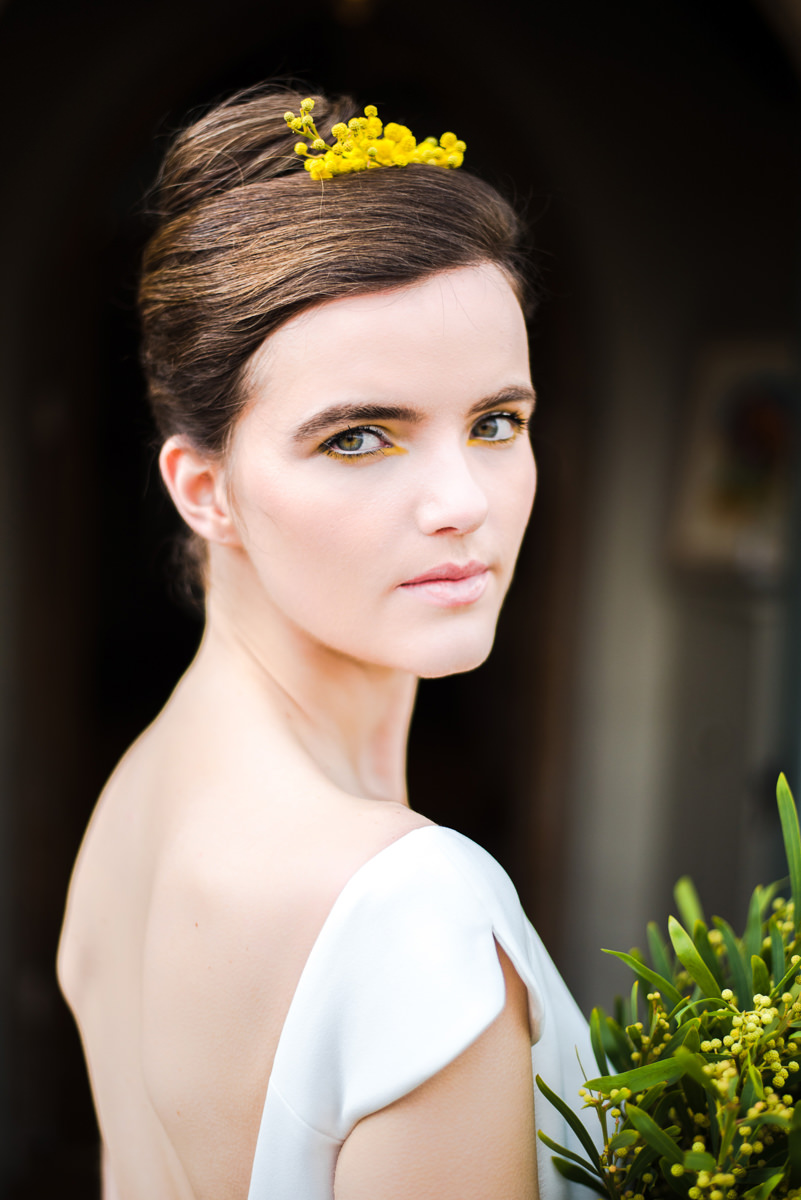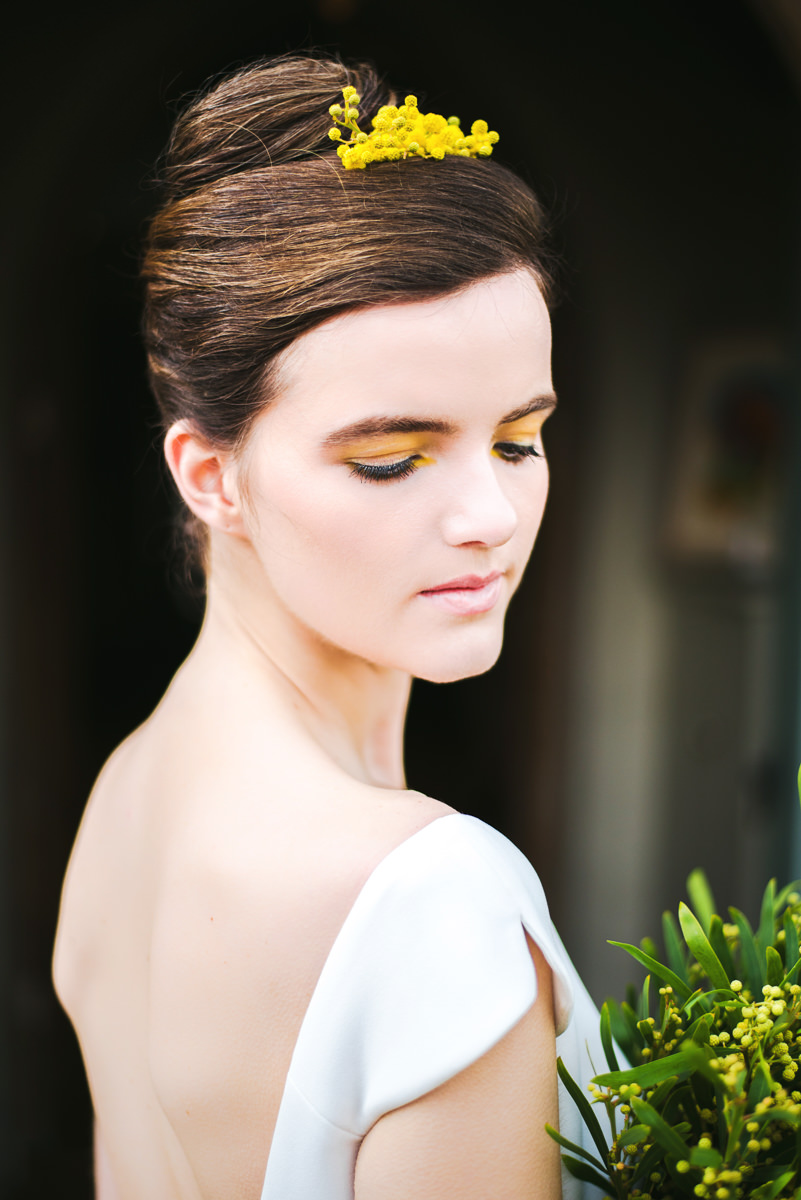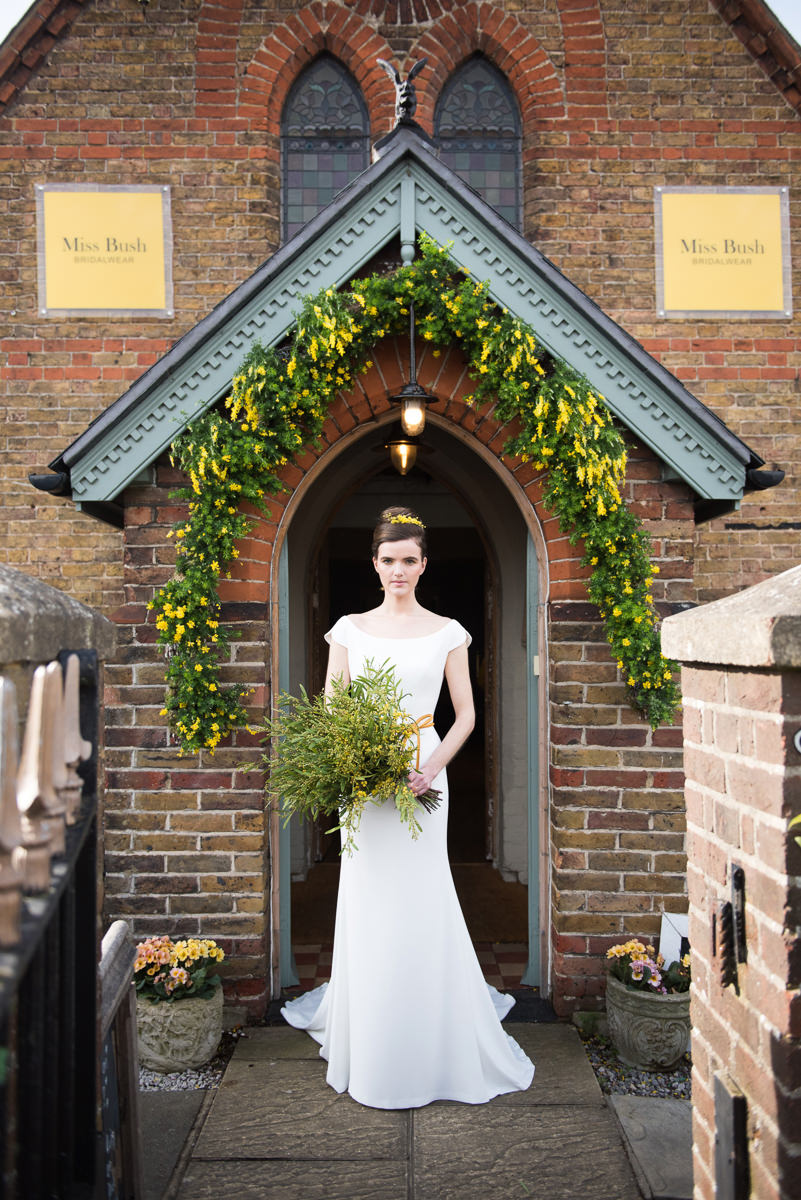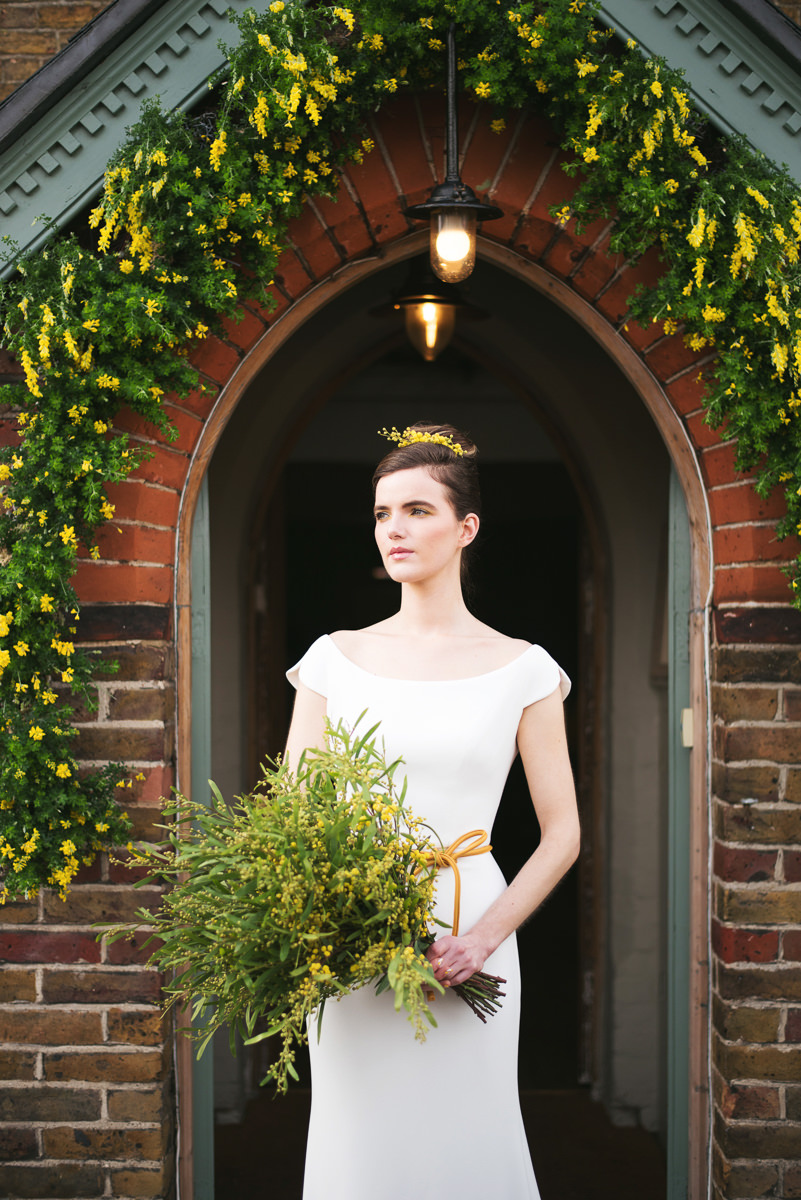 Finally, we headed back out into the fields to take advantage of the beautiful spring afternoon. We set up a backdrop amongst the daffodils and dappled shade, with a yellow blanket and more beautiful blooms, and even made a new friend!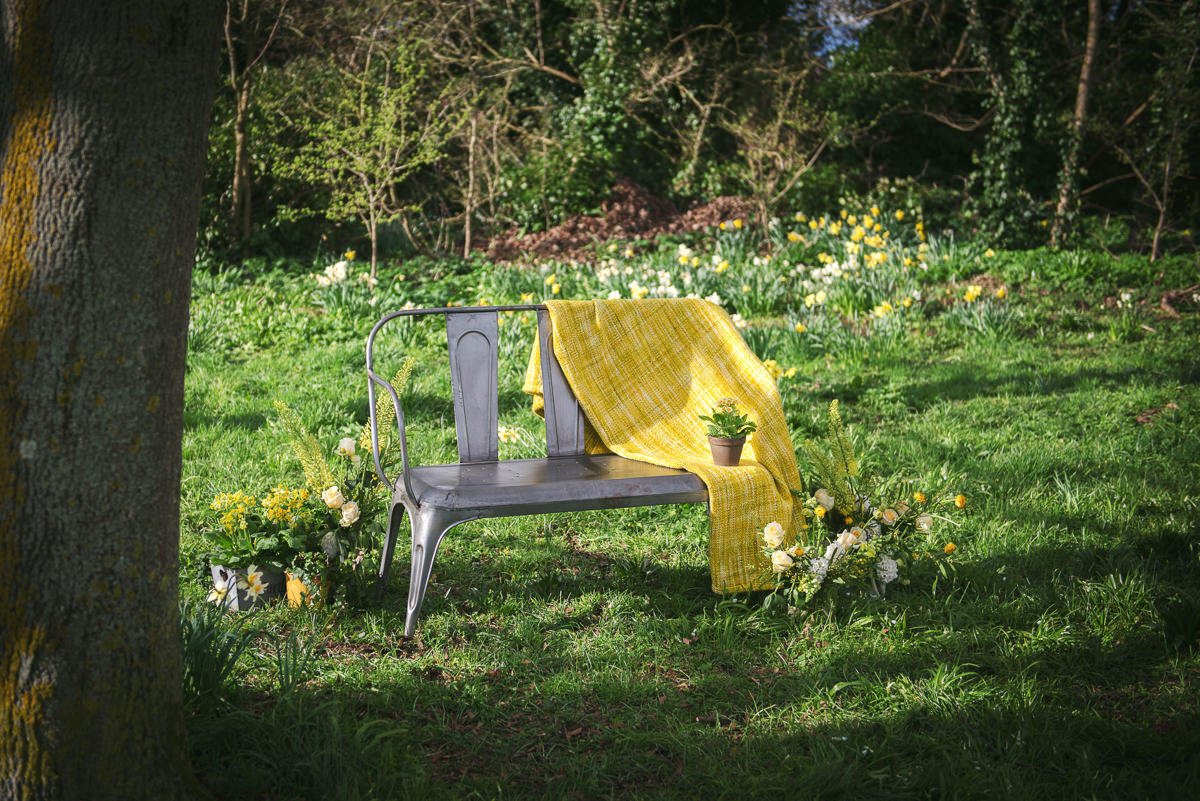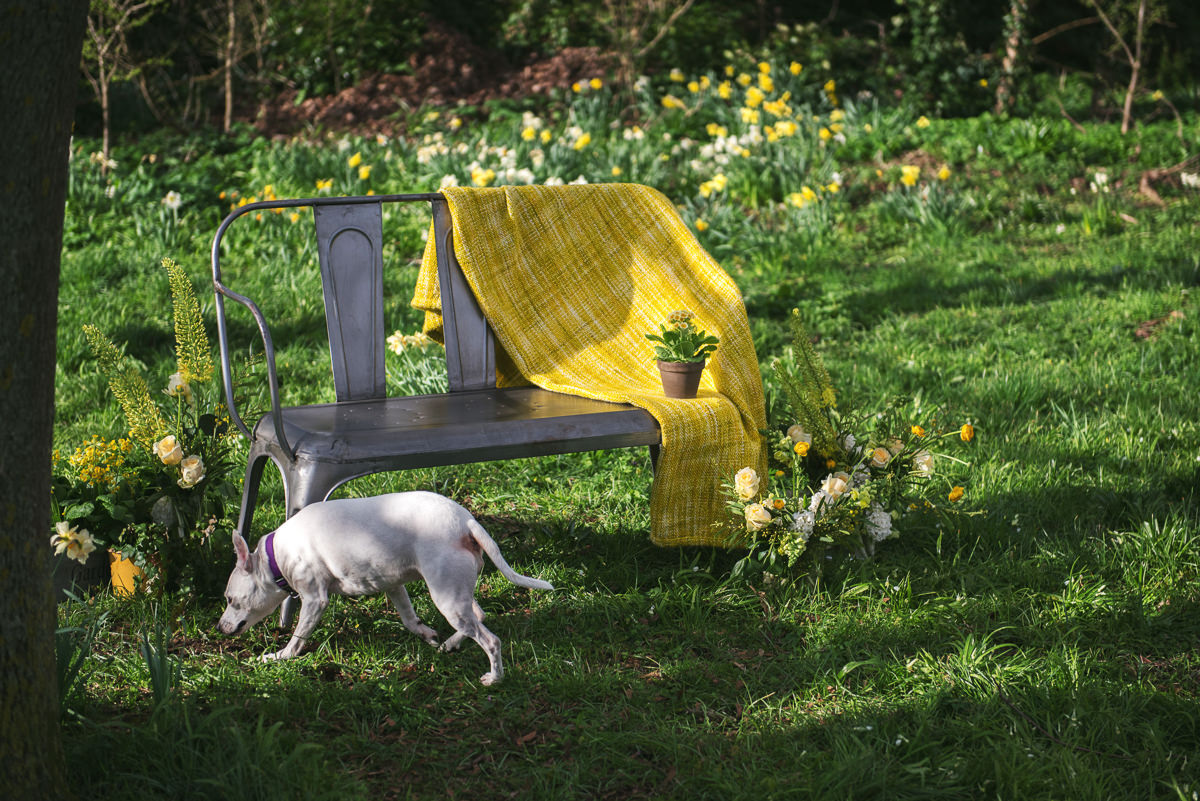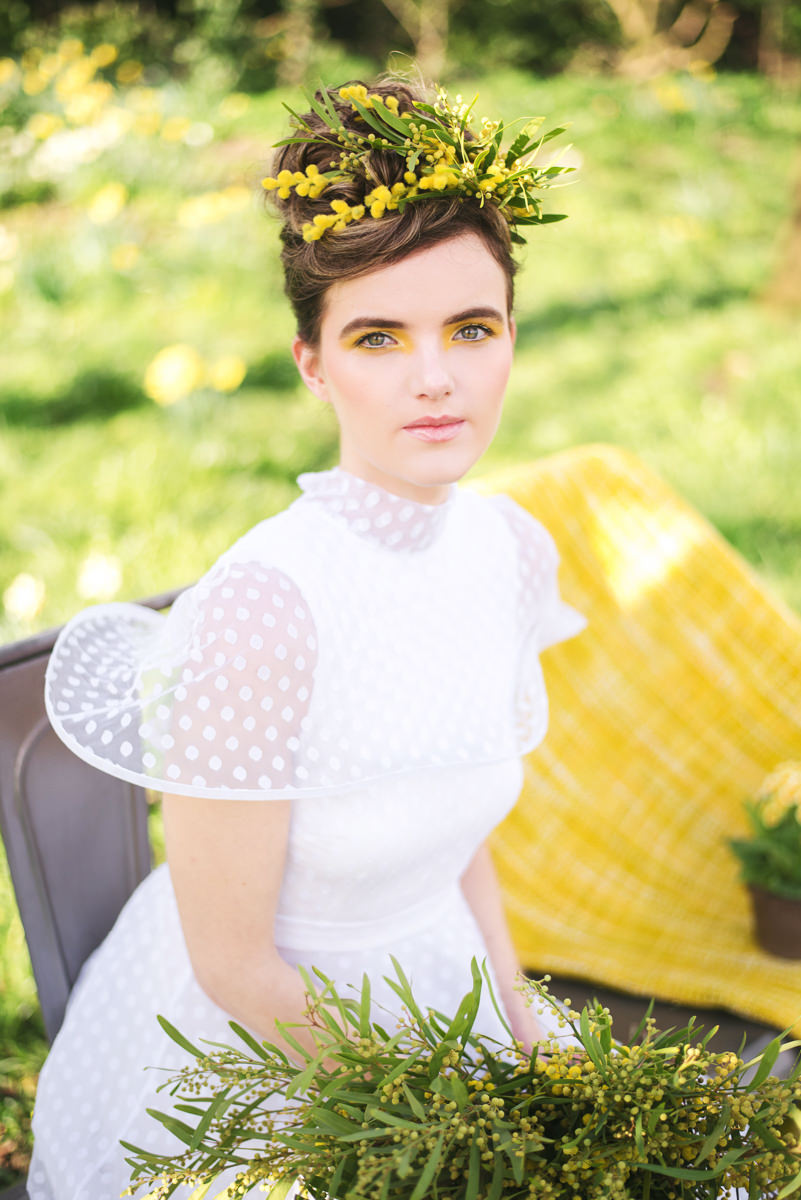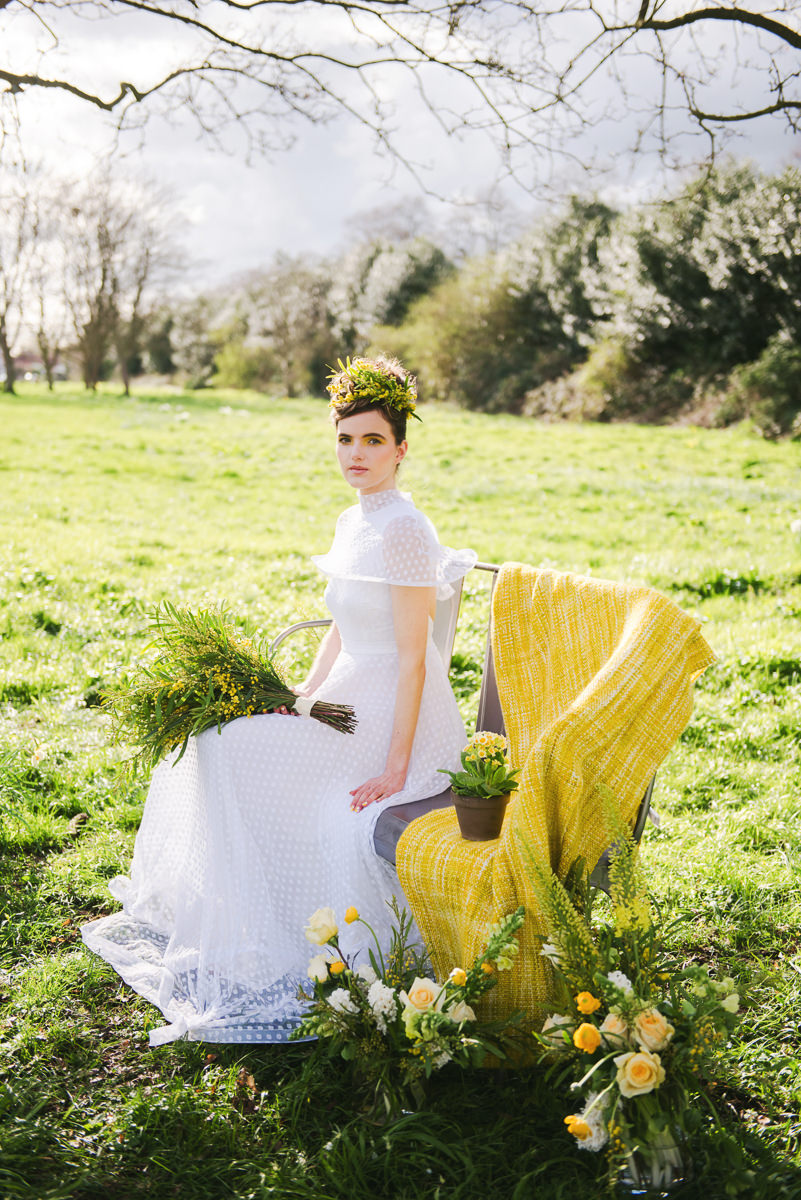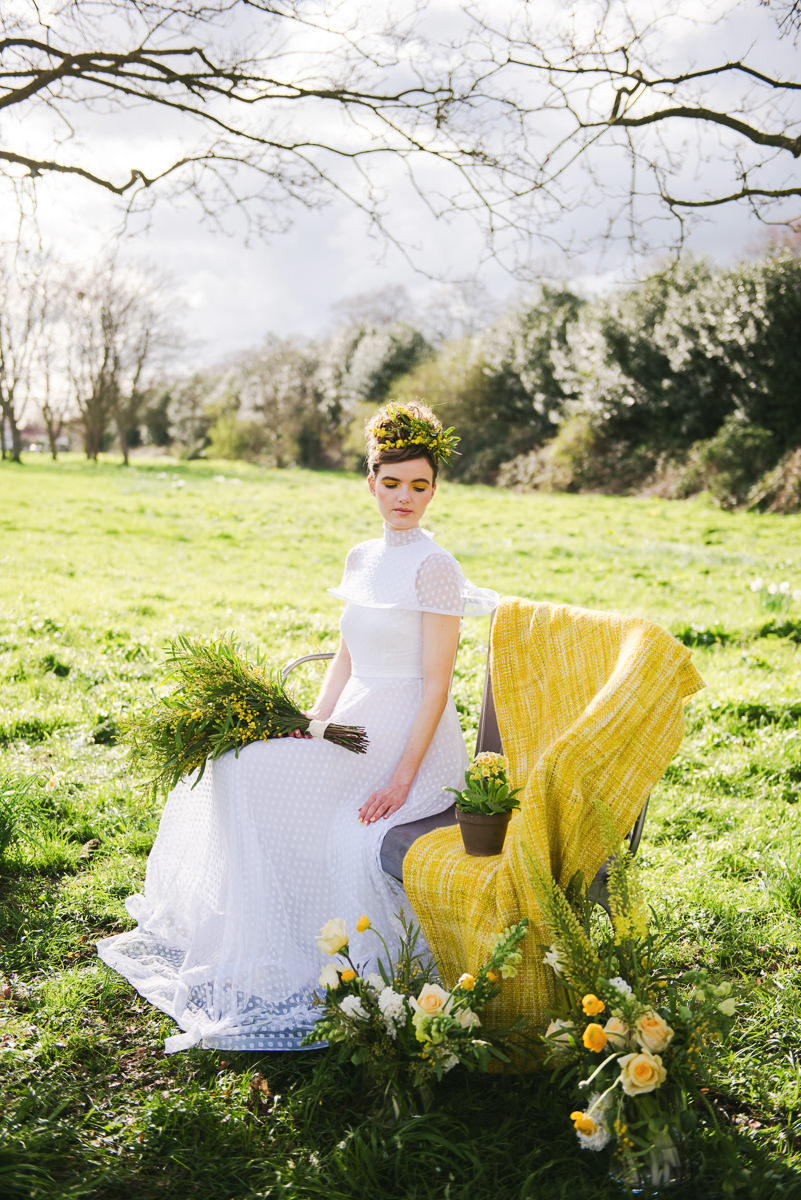 The final look was the show stopped, featuring Avalia by Houghton, a stunning full skirted wedding dress created with swiss dot horse hair trimmed tulle, featuring a unique high necked capelet and open back.
Sharon added more height to the hair for a more dramatic feel, adding extra foliage and flowers. The make up was also taken up a notch, with more bright yellow added around the eyes.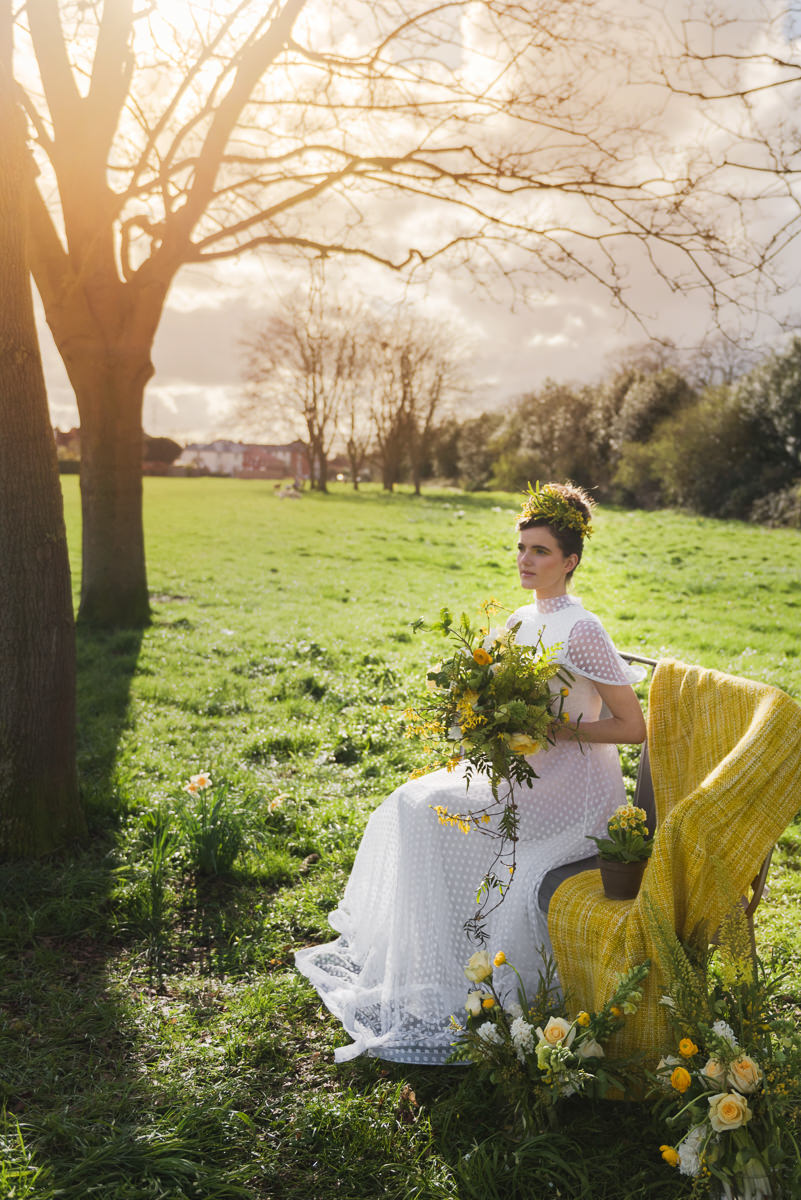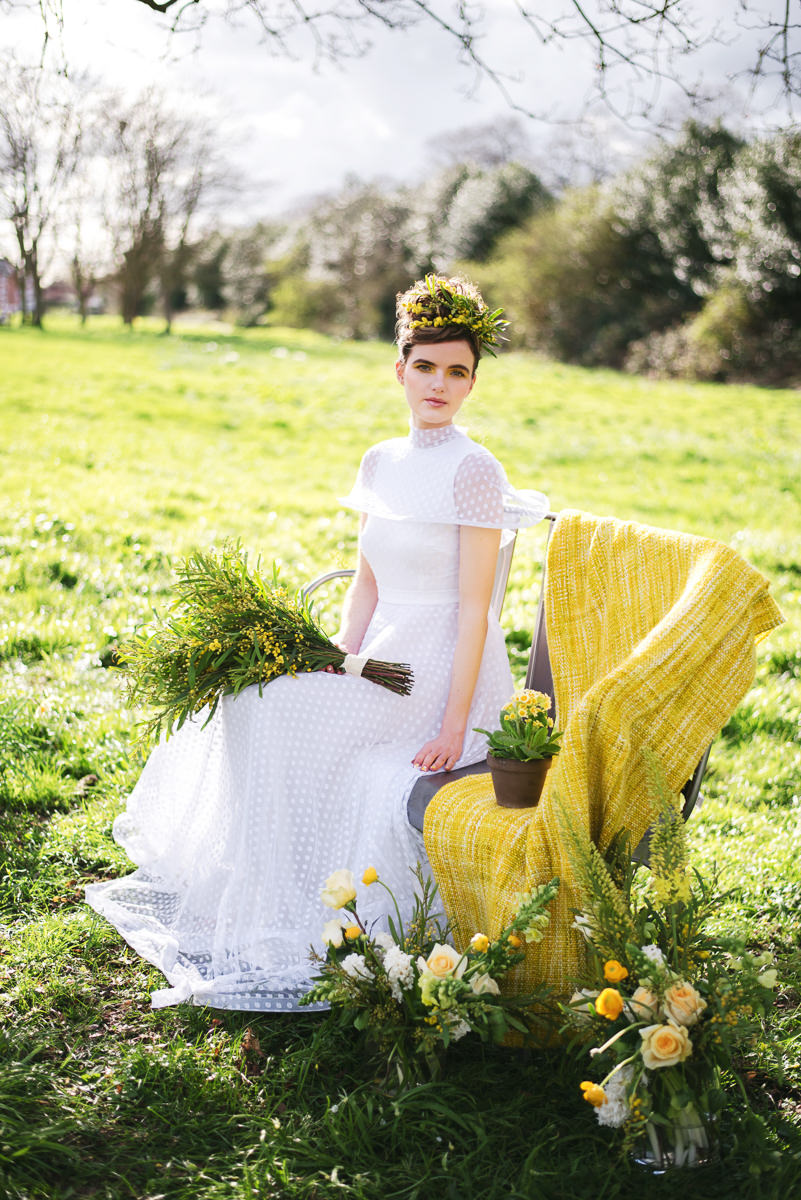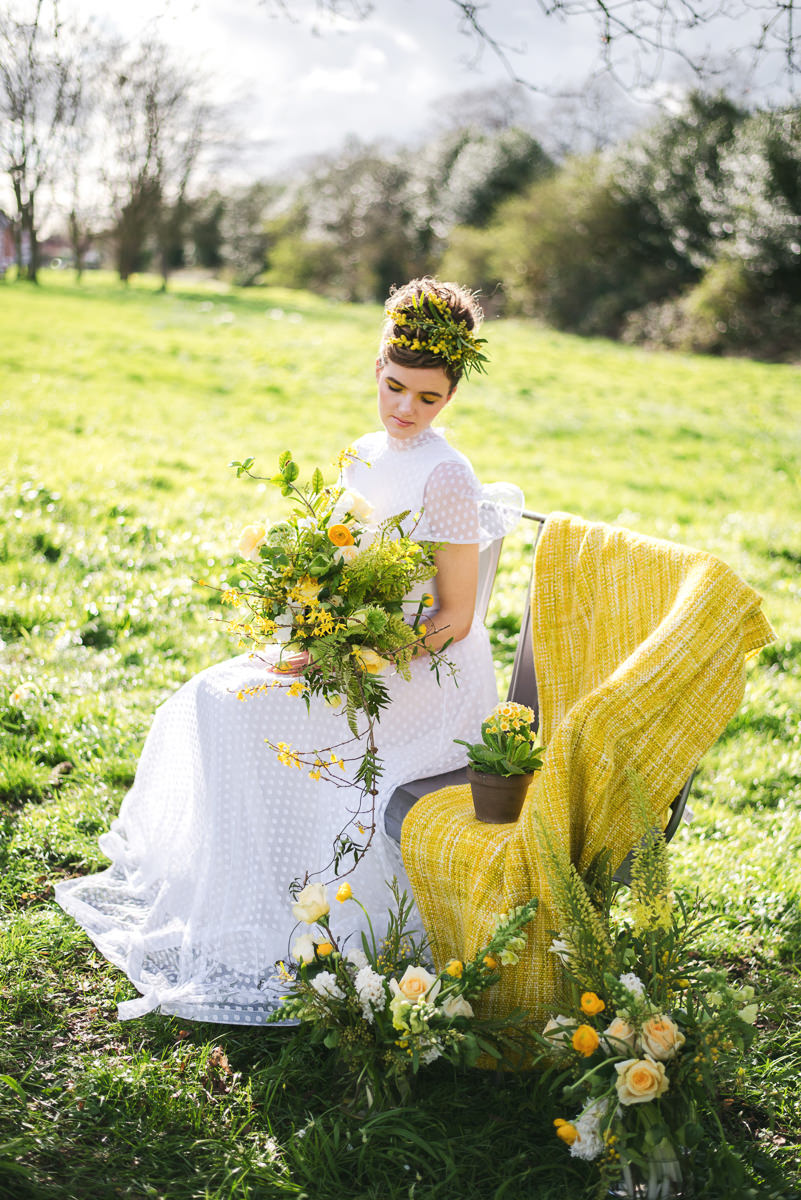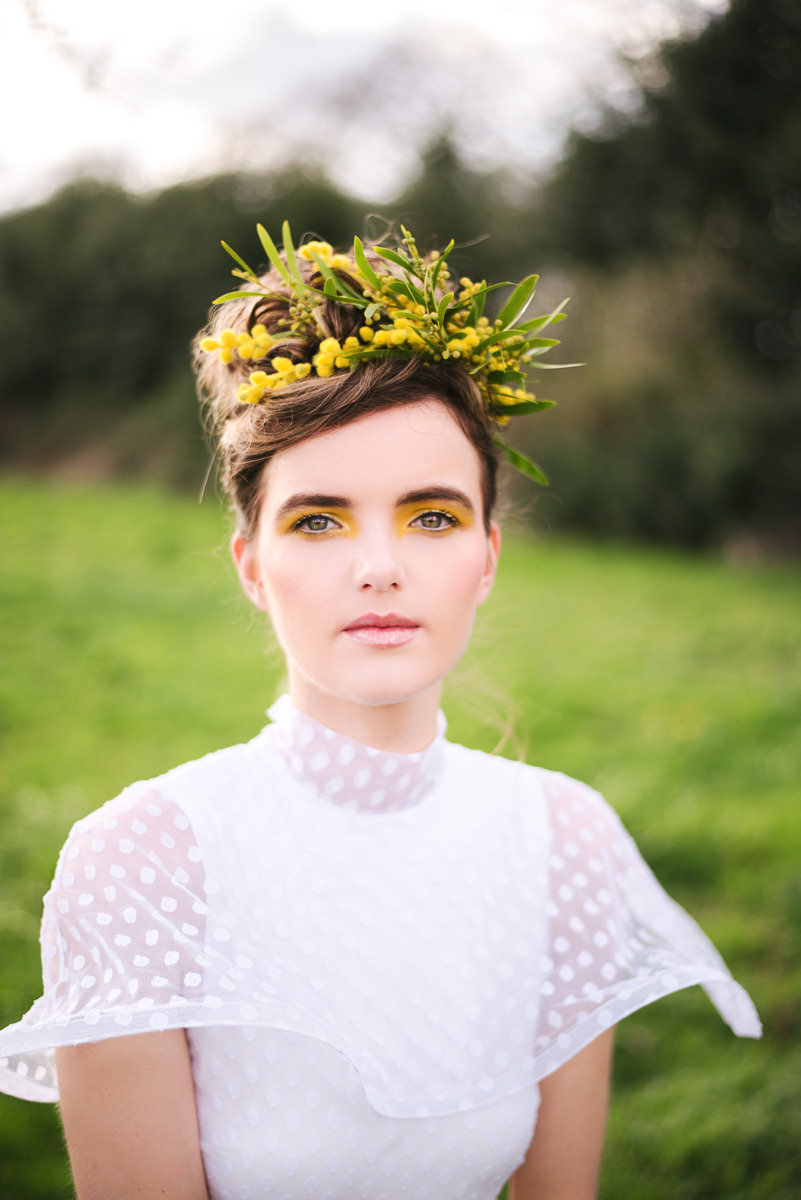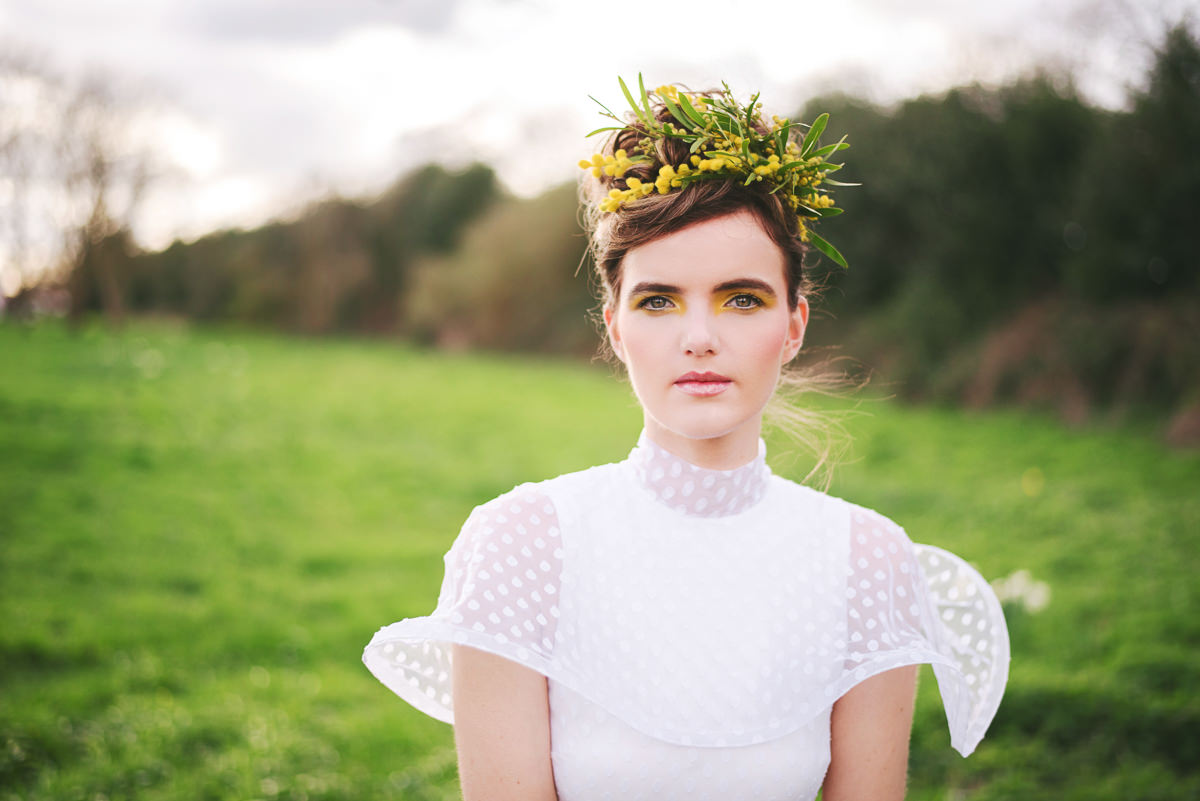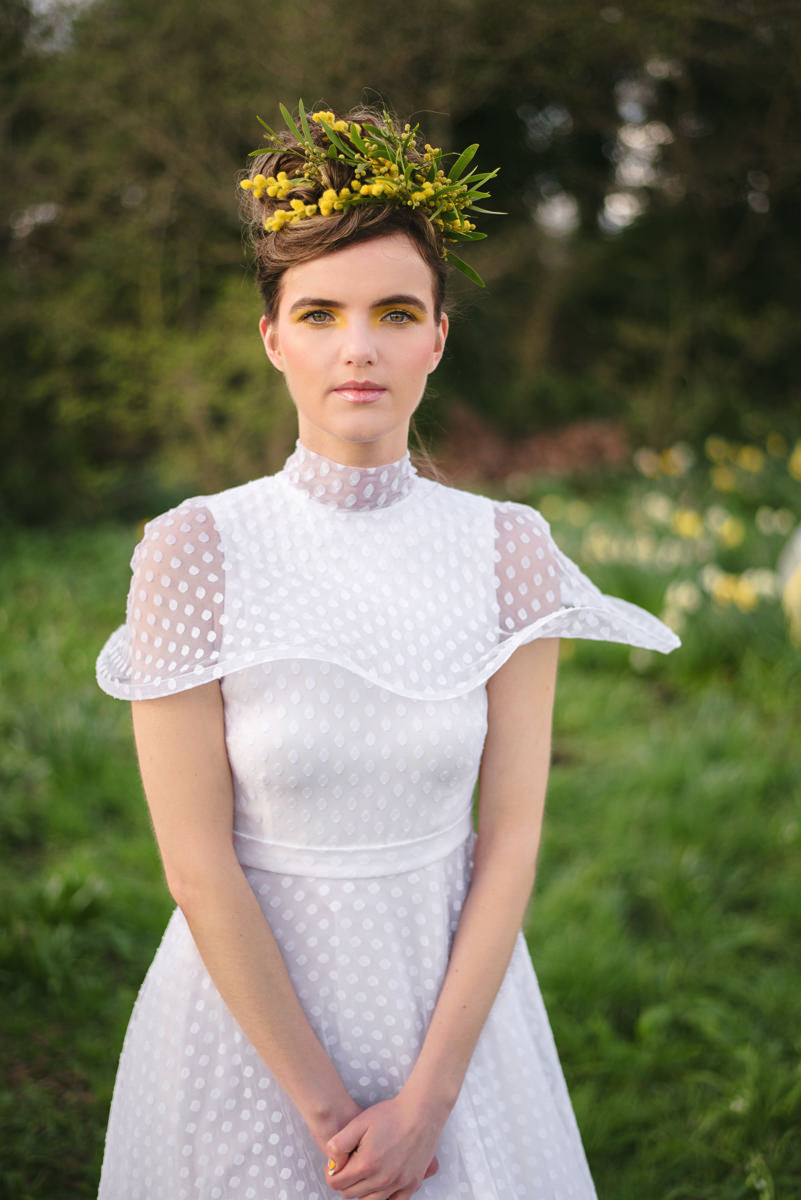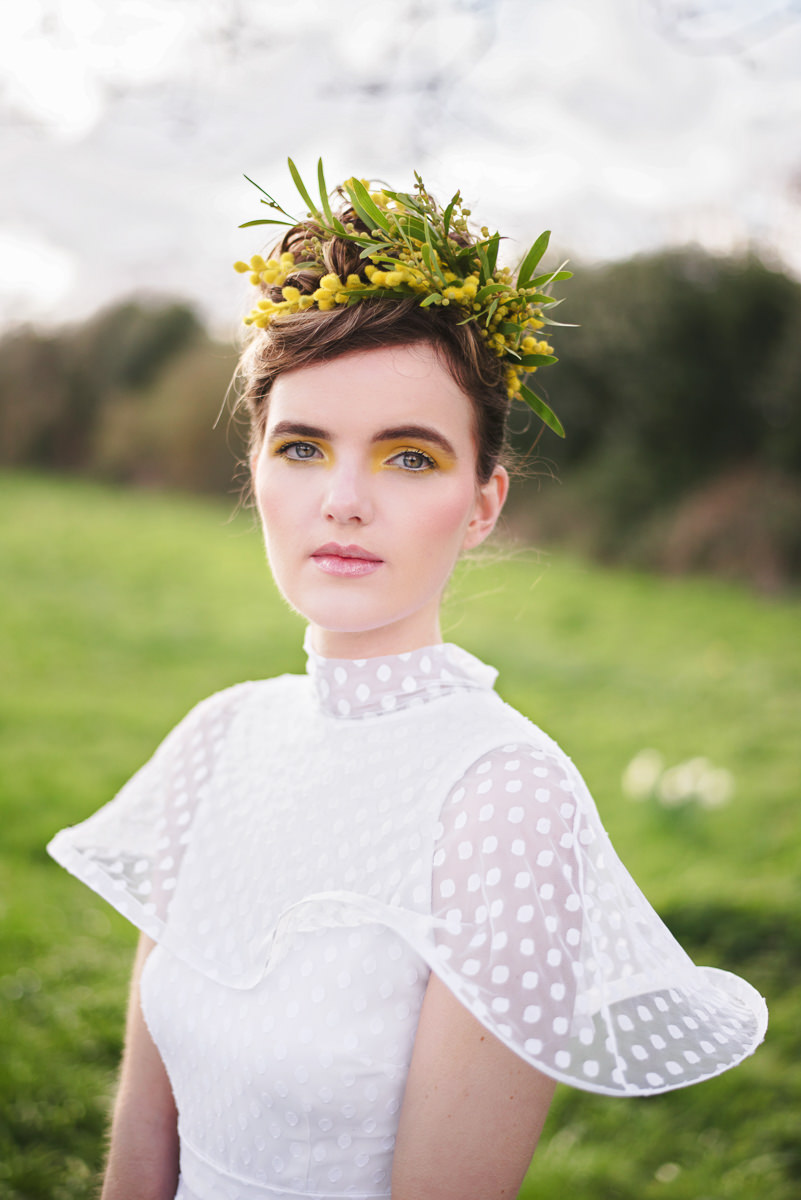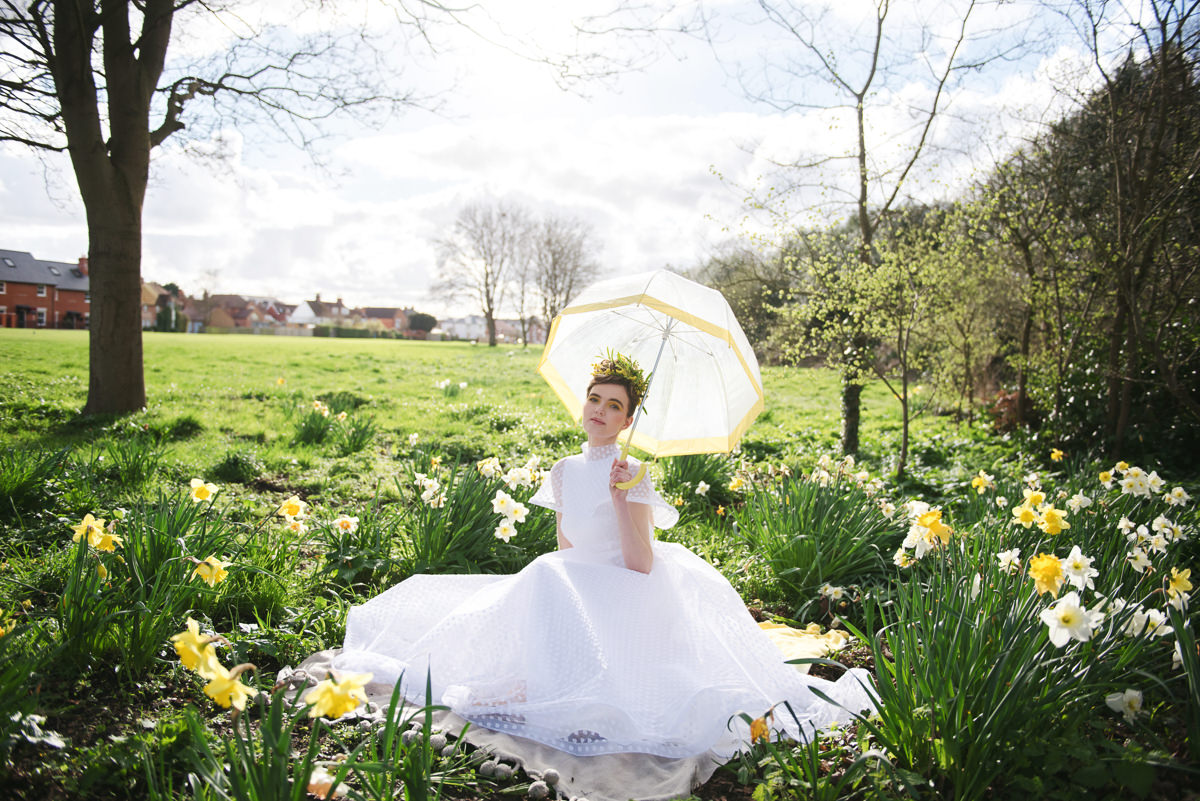 The Team
Photography: Juliet Mckee
Hair: Sharon Roberts
Make up: Make up by Marie Elise
Flowers: Bloomingayles
Cake: Andi Freeman Cakes
Model: Chloe Keenan
Check back later this week for behind the scenes and a video from Ash Videography!
Leah x