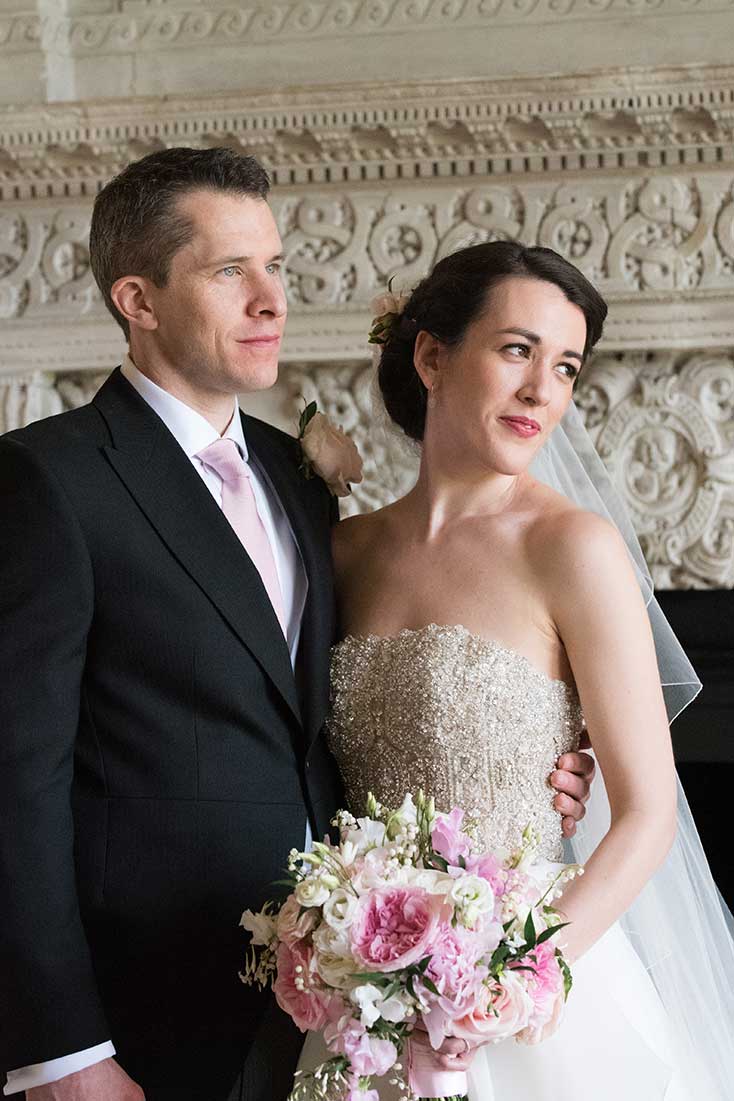 We're delighted to share our first real wedding blog post of 2018 with you today, which features Pippa and John's elegant and whimsical stately home wedding in the English countryside, which took place at in Surrey in May last year. The beautiful images by Laurence and Ella Photography captured the stylish but relaxed essence of the day wonderfully and we're delighted to share them with you today alongside some details about the day from Pippa and John.
The ceremony took place at Pippa's childhood church in the village of Pirbright, Surrey, followed by an elegant, tradition wedding reception at the magnificent Tudor manor house Loseley Park, located in Guildford.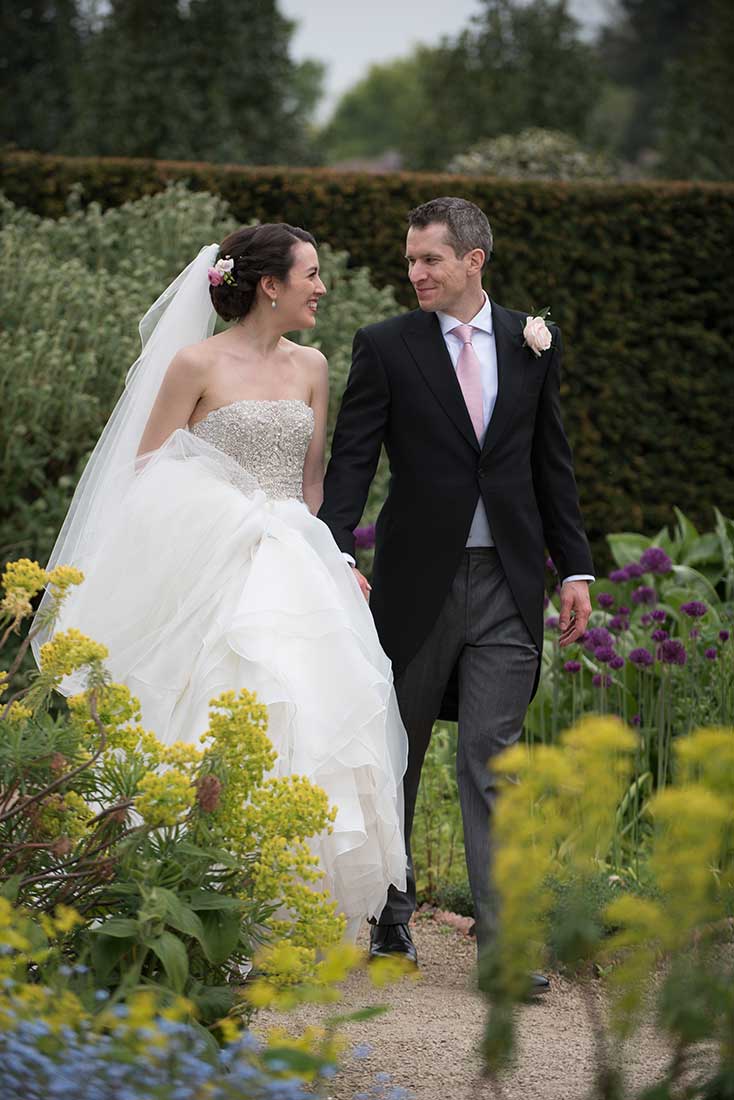 THE DRESS
Pippa wore Sottero and Midgley separates for her wedding day, opting for the opulent jewel encrusted Rosella strapless bodice, paired with the Blythe layered organza ballgown skirt.
Pippa tells us more;
"As many brides often say, the dress I ended up falling for was completely different from the sort of dress I imagined I'd wear.
When I started hunting for 'the one', I was convinced that I wanted to avoid strapless dresses due to various hang-ups that I had about my appearance (doesn't every girl have them!). I was, however, open to ideas and suggestions and booked several appointments at boutiques that stocked different styles of dresses."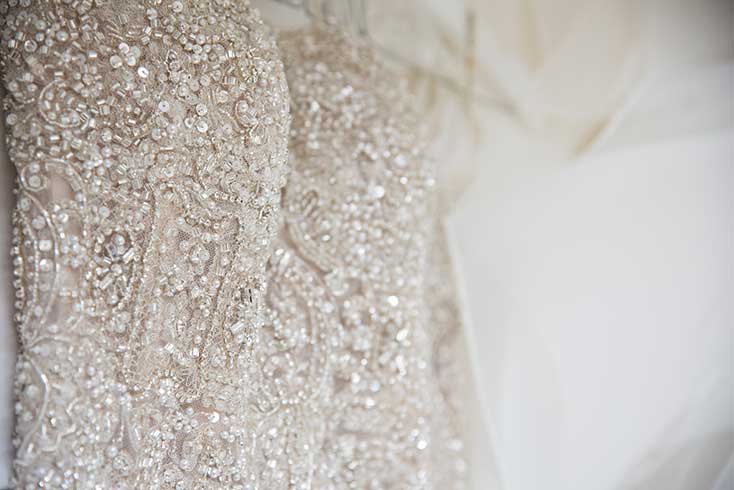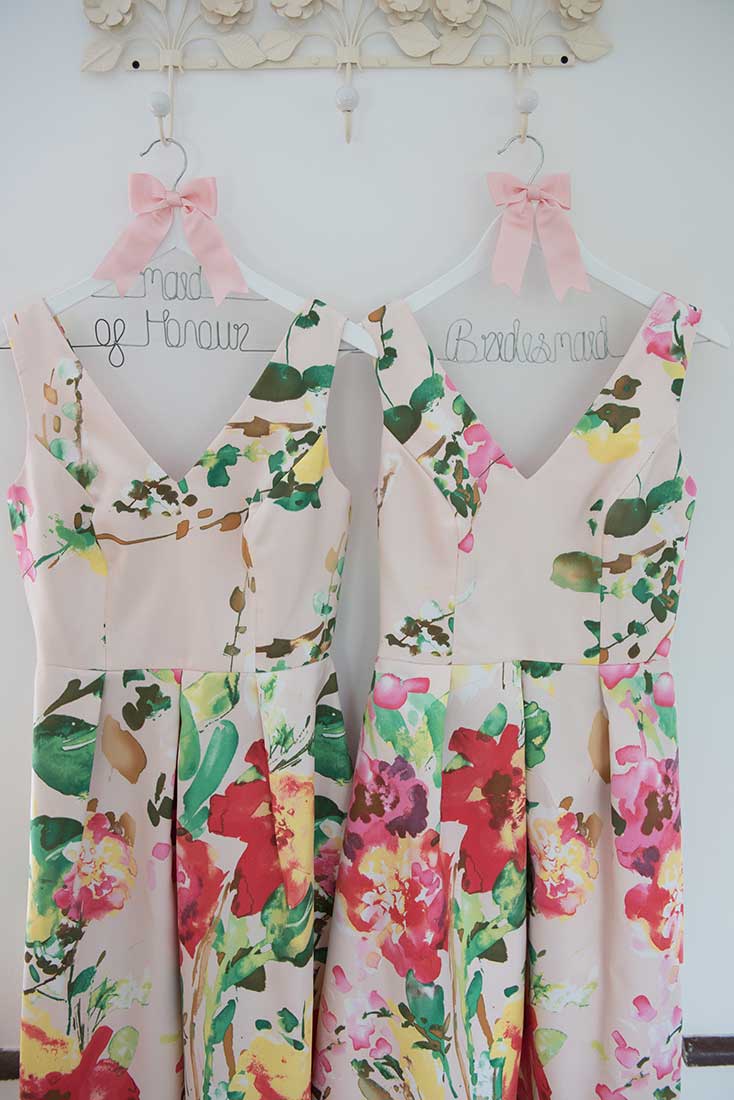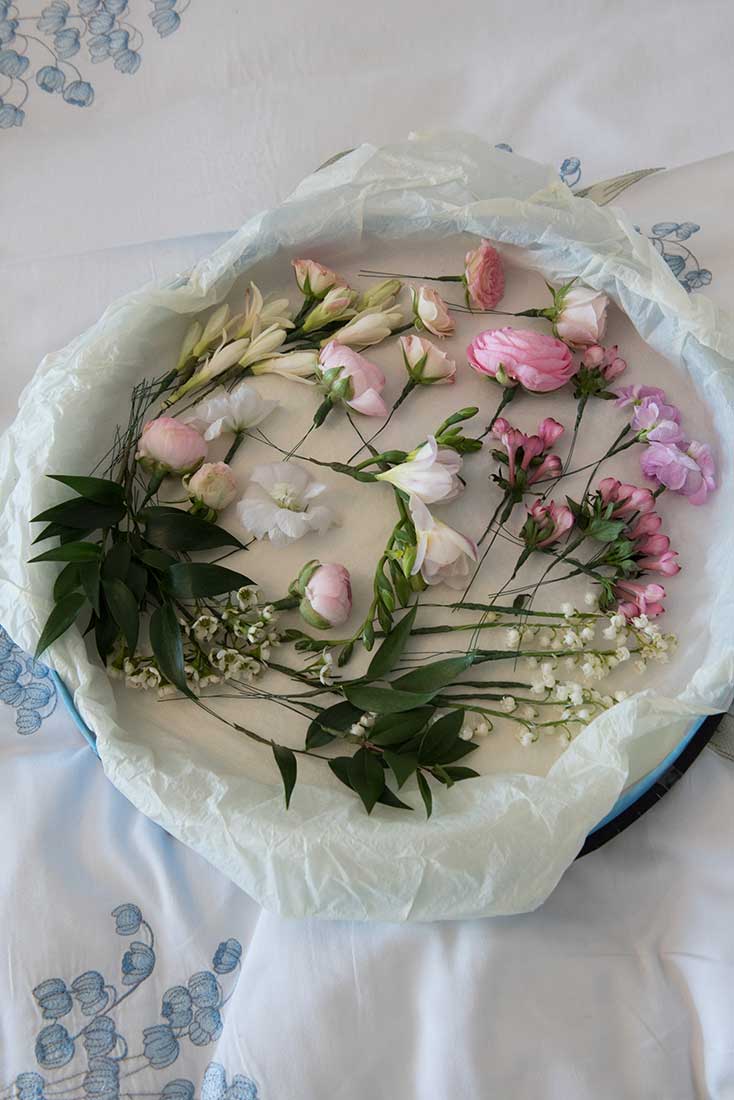 "My appointment at Miss Bush was special in every way. Set in a pretty chapel in a picture-perfect village, the shop is a bride's dream. Miss Bush stocks a vast array of different dresses, all selected by the wonderful Emma, who has a fantastic eye for styles that are a little bit different but completely fabulous.
I was helped by the lovely Corinne to find a dress that worked for me. She seemed to know me better than I knew myself as she suggested styles that I may have otherwise skipped over but that fitted my vision and really suited me.
In the end, I fell in love with a two-piece from Sottero and Midgley, which was unlike anything I'd ever seen before. The movement in the skirt and the detail on the bodice were just stunning and I felt incredible wearing them. They definitely had the 'wow' factor and a real sense of whimsy to them too."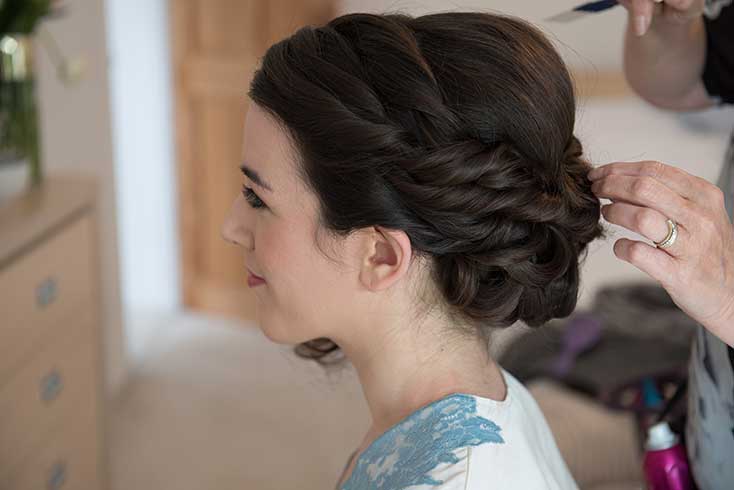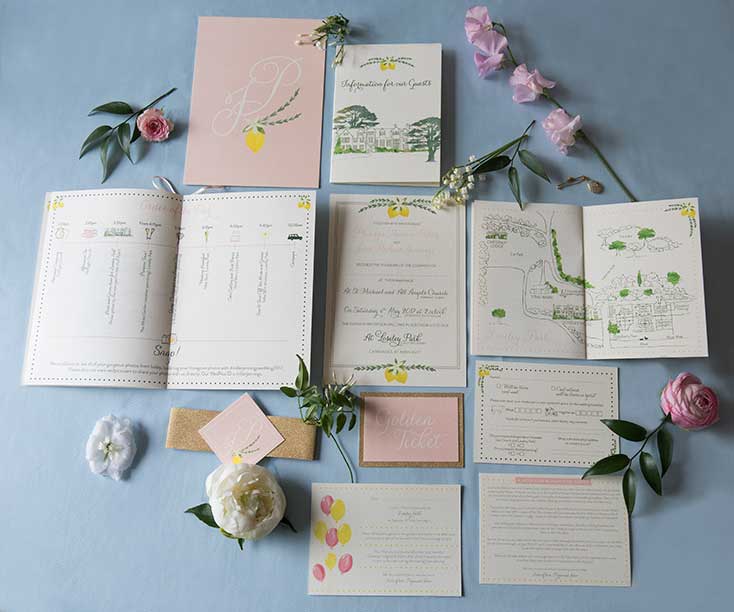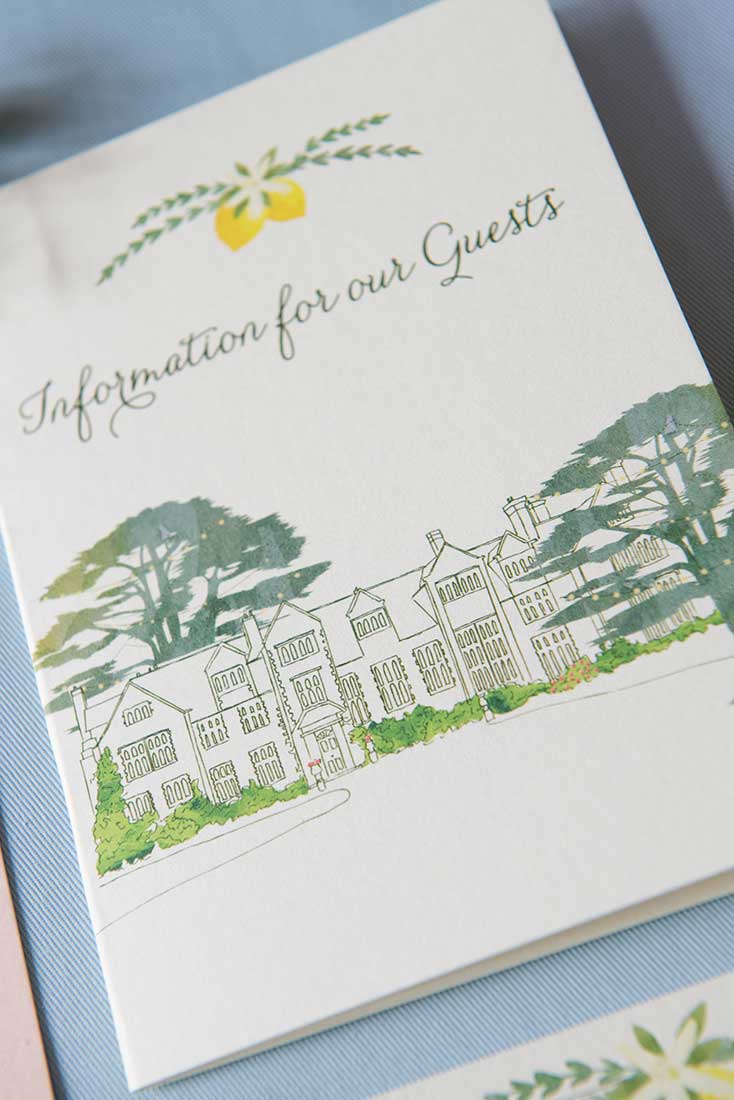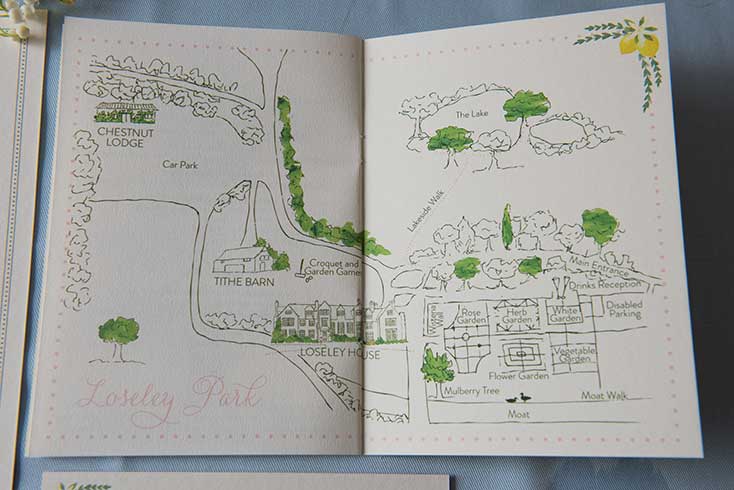 "My first trip to Miss Bush was so, so special. I brought my mum and my two bridesmaids with me – my sister Maddy and my life-long friend Rhiannon. They are such special ladies, all of whom supported me throughout the dress-hunting process, and made it all so wonderful by organising special lunches after appointments and offering me the best advice along the way. It meant the world to me to have them with me when I found 'the dress'. They were completely blown away by my Sottero and Midgley dress and couldn't get over the movement of the skirt and the beautiful detailing on the bodice. It was a fairytale dress and we were all completely won over!
My favourite part of the dress shopping experience was having the opportunity to try on so many beautiful, dreamy dresses at Miss Bush was like a fairytale for me, and being able to do so in such beautiful surroundings was the cherry on top of the cake. I could have happily stayed in the chapel all day!"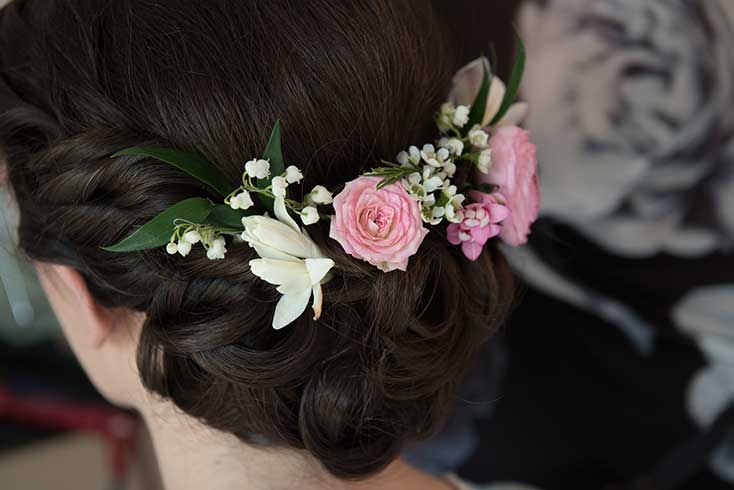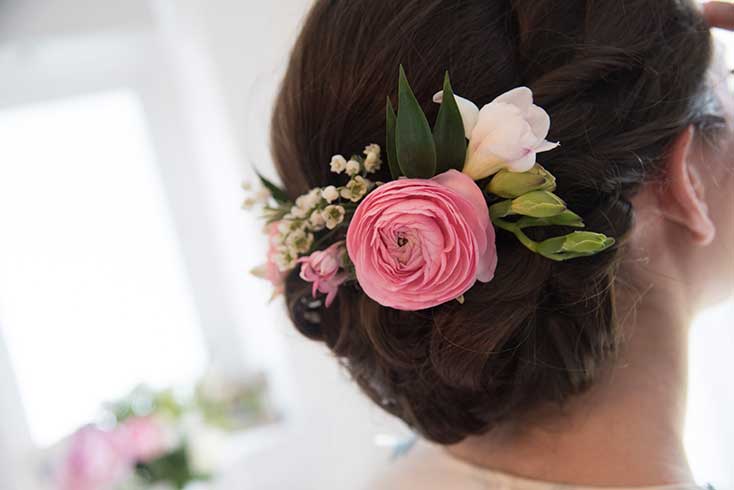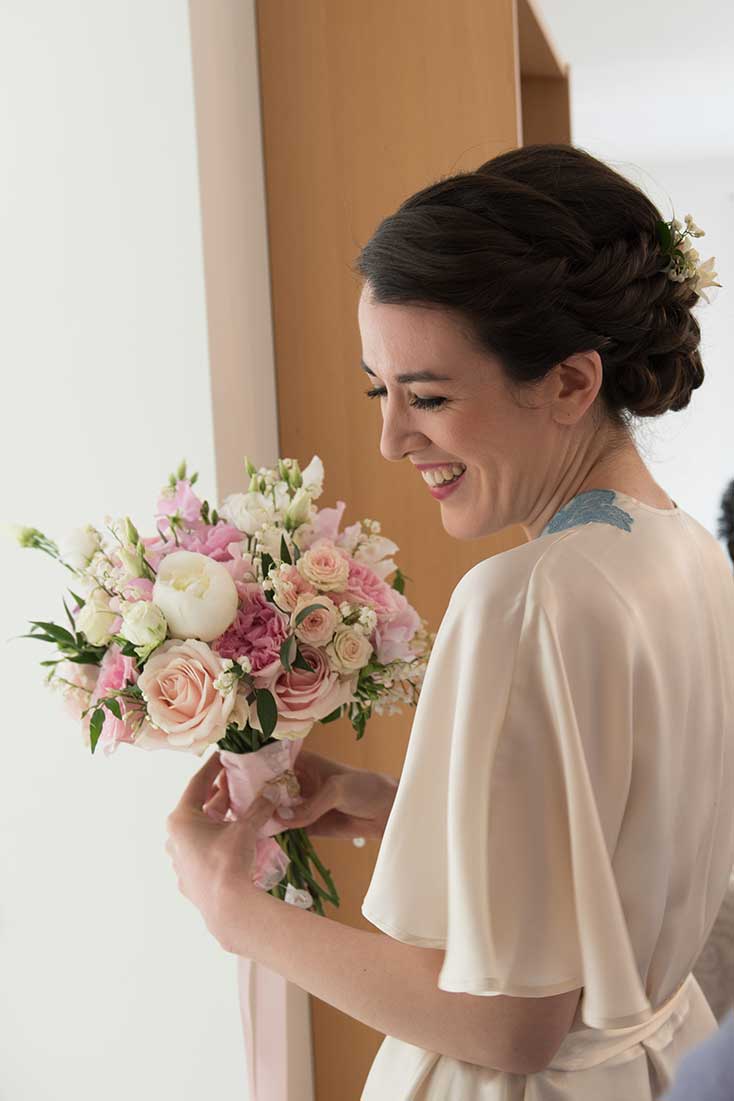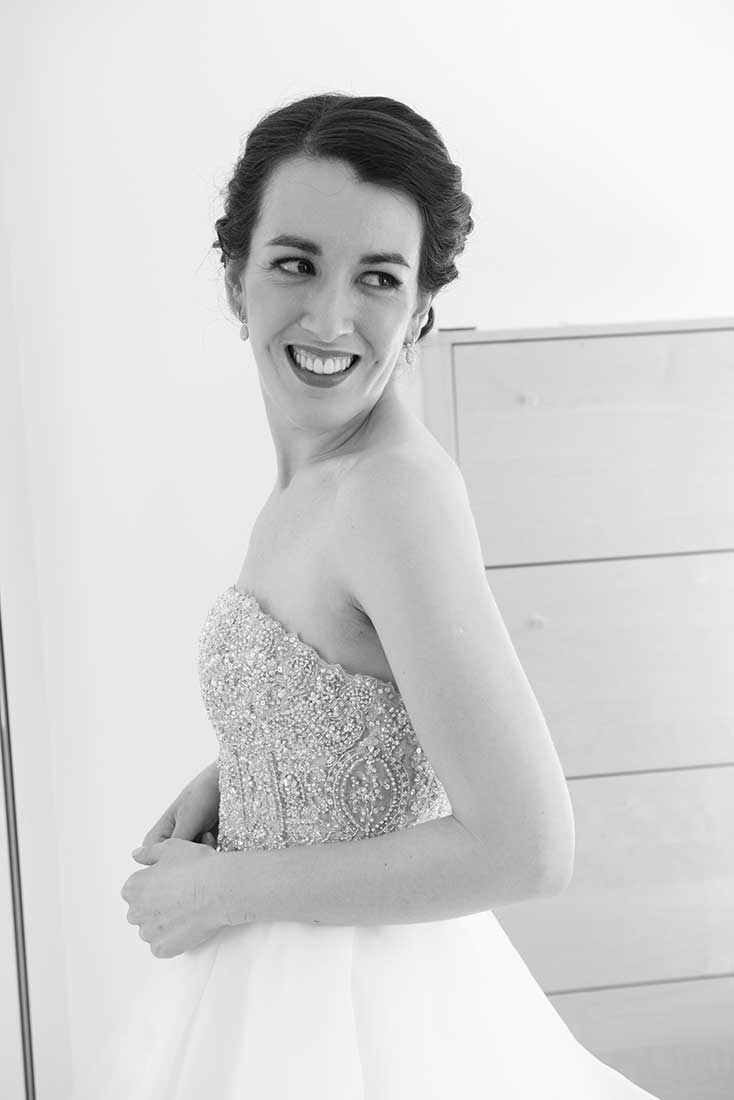 ACCESSORIES
To work with the beautiful detailing on the dress, Pippa chose to keep her accessories on the day relatively simple;
"I chose a beautiful, long, tiered veil with a ribboned edge, which mirrored the movement of the skirt and which I found at Miss Bush, and I chose to wear my silver Hope earrings from Links.
My dad gave me a beautiful silver David Yurman bracelet on my wedding day, complete with a blue topaz stone (my something blue), which I also wore. For the evening I had a simple little white angora bolero from Jesus Peiro, which matched my dress perfectly and which I also found at Miss Bush."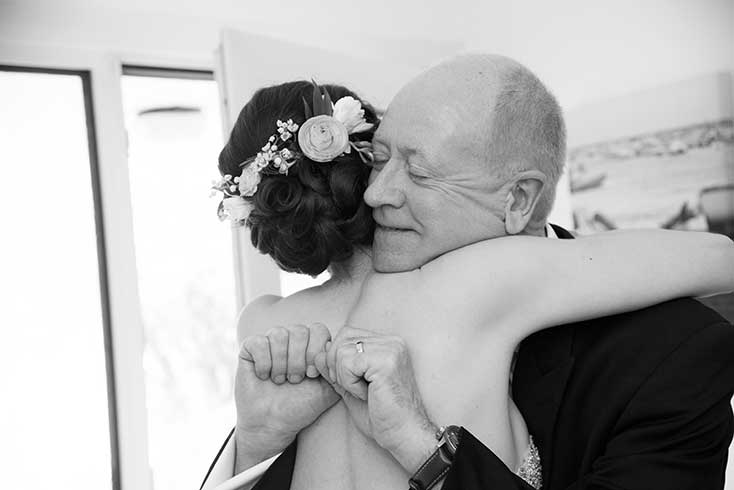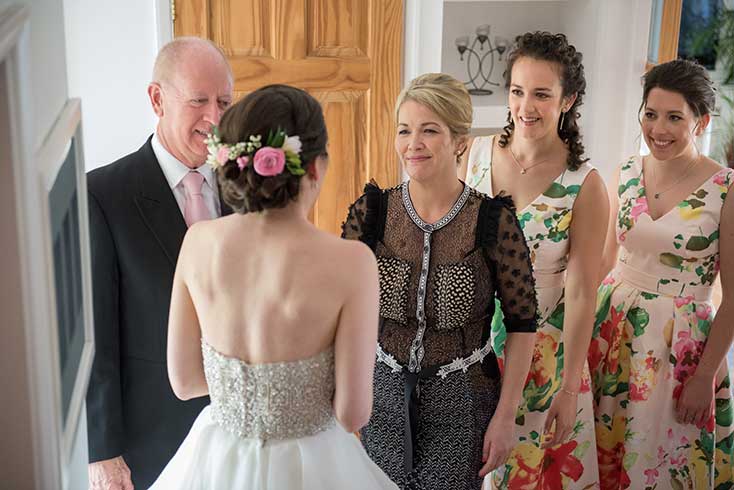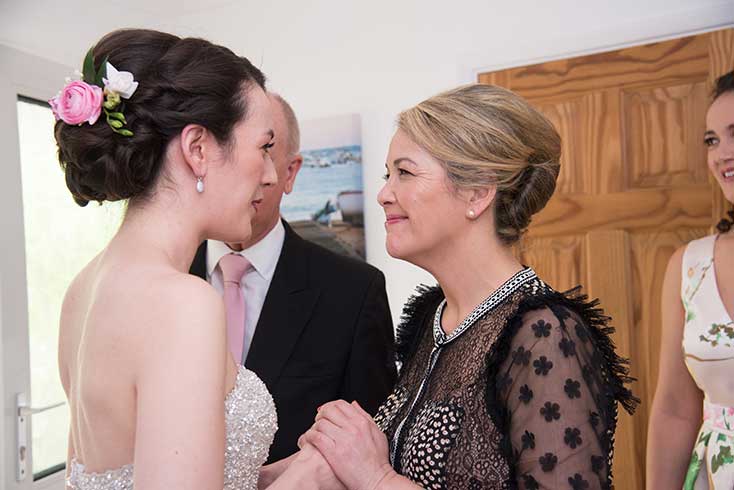 "When it came to shopping for shoes, I went in a slightly different direction. I knew that I wanted to find a pair that were elegant and comfortable, but that also had a magical quality to them. Even with a long wedding dress, your shoes are on display more than you first realise on the day and I loved the idea of finding fairytale pair of shoes to catch the eye. I found my dream pair at Emmy. The embellishment on my shoes really mirrored the beading on the bodice of my dress and gave them the appearance of glass slippers. The open-toed design of the shoe also gave the shoes a vintage twist, which I loved. The mid-heel ensured that the shoes were comfortable throughout the day and kept me on the dance floor for the entire evening!"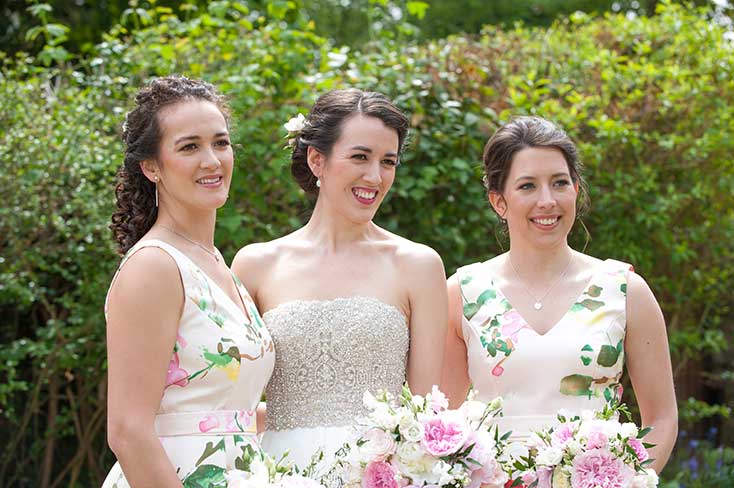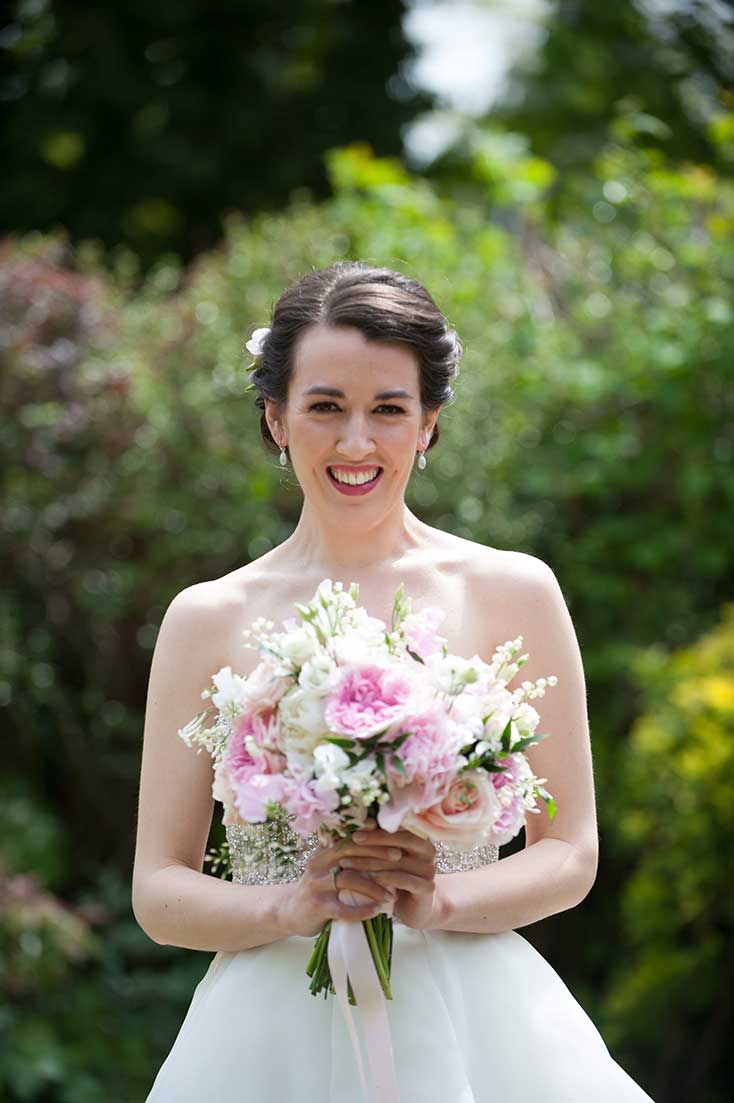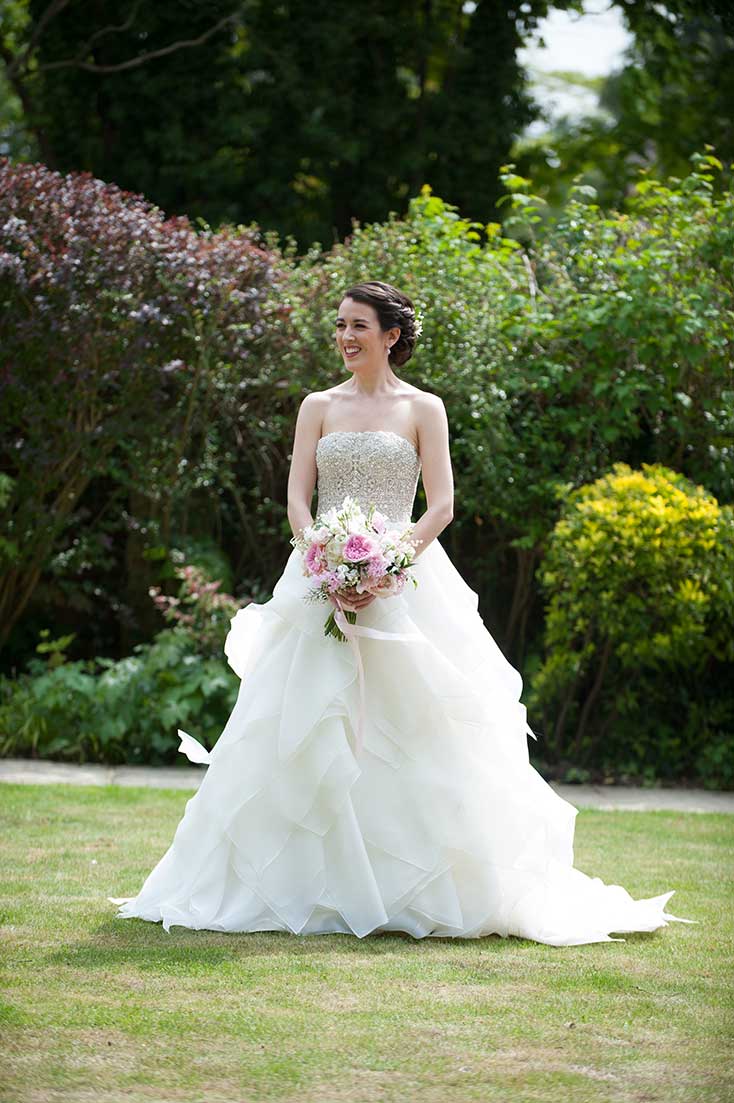 "I loved the idea of keeping my make-up natural and rosy in order to reflect the whimsical, summertime feel of the day, and the idea of sweeping my hair into a romantic, textured up-do dotted with countryside flowers.
My wonderful make-up artist, Patricia, from Bride and Roses, and my amazing hairdresser, Sharon Roberts, captured all of my ideas perfectly, adding to them with their own brilliant suggestions. Patricia made me feel so beautiful on the day and I loved my make-up so much I've now gone out and bought just about every product she used!
Sharon worked wonders with my hair, creating curls and twists in my up-do that perfectly matched the movement of my skirt. She also weaved beautiful pink and white flowers into my hair, which matched our colour theme and my bouquet, and which added to the whimsical, romantic feel of the overall look. I couldn't have asked for more!"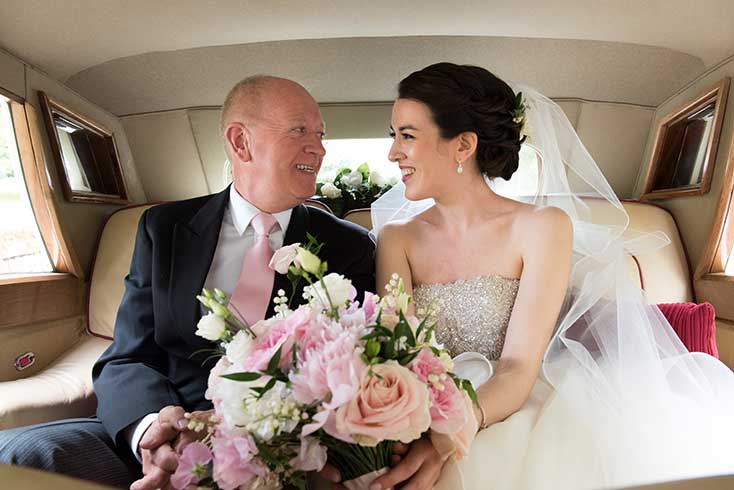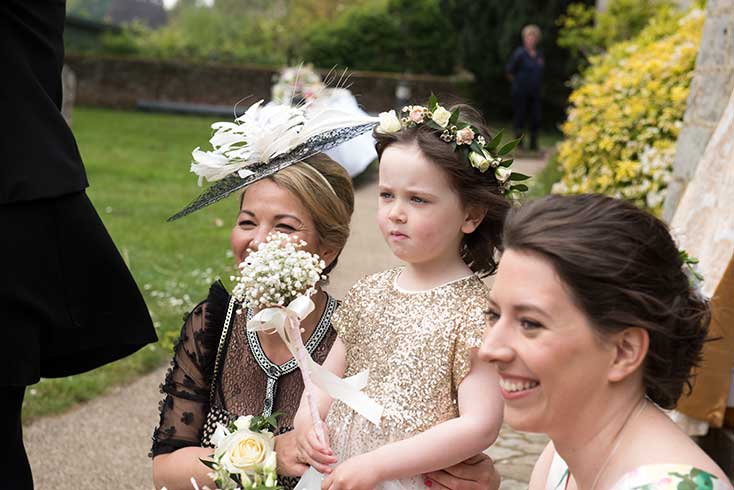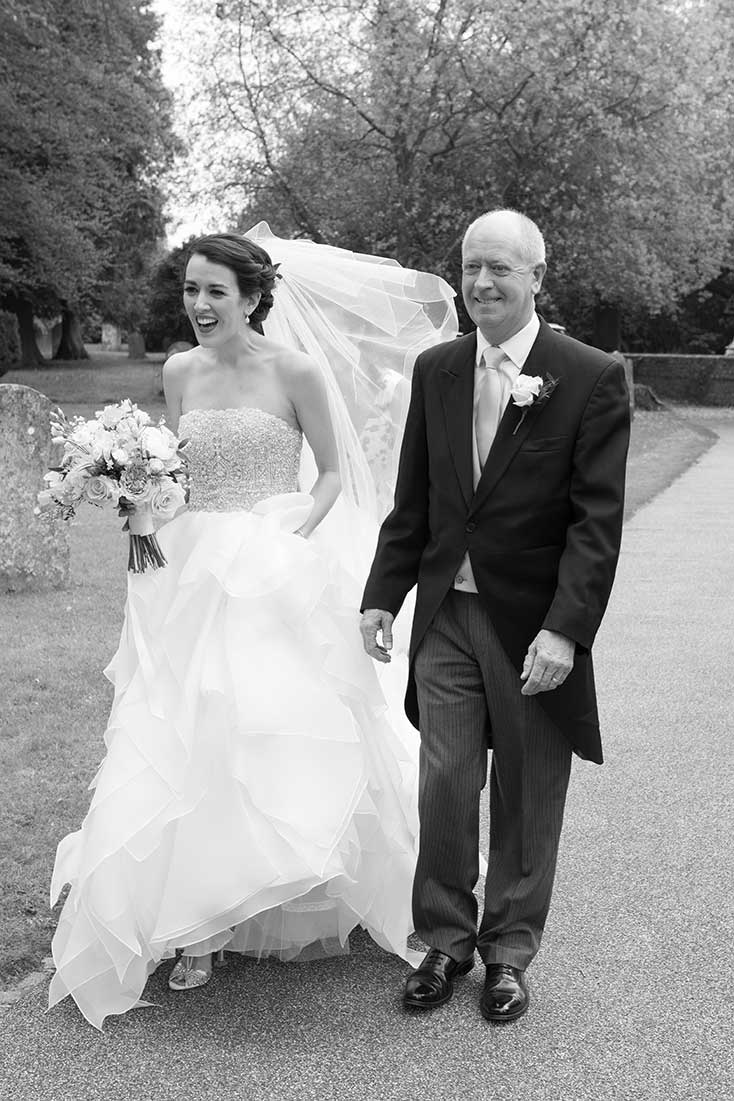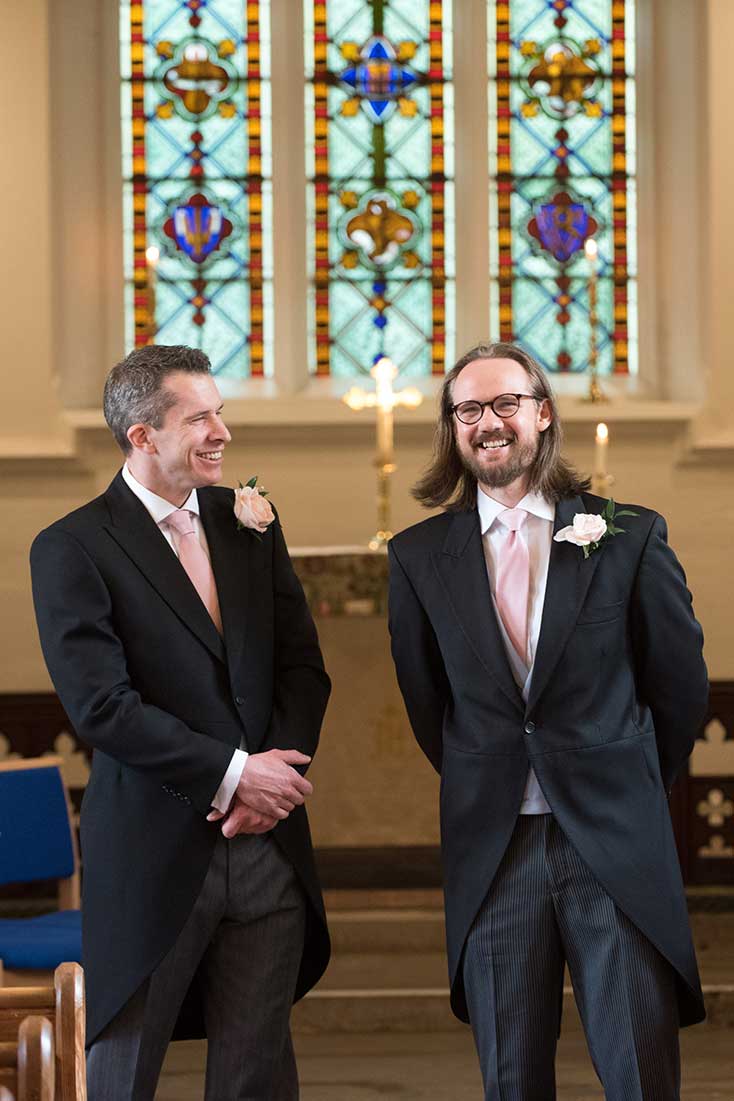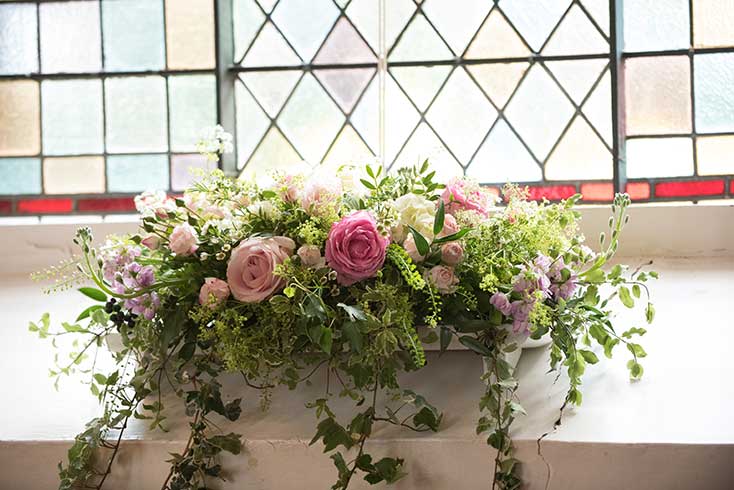 "John and I love flowers and so it was a real treat to work with Kate Osborne from the Gorgeous Flower Company to make all of our floral dreams come true! I was particularly keen on the idea of textured bouquets for myself and my bridesmaids, containing flowers of different heights and sizes to mirror the texture in my dress and to give the flowers a looser country garden feel.
My bouquet was a dream – it contained pink Carey roses, soft pink sweet avalanche roses, scented ivory Duchesse De Nemours peonies and pink Sarah Bernhardt peonies, creamy spray roses, ivory and pale pink sweet peas, pink honeymoon freesias, ivory and a few rose pink lisianthus buds, lily of the valley and jasmine. The scents were incredible, and I loved the fact that it combined favourite flowers from my childhood with flowers I've grown to know and love as an adult. Attached to my bouquet was my mother's gold pin from Guyana, where she was born, and a jade pendant given to me by my Uncle Mike as a christening present – they acted as my 'something borrowed' and 'something old'."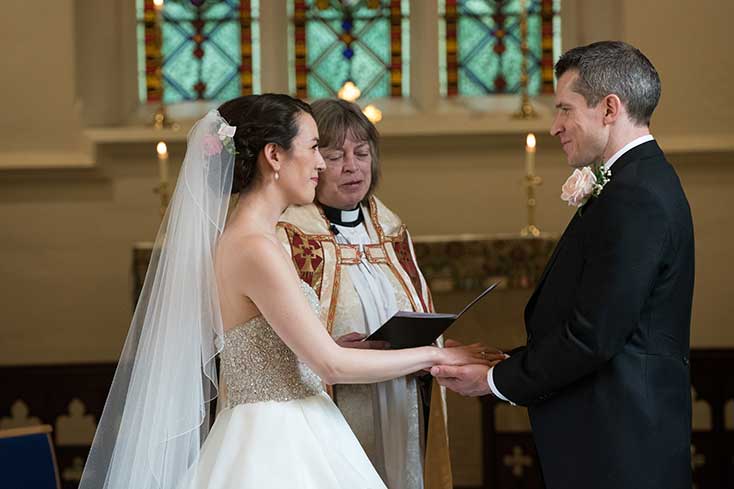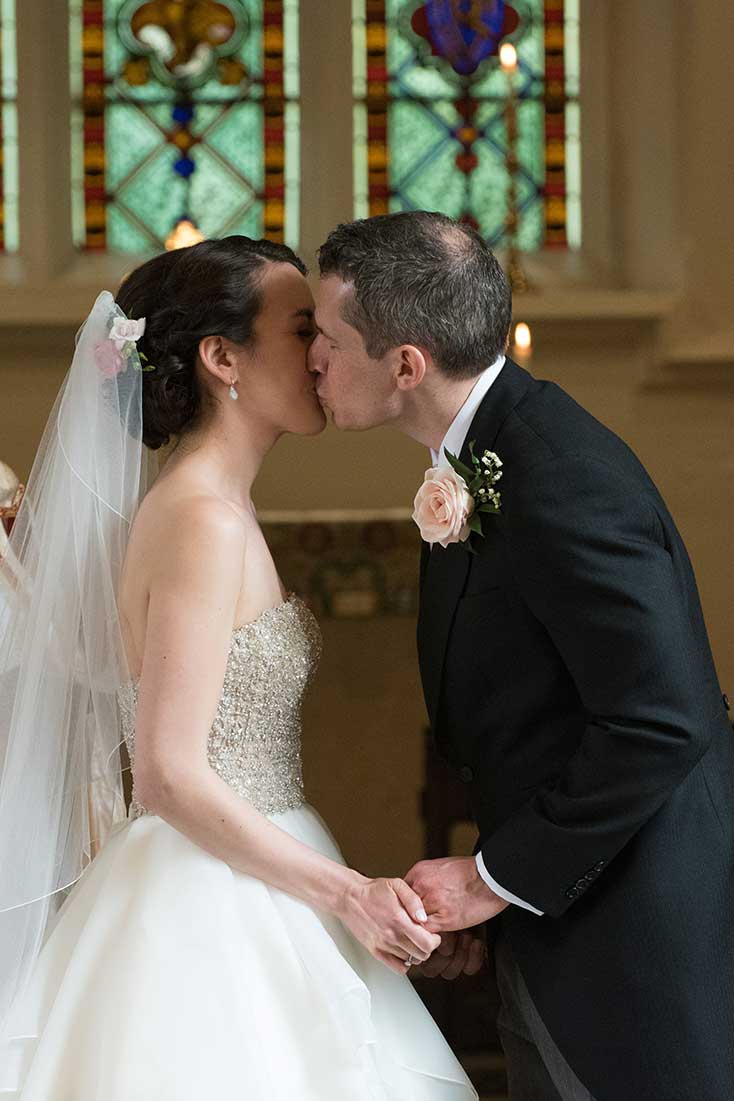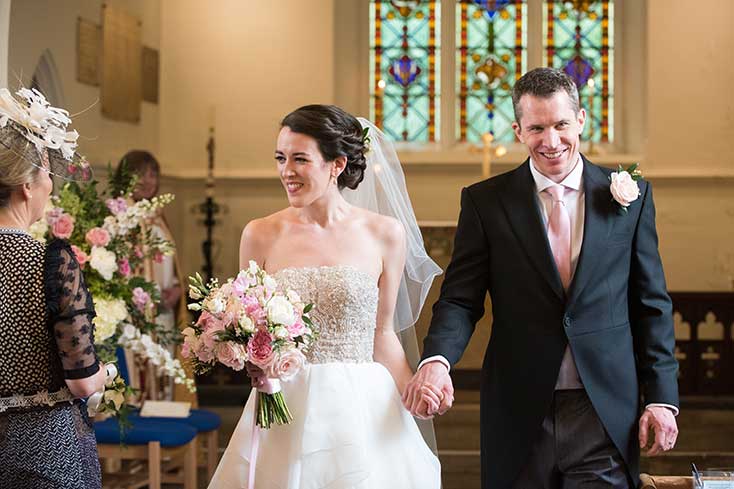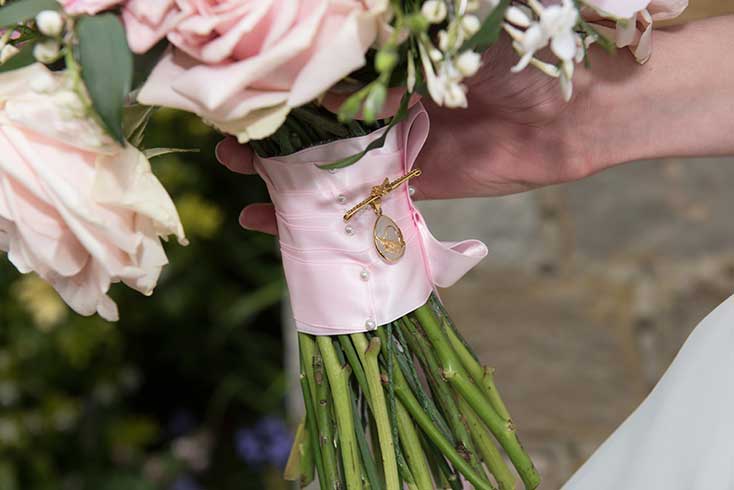 ABOUT THE DAY
Pippa and John go into more detail about the planning process behind their day;
"Pippa had visited the nearby Loseley Park in Guildford as a child and had taken John to visit its beautiful walled gardens during our early days of dating. We both loved the gardens but had never visited the house or its on-site Tithe Barn. When we read several positive blog posts about Loseley weddings, we decided to pay Loseley Park another visit.
We were blown away! There's a real sense of charm to Loseley. It has been owned by the More-Molyneux family for 500 years and continues to be the family's home to this day. So, while it has the appearance of a beautiful stately house, it has the feel of a family home in the best possible way."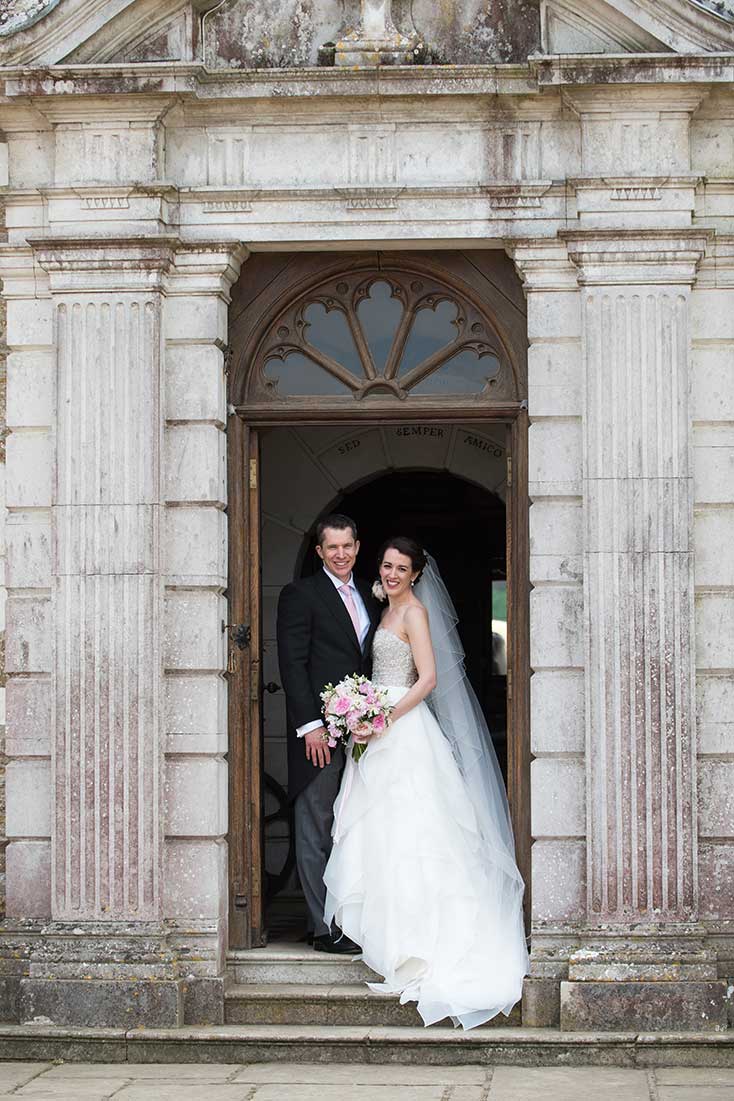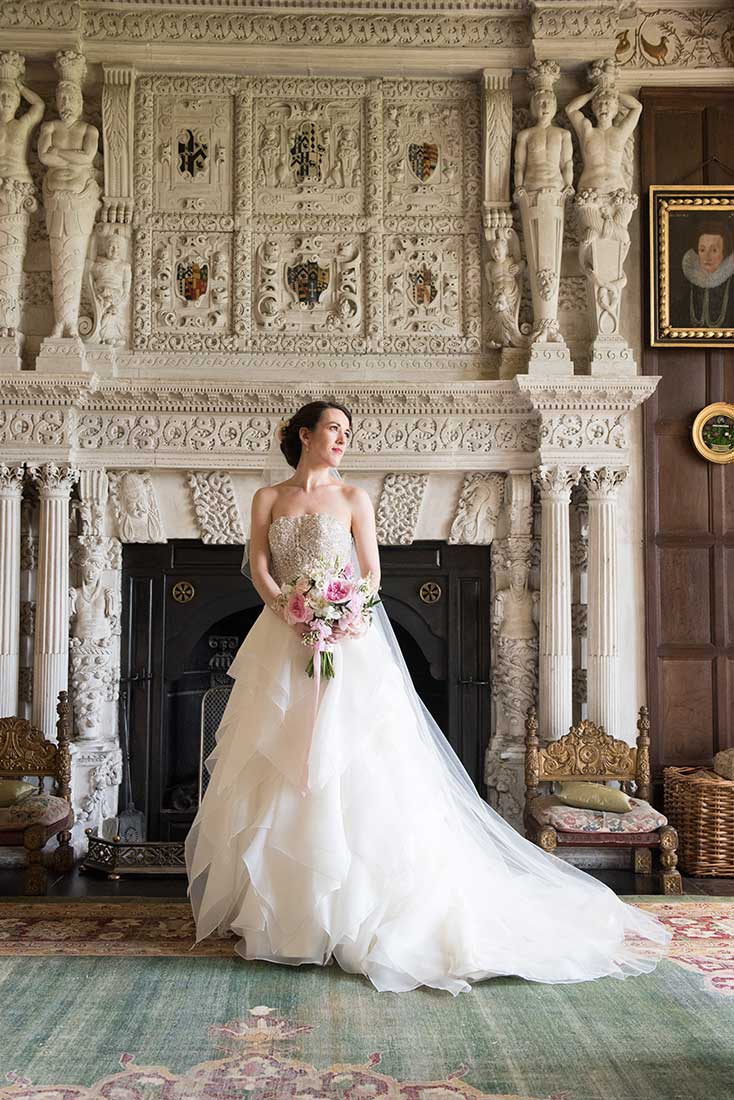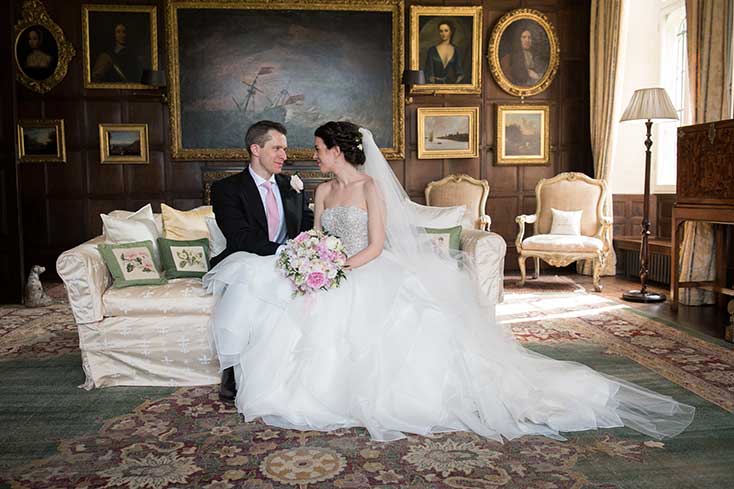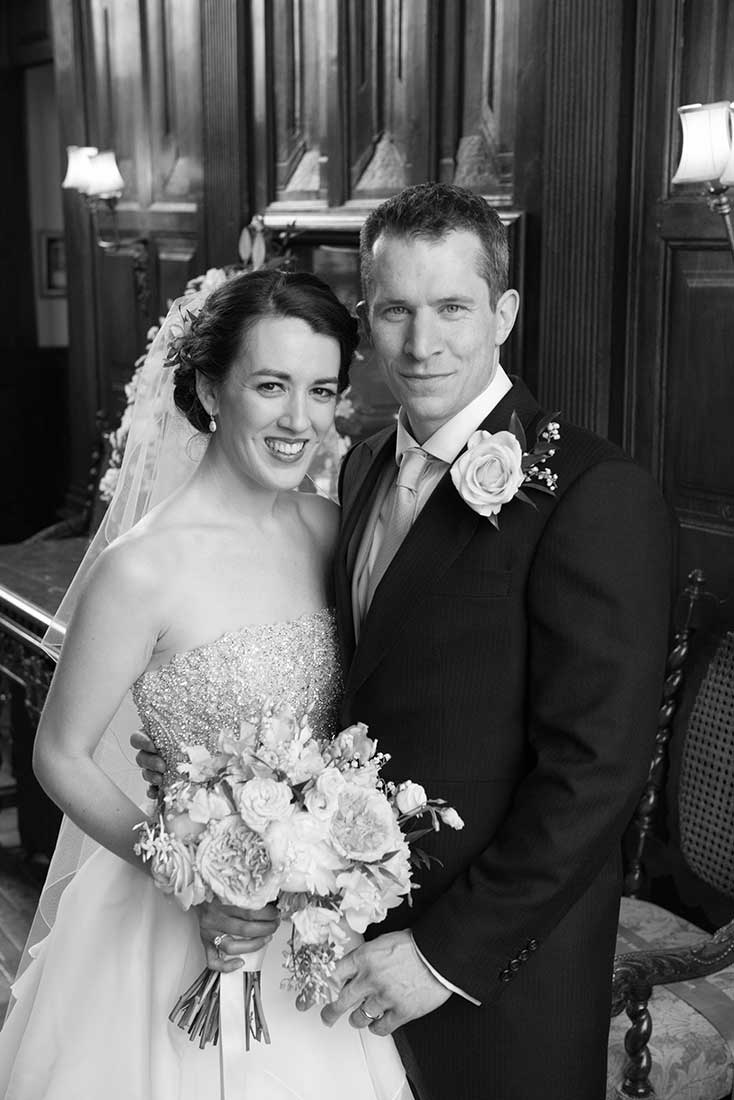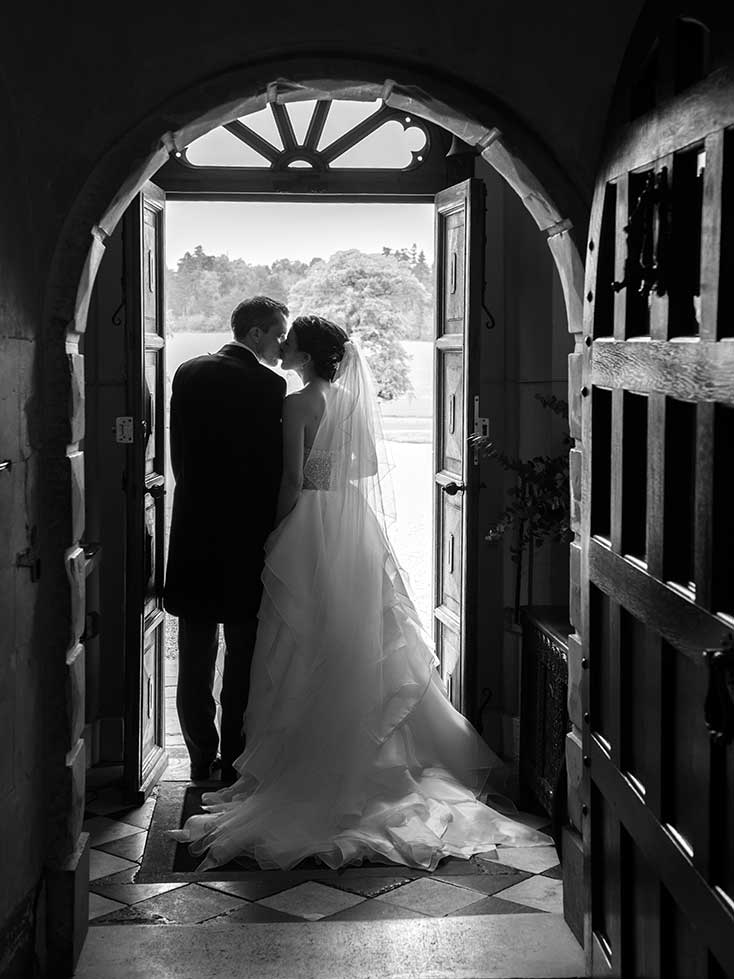 "Not once throughout the entire planning process were we made to feel that we were on a wedding conveyer belt. Jacqui Segrove from the Loseley events team and Mark Frogley and Anna Simpson from Loseley's in-house caterers Caper & Berry bent over backwards to give us the wedding of our dreams.
Beyond the warm and welcoming nature of Loseley, we were also drawn to the different event spaces that it offers. The walled gardens are a magical riot of colour and scent – the perfect backdrop for an early summertime drinks reception! The Great Hall and Drawing Room in the main house are magnificent and feature the most incredible portraits of historical guests and family members, equally lovely for a drinks reception and for photographs. Finally the historic Tithe Barn next to the house is elegant but a little more relaxed, which fitted what we were looking for for the Wedding Breakfast. It is also a lot lighter than many other barns that we'd seen in the area, which we loved."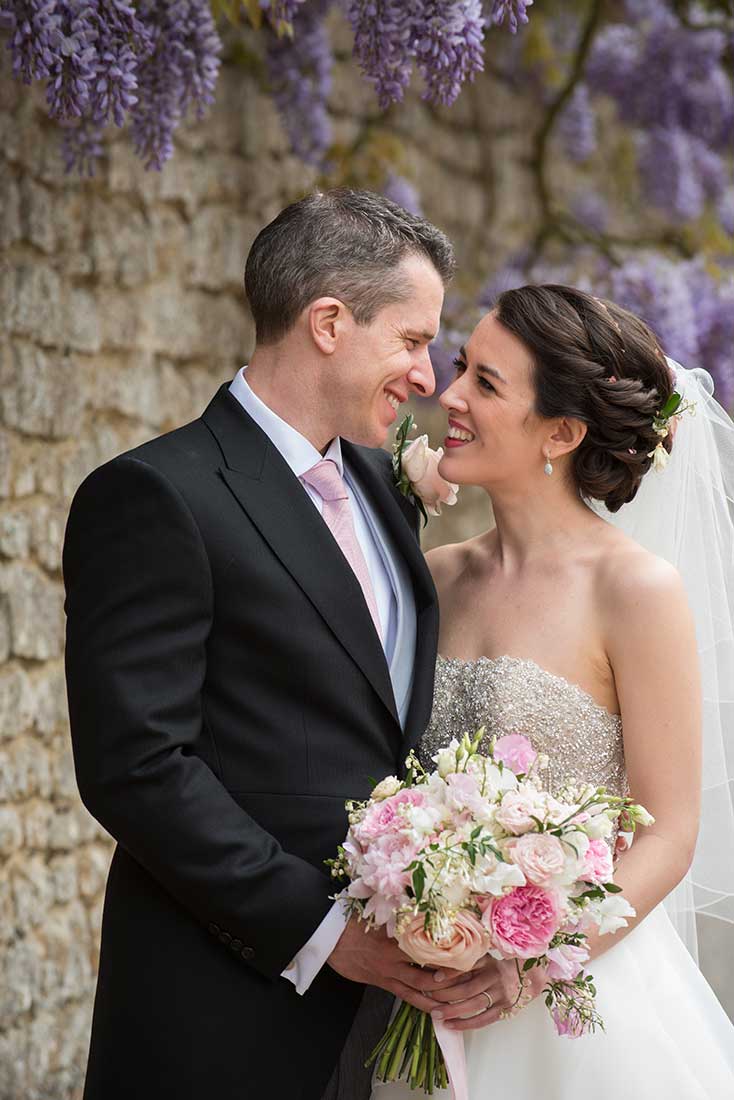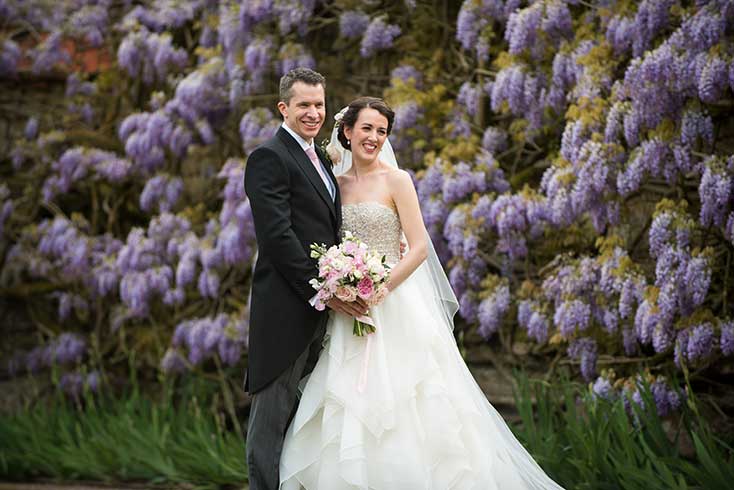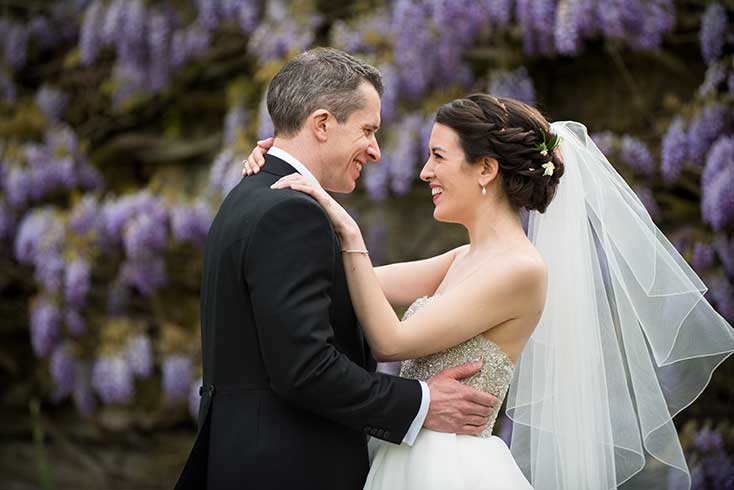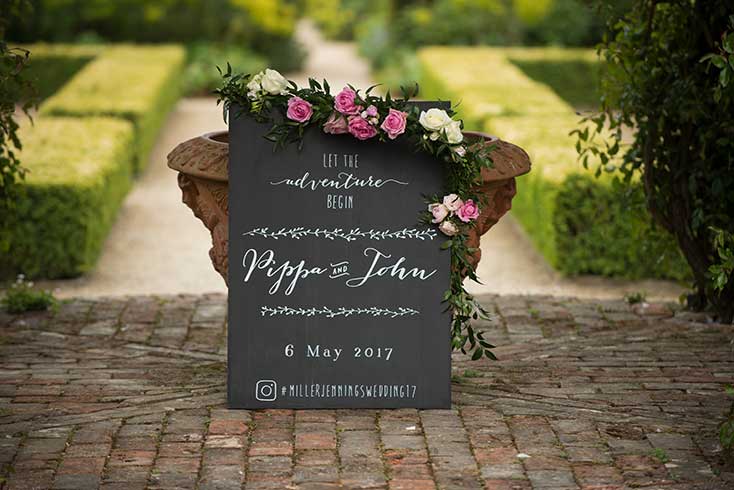 INSPIRATION
With our bride Pippa hailing from Surrey and groom John from Somerset, our countryside-loving couple leapt at the chance to be married in a picturesque English country location.
In their own words;
"While we loved the idea of a traditional English wedding, we wanted to avoid the day feeling stuffy and overly formal. Instead we sought to embrace the pretty, whimsical nature of the English countryside, with textured arrangements of pink and white flowers often found in English country gardens, and illustrated stationery reminiscent of the Milly-Molly-Mandy books I loved as a child. We chose to get married in May because we both love the colours and the variety of the flowers that are available then, all of which have a light and romantic feel to them."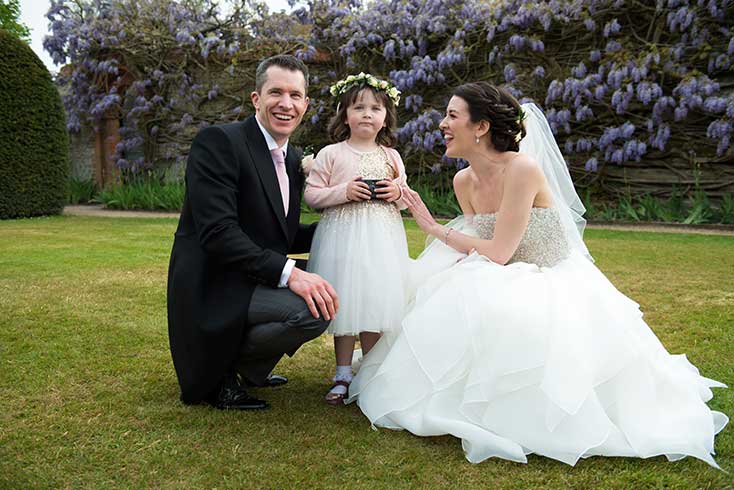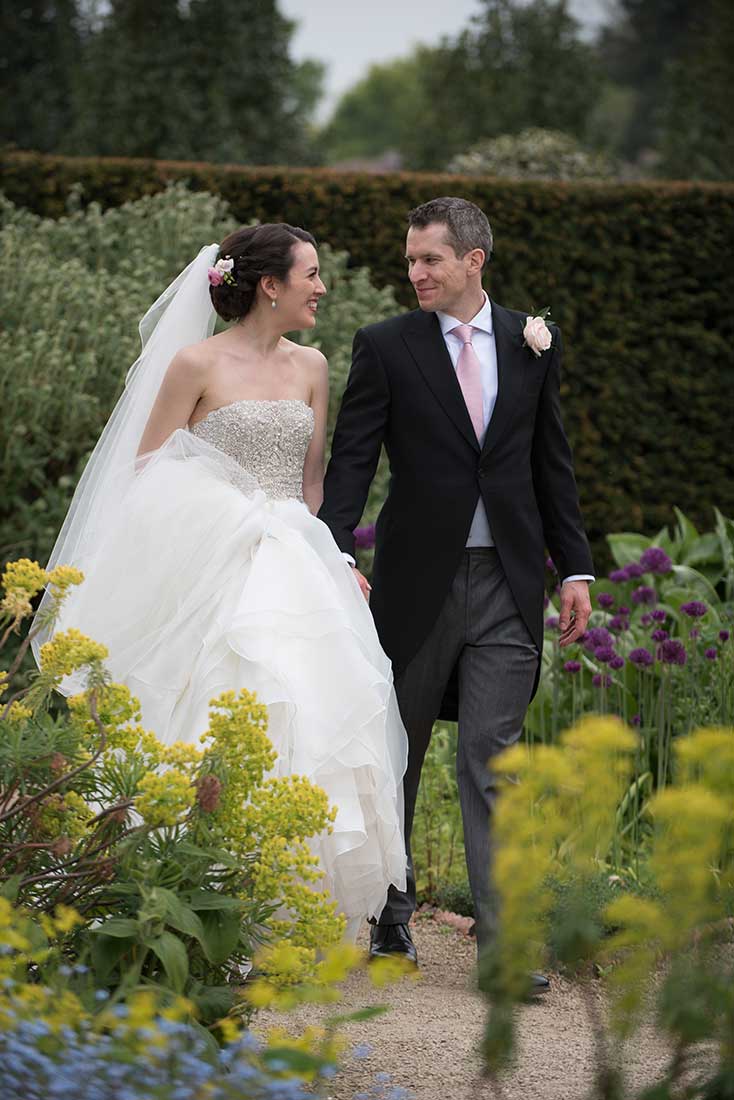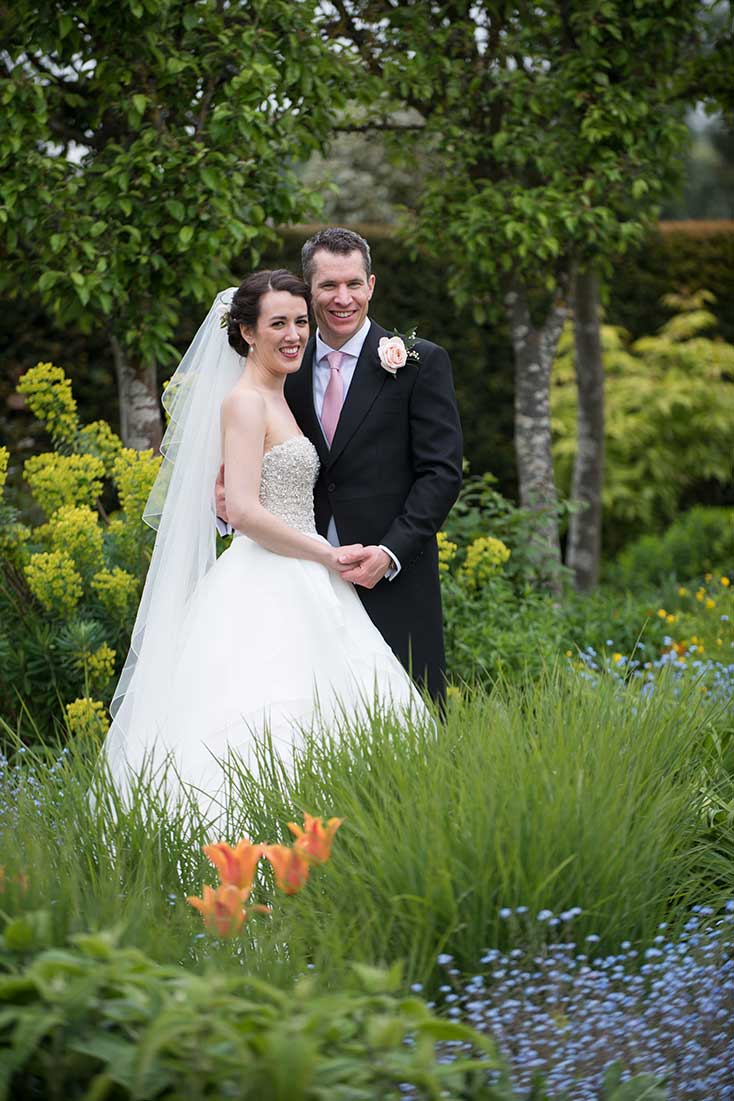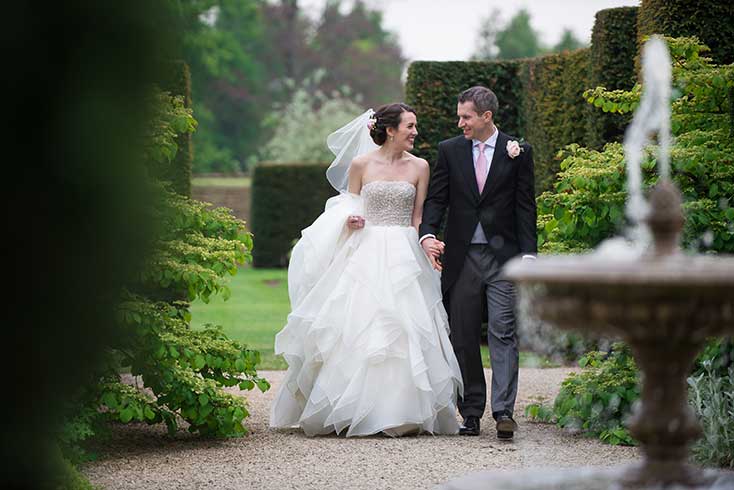 "As a gentle nod to our honeymoon in Positano on the Amalfi Coast and our love of Italy, we also introduced lemons and a touch of Italian gold to our theme, using gold rimmed charger plates and glassware, making and bottling our own limoncello as wedding favours for our guests, and using lemons as place card holders. Pippa's mum, Carol, also came up with the idea of weaving in our Amalfi Coast theme into the cake. The result was amazing – our dream cake. The lovely Elle from Designer Cakes by Elle created a three-tiered wedding cake, consisting of a bellini cake infused with fresh peach chunks and prosecco, a Limoncello cake, and a decadent chocolate cake. For the decoration, we loved the idea of weaving in the gold, pink and white from our colour scheme. The end result was so stunning. Edible gold sequins on the top tier and pale pink and white sugar flowers cascading down that were made to match the bouquets. We even managed to sneak a nod to John's proposal! Elle featured a silhouette of The Savoy Hotel's mascot, Kaspar the cat, on the side of one of the cake's tiers."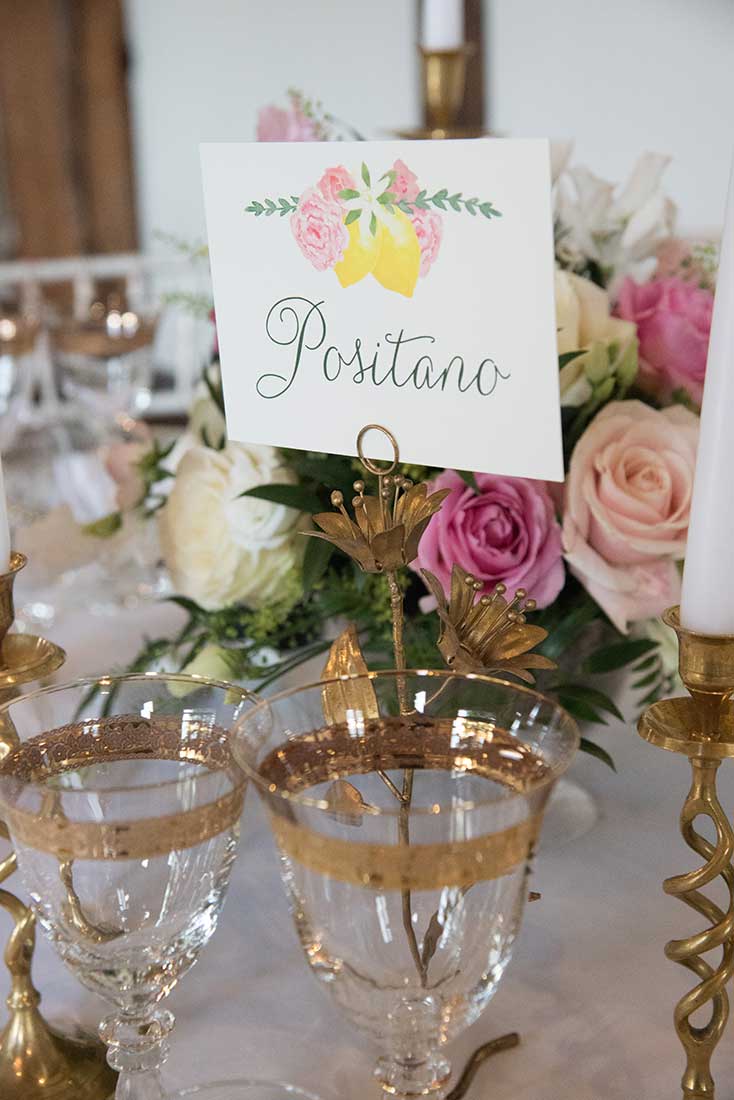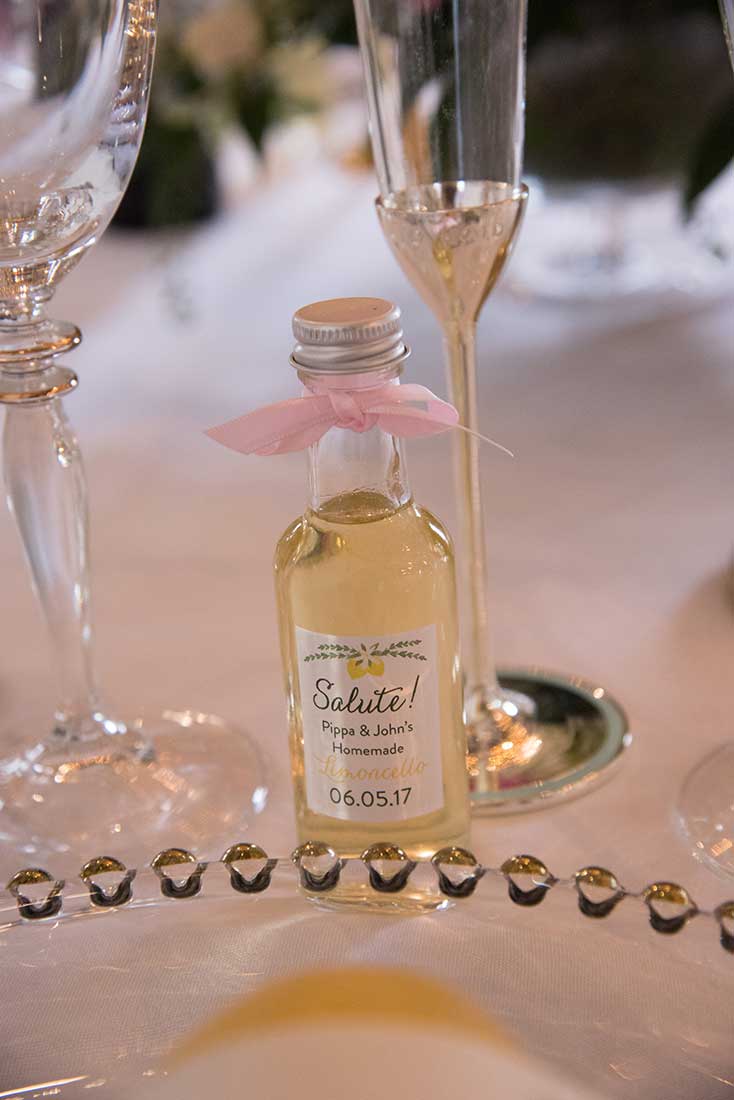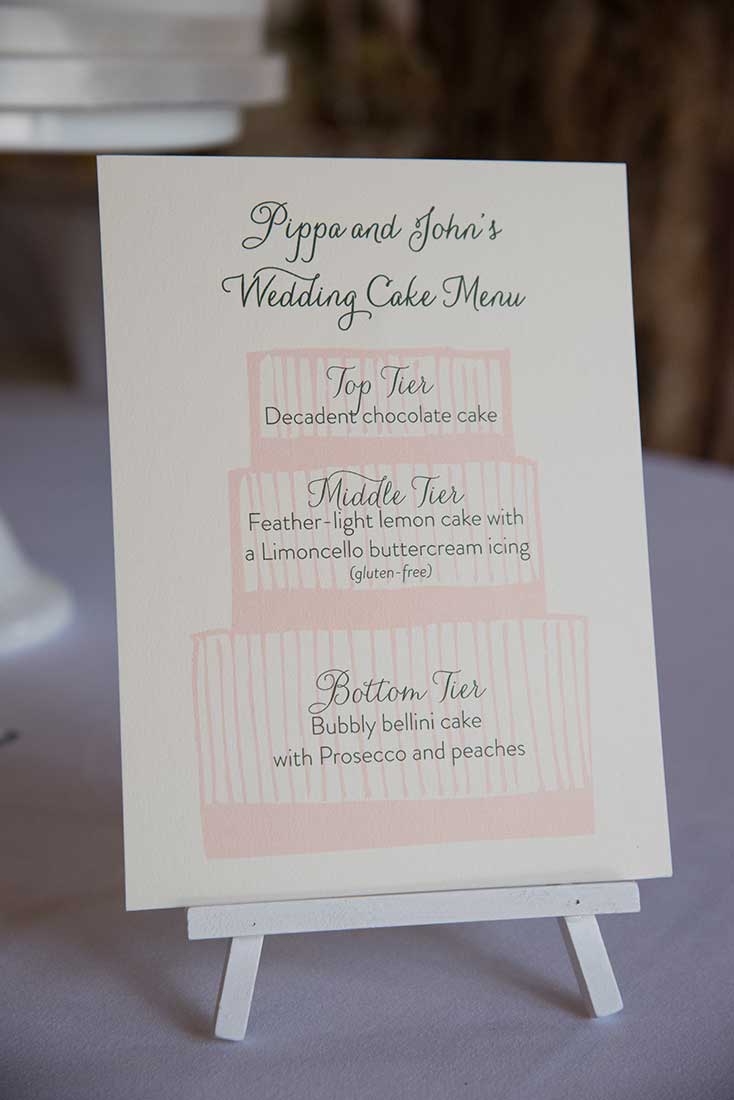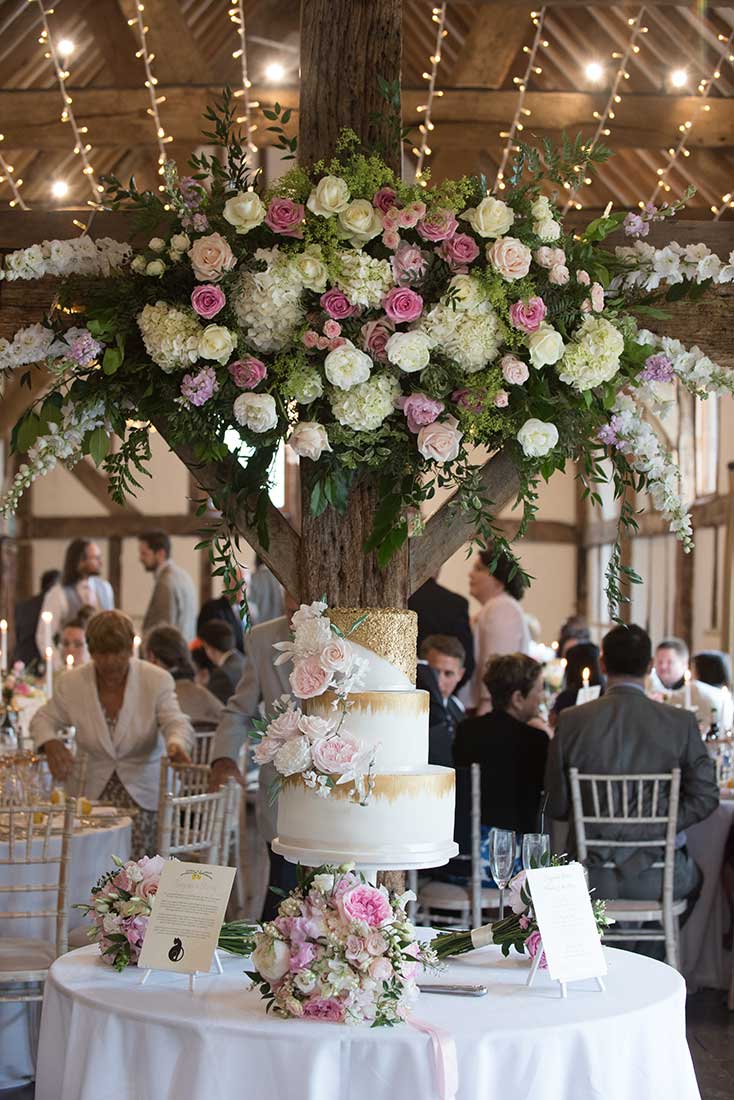 Pippa reminisces about the best parts of their day;
"Although our wedding day was filled with so many happy memories, two moments really stand out for me. The moment when I saw John for the first time on our wedding day was completely overwhelming and a memory that I will cherish forever. I was suddenly reminded all over again of why I love John so much. Walking down the aisle towards him in my beautiful dress, which I had been so excited to show him, was just incredible and one of the happiest moments of my life.
The second stand-out moment for me was on the dance-floor at the end of the night, when all of our friends and family (some of whom had never met before) were singing along to Louis Armstrong's Wonderful World in one giant circle. To see all of our loved ones together in one place looking so happy was pure joy."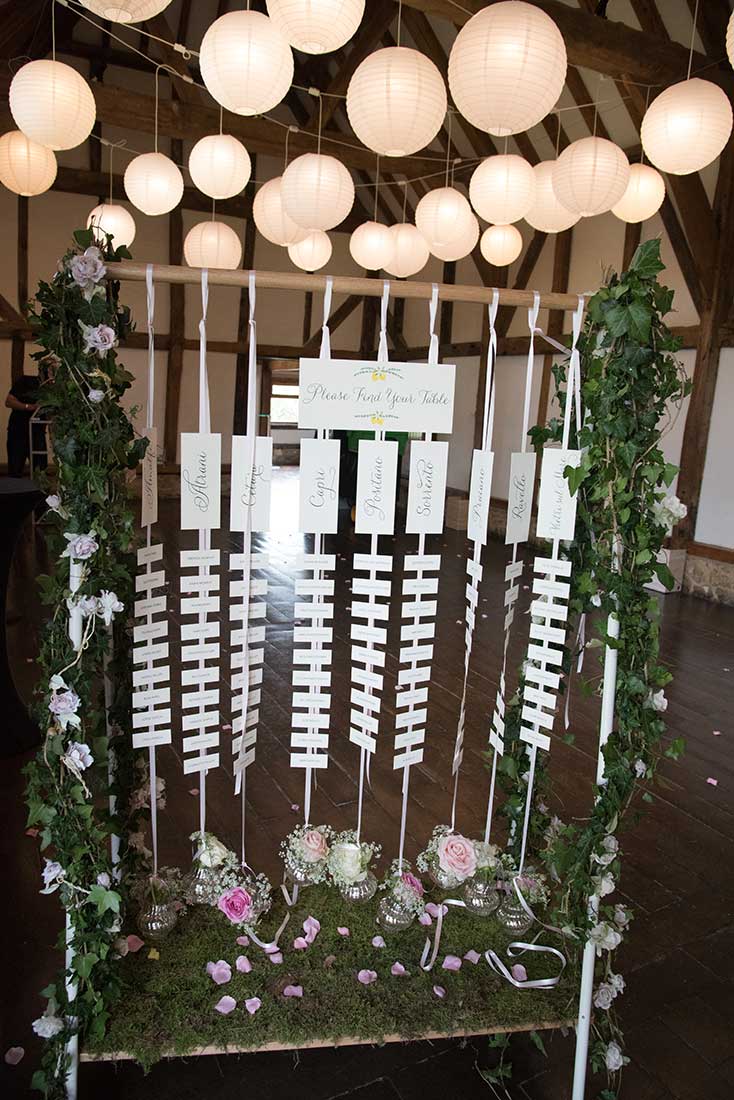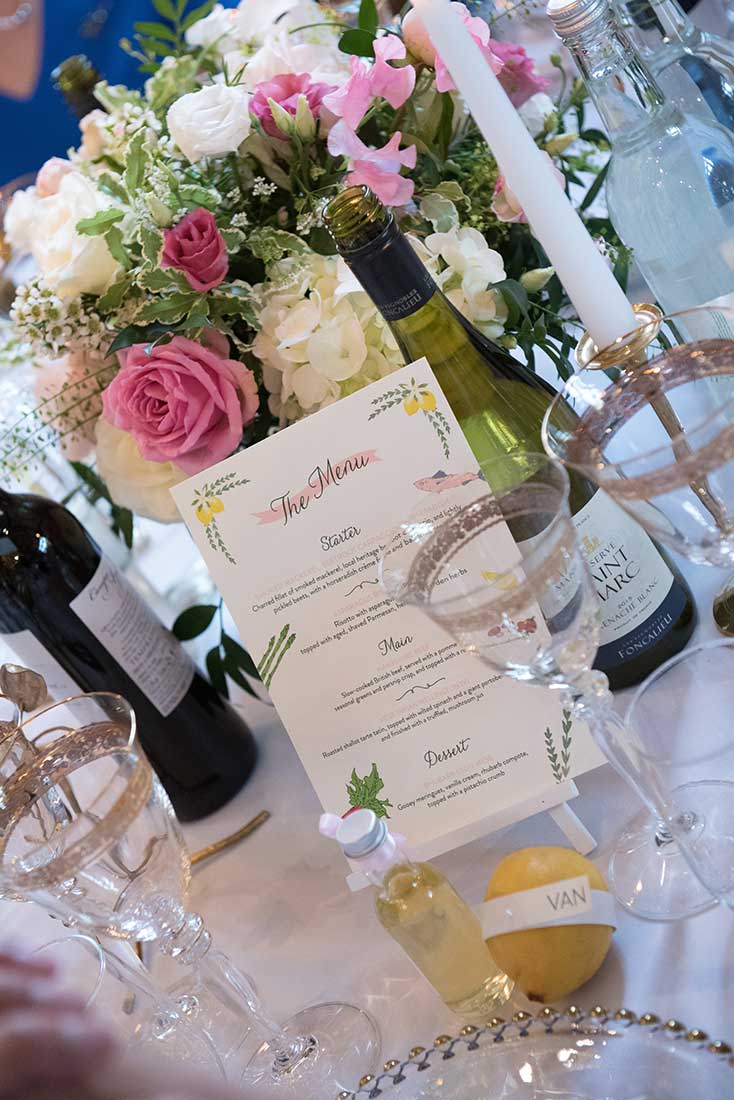 FINAL WORDS
Pippa leaves us with some words of dress shopping and wedding planning wisdom;
"When it comes to finding your dream dress, it's definitely worth being open to trying on a wide range of styles, as it's certainly true what they say: you often end up falling for a dress that is completely different from the one you imagined you'd fall for! It's also worth considering your first dance when picking your dress, as crazy as that sounds. If you're planning a dance that requires more than slow swaying, it's worth either opting for a skirt that is at least an inch off the floor or considering a second dress for the evening."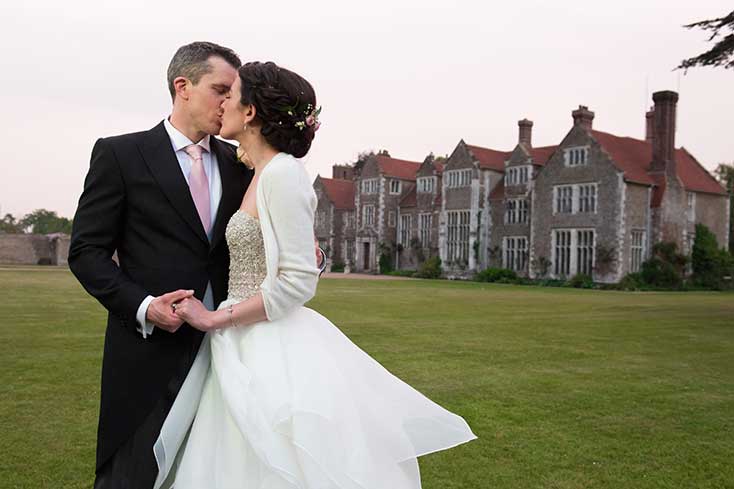 "When it came to wedding planning, initially I think we both felt overwhelmed by the different elements of the day that we needed to plan and the endless choices that faced us. We were helped tremendously though by wedding magazines, wedding blogs and Pinterest along the way. The 'wedding community' out there is amazing and the inspiration is endless, so do get stuck in!
Once we'd found our venue, the beautiful Loseley Park, everything else started to slot into place. Loseley's wedding fair introduced us to some great suppliers who were very familiar with the venue – a big help on the day – so if your venue holds a wedding fair, we'd definitely recommend going along.
As I work in PR and John is an actuary, there were, unsurprisingly, a number of spreadsheets involved in the planning process to help us track costs and spread our 'to-do' list out over the months running up to the wedding. Spreading the workload is definitely the way forward and kept everything manageable.
To familiarise the wedding party with the venue ahead of the day, we took everyone to Loseley ahead of the wedding, which was a lot of fun and a big help.
We also pulled together a detailed running order for our suppliers and wedding party. It was a Word document that logged what everyone was meant to be doing over the wedding weekend and when they were meant to be doing it. It was possibly the best piece of planning that we did, allowing us to relax on the day and ensuring that everyone knew what was going on."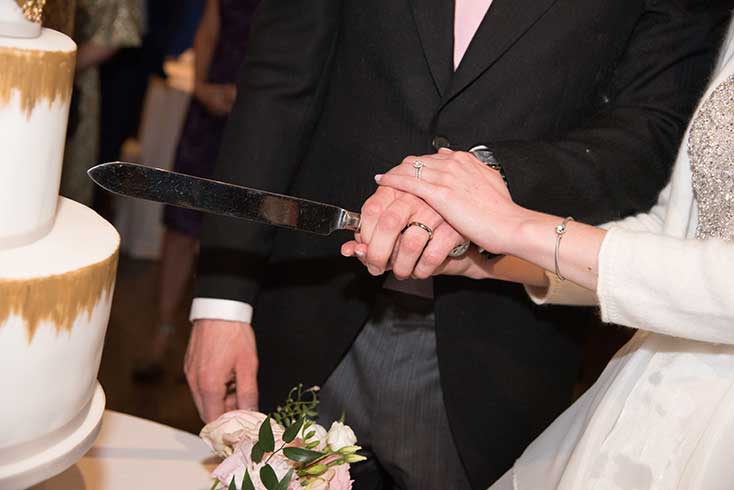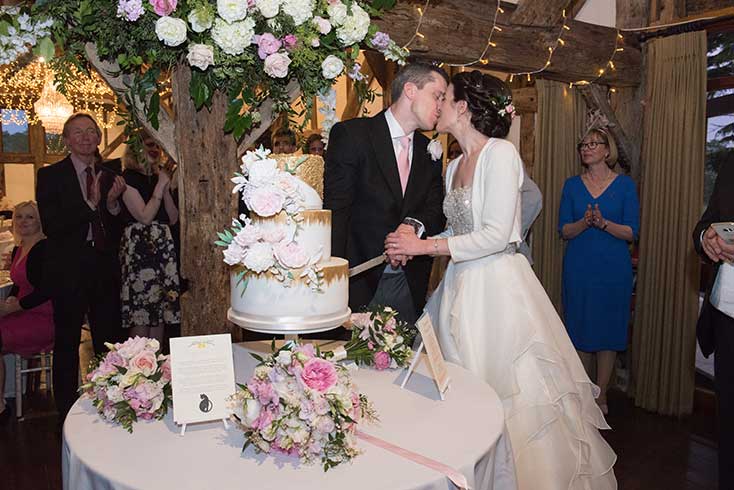 SUPPLIERS
Photography: Laurence and Ella Photography
The Dress: Sottero and Midgley at Miss Bush
The Bride's Shoes: Emmy
Morning suits: Gieves and Hawkes and Moss Brothers
Bridal jewellery: Links, David Yurman
Wedding rings: Cartier
Hair: Sharon Roberts
Make-up: Patricia from Bride and Roses
Reception venue: Loseley Park, Surrey
Catering at Loseley Park: Caper & Berry
Catering at Pirbright Church: Gill Ovington Catering
Transportation for guests: Safeguard Coaches
Flowers: The Gorgeous Flower Company
Stationery: Kate Ruth Romey
'Just Married' banner: Calligraphy Girl
Car: Abbey Rolls Hire
Cake: Designer Cakes by Elle
Lighting in the Tithe Barn at Loseley: Oakwood Events
Balloons: Event Planners Surrey
DJ: Mark at Mighty Fine Entertainment
String quartet: Carousel Strings
Wow, what a start to 2018! We're so grateful to Pippa and John for sharing their day with us, and going into so much detail about their experience planning the wedding and the little touches that made their day so special. I hope you're enjoyed it too!
Leah x